Last Updated on December 9, 2020 by Travels with Kids
Kings Park Perth WA is a wonderful place to end your day, both as a tourist or a local.  During Perth's warm summer months (from November through to March) the city gets very hot.  However, if you head up to Kings Park in the late afternoon you will often be rewarded with a refreshing breeze blowing off the Swan River.  Without a doubt, Kings Park Western Australia is a perfect place to throw out a picnic rug for some wine and cheese, or even use one of the many BBQs around the park.
It sounds trite, but every time I head up to Kings Park Perth I just love it.  As the world's largest inner-city park it offers stunning views of the river, great picnic spots, lots of walks – and best of all solitude.  Yes, that is right, it is easy to get out and find corners of the bush in the city

What Is Special About Kings Park And Botanic Garden Perth
Personally, I think that the most special thing about Kings Park Perth is the views across the Swan River and over the Perth city skyline.  On a calm night, the river is slow and glistening.  On other nights you can watch boats sailing on the river.
I love the feeling of being in the Australian bush, while also being in the middle of a city.  There is a wonderful sense of tranquillity in the middle of Kings Park; even in the more visited areas, including the playgrounds.  I should point out that Kings Park is one of the most visited places in Perth.  There are over 6 million visitors a year.
I also enjoy the Botanic Garden Perth (technically the Western Australian Botanic Garden).  It truly showcases the amazing floral beauty of this diverse state, with amazing wildflowers in spring and lovely trees all year round.  In fact, I've listed Kings Park as the top place to see wildflowers in Perth.
Honestly, once you have had a picnic or barbecue at Kings Park, or enjoyed the moonlight cinema, or even done a bushwalk, you too will understand what makes Kings Park so special.
Things To Do In Kings Park Perth
Enjoy The Kings Park Perth View
The first thing you notice on arrival at Kings Park is the view of the Swan River and Perth city.  It is just gorgeous!
State War Memorial and Flame of Remembrance  
The Perth War Memorial and Flame of Remembrance are sobering but stunning places to start your tour of Kings Park Perth.  In addition, there are a number of different sites and memorials dedicated to other groups involved in wars.
The Flame of Remembrance was inaugurated by Queen Elizabeth II on 1 April 2000.  It burns continuously.  It symbolizes the promise of all Western Australians: "we will remember them". 
We think it is important to educate our children about the cost of war.  Equally important the history of Australia (within a global context).  War memorials certainly are somber places where the full impact of war is evident.  The Perth War memorial is no exception.
Whispering Wall
The Whispering Wall at Kings Park is a part of the Flame of Remembrance.  Don't tell me how this acoustic magic works – but it does!  If one person sits at one end and another at the other end of the Whispering Wall, and you both face into the wall and whisper –  the other person can hear it as clearly as if the other person was sitting beside them.  It's lots of fun, especially if you are traveling with kids or those young at heart!
The Western Australian Botanic Garden
Also known as Perth Botanic Garden or the Kings Park Botanic Garden, the Western Australian Botanic Garden Perth comes alive in springtime with a great wealth of wildflowers.  Meandering walkways all around Kings Park provide a great opportunity for people of all ages to explore and discover the beautiful wildflowers while glimpses of the river and city from between the trees are inspiring.
Officially, the Western Australian Botanic Garden is a massive 17 hectares of gardens.  It features a wide range of species from around Western Australia.  Now, more than 50 years after opening, the Botanic Gardens Perth includes over 25% of Western Australia's native flora.  There are displays from specific regions, as well as gardens dedicated to popular Western Australian wildflowers like Kangaroo Paws and eucalyptus.
Especially if you don't have much time to travel around Western Australia, the Botanical Gardens Perth provides wonderful insight and learning experience into the wildflowers and plants of this unique State.  For more information about wildflowers of Western Australia take a look at our post Where To Find The Best Wildflowers In Western Australia.
Looking For Other Perth Botanic Garden Options
There are a number of Botanic Gardens around Perth.  One of our favorites is the Wanneroo Botanic Garden and mini golf which is like a lush oasis in the middle of the city.  Another is the Araluen Botanic Park.  They have a wide range of different species and an amazing Tulip Festival each spring.  Take a look at Our Guide To Araluen Tulip Festival Perth.
Kings Park Festival (A Springtime Festival)

If you have a chance to program your visit to the Botanical Gardens Perth in September, we have one word of advice – just do it!
Throughout September, as springtime comes to Australia, the wildflowers begin to bloom in Kings Park Perth and are truly an array of amazing colors.  In fact, in 2018 the Kings Park Festival was presented as 'The Greatest Wildflower Show on Earth'.
In addition to the gorgeous spring wildflower displays, there are free events including outdoor exhibitions, guided talks, and family events!

 Kings Park Tree Top Walk
Unofficially known as the Kings Park Tree Top Walk, the Lotterywest Federation Walkway adds a bit of adrenalin to your experience of Kings Park.
Starting at the forest floor, you gradually climb towards the sky as you reach the highest point of the walkway.  The Tree Top Walk Kings Park is truly an impressive structure that somehow blends in with the forest and landscape of the Botanic Gardens.
The highest point of the Kings Park Tree Top Walk offers great views across the Swan River and is 16 metres above the ground.  The whole walkway is 620 metres long, with the aerial section being 222 metres including the 52 metre bridge.  It is accessible by people with prams and wheelchairs, and well worth a visit to experience a different perspective of Kings Park
The Giant Boab Tree

When you visit Kings Park Perth, make sure you stop to admire the Giant Boab Tree.
It is estimated to be 750 years old.  The Giant Boab tree 'Gija Jumulu' weighs 36 tonnes and stretches 14 meters high and 8 meters wide (branch span).  Its trunk measures 2.5 meters in diameter.  When it was to be destroyed due to a road running through where it had grown, a rescue effort was mounted.  In the end, it was transported over 3000 kilometers by truck from the Kimberley to Kings Park – a feat in itself!!
Pioneer Women's Memorial
This is a memorial to the pioneer women who established Western Australia.  While the symbolic figure of the mother with a child in the middle of the water garden is beautiful, our kids enjoy more the 3-minute sequence of the water fountain that gets bigger and bigger during the cycle.
The DNA Tower Kings Park
If you are looking to go to the highest point of Kings Park, then you need to climb the DNA Tower.  This is a metal spiral staircase that is shaped like the double helix of DNA.  It is free to enter and offers great views.  If you are keen you can walk from the DNA Tower across to the May Drive Parkland and Playground.  They are otherwise known as the Dinosaur Playground by my children.
Kings Park Walking Trails
As we have mentioned previously, Kings Park is the world's largest inner-city park, being about 400 hectares in size.  The vast majority of this park is actually bushland and quite isolated.  One of the best ways to explore this experience of the Australian bush is on the bush tracks and cycle paths that wind around the entire park.  The best place to find information is the Kings Park Botanic Gardens website.
The Kings Park Law Walk offers stunning river views, and is dog friendly!  That is, dogs are allowed if they are on a leash and well behaved.  If you are looking for information about the bush, then the Bushland Nature Trail offers signs and explanations along the way.
Moonlight Cinema Kings Park Perth
If you wish to do something special on a warm summer evening in Perth, the Moonlight Cinema Perth, which is run at Kings Park, is a great option.  The Moonlight Cinema is located at the May Drive Parkland (also known as the Dinosaur Park or Synergy Playground).
You can bring a BBQ to enjoy at one of the parklands BBQ areas.  Also, the kids can play on the playground right up until the movie is about to start. Bonus!
If you are interested in a bit of a splurge, you can opt for a Goldgrass option to watch the movie.  This option includes bean bags and waiters who can take orders for finger food like pizza or drinks.
Alternatively, you can take your own rug and food and lay out under the stars while watching the movie.  Check out the Moonlight Cinemas website for more info.
Aspects Of Kings Park
Aspects of Kings Park is more than an onsite souvenir shop.  This is a glorious gallery of some amazing Australian craft and design.  This beautiful shop has huge windows which allow in the light and the displays are created in such a way that you are inspired to invest in these wonderful quality Australian pieces.
Don't expect normal tacky souvenir shop items there.  There are high-end decorative pieces for your home that are truly gorgeous.  Aspects of Kings Park truly offers a distinctive shopping experience befitting one of Western Australia's most visited and iconic location – Kings Park.
Frasers Kings Park
Frasers Kings Park has to be Perth's most fabulously situated restaurant.  It is the perfect spot for a very special occasion.  You can choose to eat out on the terrace or inside.  Given that this is such a popular, and prestigious place to eat, it is recommended to book ahead and also specify where you wish to be seated.
As to be expected of the restaurant in Kings Park Frasers highlights the best Western Australia has to offer in food and wine.  They source the best Western Australian produce which allows the honest, quality products to shine!
If you are looking to splurge, or celebrate a special occasion while in Perth, you can't go past this well-respected restaurant in a spectacular Western Australian location.
Jacob's Ladder Kings Park
I first became acquainted with Jacobs Ladder Perth when my aunt was training for a trek in Nepal.  Jacobs Ladder is not for those looking for a stroll in Kings Park – it's a serious challenge.  Think of nearly 300 steps via a steep 43-meter descent from Cliff Street down to Mounts Bay Road.  This twisting staircase is definitely the place for a good workout and I wondered why anyone would build something so torturous!
Back at the turn of the century (eg, around 1905), people living near the top of Mount Street and Cliff Street began to campaign for a way to get to the riverbank at the foot of Mount Eliza.  Given the steep incline, it was decided it would be much cheaper to build some steps than a fully-fledged road.  The staircase of Jarrah Steps was named the Cliff Street Stairway but some clever marketing gave way to its current name – Jacob's Ladder Perth.
Jacob's Ladder referred to the staircase to heaven dreamed of by Jacob in the Old Testament of the Bible, which permits the angels of God to travel between heaven and earth.
At the time the best houses in Perth city were at the top of the stairs at Cliff Street as they had amazing views of the Swan River.  Rumor has it that a local real estate agent placed a sign "this way to Jacob's Ladder" and the name stuck!

History of Kings Park Perth
The Whadjuk Noongar people lived around the Swan River for at least 40,000 years.  This has been verified by the discovery of ancient stone implements near the Swan River.  They were carbon-dated at around 38,000 years old.  The Swan River, Derbarl Yerrigan, is a place of deep spiritual and mythological significance.  It was also vitally important as a source of food, water, transport, and recreation to the indigenous people.  The importance of the indigenous culture is celebrated in a number of places around Kings Park.
The first Europeans to visit Kings Park were the Dutch expedition in 1697.  They climbed Mount Eliza and reported upon a huge eucalyptus tree.  The Swan River Colony was established in 1829 two years after Captain James Stirling and Charles Fraser climbed Mount Eliza in 1827.  Soon after the Swan River Colony was founded, Mount Eliza was set aside for public purposes.  However, it wasn't until 1872 that 172 hectares of the reserve were to become a public park
Following the establishment of the State Government in 1890, Premier John Forrest began the development of Kings Park by building fences along the boundaries as we know it today.  In 1895, the land was named 'The Perth Park", later to be renamed Kings Park.  Note that about the same time, in 1898 Premier John Forest also set aside a conservation reserve in the Perth Hills.  This became the first National Park in 1900.  That first National Park in Western Australia is now known as John Forest National Park.  As a Western Australian, I am grateful for the foresight of these settlers to establish thoughtful and expansive public bush areas within what is now greater Perth city.
Fast forward to 1965.  The State Government opened a 17-hectare Botanic Garden, with the subsequent addition of a DNA Observation Tower and several playgrounds.  Adding to the State War Memorial site, the Flame of Remembrance was officially opened in 2000 by Queen Elizabeth II.  The Aboriginal and Torres Strait Island War Service Memorial was opened in 2001.  In the past twenty years, Kings Park has continued to evolve as one of Perth's best parks.  We cover some of Perth's other great parks at Perth Parks And Playgrounds.
Is Kings Park Dog Friendly
In general, yes, Kings Park is dog friendly.  Dogs are allowed in most parts of Kings Park.  The places that they are not allowed are inside any of the playgrounds (in fact they need to be kept 10 meters from the edge of the playgrounds).  They are also not allowed on the elevated section of the Tree Top Walk Kings Park, and they are not allowed at any of the important events held at Kings Park.  These include Australia Day, Anzac Day, summer events, and the Kings Park Festival.
All dogs must be well behaved, and on a leash no longer than 2metres.  Obviously, owners are expected to clean up after the dog, should they do their business!
If you are looking for a dog-friendly walk, you might like to head off on the Law Walk which has great views across the river.

Facts About Kings Park
Because we are crazy about Kings Park and we love facts in general, why not check out some of our Kings Park Facts:
Originally named Perth Park, it became renamed to 'Kings Park' in 1901 to mark the accession of King Edward VII to the British throne.
It is the most popular destination for visitors to Western Australia.  The Perth Kings Park and the Botanic Garden receiving 6 million visitors a year.
Kings Park Perth is the largest inner-city park in the world, coming in at 4.06km square in size; it is much larger than Central Park in New York which has 3.41 km square.
Not only is Kings Park popular due to its great views of the Darling Scarp and Swan River, but The State War Memorial was erected in 1929 and there are special memorials throughout the Park dedicated to those who died during service to Australia, including the Flame of Remembrance.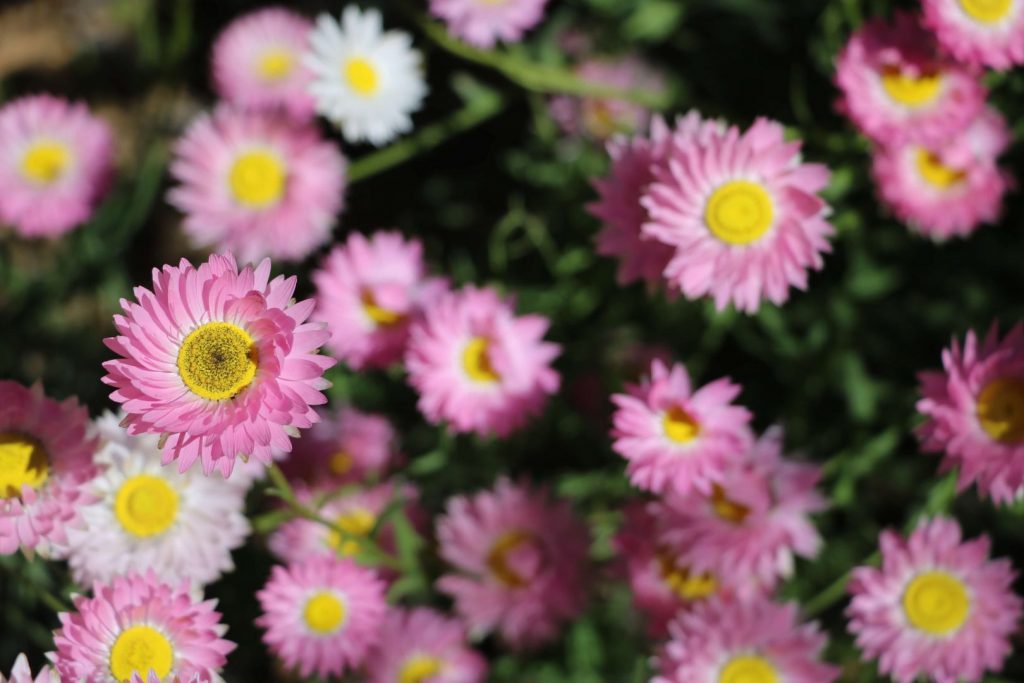 Two-thirds of the Park is a natural bush containing over 300 species of native plants and almost 90 bird species.
In addition to the natural bushland of Kings Park, it is also home to the Western Australian Botanic Garden.  They display about 3,000 of Western Australia's extensive species of plants with major gardens concentrating on regional floras.
Kings Park Perth is home to 4 amazing adventure nature playgrounds; we've traveled to some amazing playgrounds around the world and the playgrounds at Kings Park are incredible.  Of all of them, the best is the Rio Tinto Naturescape which combines children's play in the Australian bush.

How To Get To Kings Park Perth
All the above sites are found in a central area around the Aspects Gift Shop and Frasers Restaurant.  Both have great views overlooking Perth City and the Swan River.  If you are keen, you can take a steep walk from Kings Park via Mount Street or Malcom Street.  Both start at the western end of St George's Terrace.
Alternatively, you can catch the free Blue Cat Bus.  The Blue Cat goes around the western end of Perth city and its route includes Kings Park.  It leaves every 15 minutes throughout the day.
If you are self-driving is also significant parking available!
Accommodation Near Kings Park Perth
There are several great accommodations near Kings Park Perth.  Here are a few of our recommendations.
Quest Kings Park – The Quest Kings Park offers serviced apartment-style rooms with kitchenettes.  The rooms are all well-appointed with all the usual amenities one would expect to find.  Some of the rooms even have private balconies overlooking Kings Park Perth.
This is a great place for short and longer stays in Perth.  It is well located and the rooms are spacious.  Check here for current prices at Quest Kings Park.
The Peninsula Riverside Apartments – The Peninsula Riverside Apartments touts themselves as one of the best serviced-suites in Perth.  They have several different room types to choose from including boutique hotel-like rooms to luxury apartment-style rooms.
Even though they are serviced apartments they do offer many amenities including daily cleaning. They also offer free wifi and parking!  Check here for current prices for The Peninsula Riverside Apartments.
Nesuto Mounts Bay – Nesuto Mounts Bay offers 1, 2, and 3 bedroom fully furnished apartments as well as some penthouse units.  They also have an in-house restaurant, pool, tennis courts, and private laundry facilities.
One of the great things about Nesuto Mounts Bay is that they offer extended stay accommodation options.  So if you plan on spending an extended period of time in Perth, this is a great place to stay.  Check here for current prices for Nesuto Mounts Bay.
The Verdict – Kings Park Perth
So there you have it folks.  We've put everything together in one place about the amazing Kings Park Perth, the Western Australian Botanic Garden, right down to a summary of the quirky Jacobs Ladder Perth!  We have no doubt whether it's climbing the Kings Park Tree Top Walk, or following one of the lesser-known dog-friendly trails, that whatever you do at Kings Park you will have a wonderful time!
Like It> Pin It> A Guide To Kings Park Perth Western Australia