Last Updated on September 17, 2020 by Travels with Kids
Wildflowers in Western Australia are stunning.  They also hold a special place in my heart!  Growing up in Perth wildflowers were always part of my life.  We'd head out in late winter to explore and discover the amazing WA wildflowers.  For the past few years, we've headed out around Perth and south to discover the amazing wildflowers of Western Australia.
We pride ourselves on only covering places we have been or plan to go soon (and have researched in a thorough and original way).  On this year's bucket list is an exploration of the everlasting flowers in Perth and Western Australia.  As well as a drive up into the Northern Wheatbelt in search of the wreath flowers WA.  We want to follow the romantically named Wildflower Way Western Australia!
This post may contain affiliate links, from which we would earn a small commission, at no extra cost to you. More info in my disclaimer.
To be honest, despite being Western Australians we find the where to find the best Western Australian wildflowers quite daunting.  So I have tried to break this down into an easier to understand guide!  You'll see our passion for the beautiful wildflowers of WA in our pictures!
When Is Western Australia's Wildflower Season
Wildflower season WA begins in July in the north of the state and continues south as it grows warmer finishing on the south coast in November.
In general, if you are planning a Western Australia holiday specifically to see the wildflowers, the best time for wildflowers in Western Australia is in late winter (August) and Spring.  Generally, August is a great month for wildflowers north of Perth and September for the south of Perth.
It all depends on the rain!  Of course, we all know that weather can vary and so some years the wildflowers are spectacular in the north, but disappointing the south.  As these are a natural occurrence, where to spot the best wildflowers in Western Australia is going to depend on the rain, year to year.
Where Can I Find The Wildflowers Of Western Australia
The good news is that even if you don't travel further than Perth, you can see some amazing Perth Wildflowers.  In fact, if this is your first visit to see the wildflowers I'd definitely head to Kings Park orientation and introduction to the flowers.  It will make your forays out into the countryside so much more interesting!
Wildflowers Perth
Kings Park Wildflowers
Each year, from the 1st to 30th of September iconic Kings Park celebrates a wildflower festival of enormous magnitude – imagine 25,000 plants all in full bloom at the same time!  With the Western Australian Botanic Garden showcasing the different areas of this beautiful state, there are selections of wildflowers on show from each different area.  This makes this definitely Western Australia's biggest display of Wildflower.  In addition, there are a number of free (and paid) events that are for gardeners, photographers, and just flower lovers.
Take a look at our Complete Guide To Kings Park and for more information on the Kings Park Wildflower Festival.
Everlasting Flowers Perth
Everlasting flowers are the most easily recognizable of the Western Australian wildflowers.  Due to their papery substance and firm appearance they are also amongst the most photogenic flowers.  If you are looking for Everlasting flowers Perth then you can't go past the spectacular display at Kings Park.
Around Perth Wildflowers
Perth Hills Wildflowers
The Perth Hills truly spring to life in the wildflower season and provide a wonderful opportunity to see stunning wildflowers WA without traveling far.  This year we have plans to visit John Forest National Park as well as Ellis Brook Reserve.
Also, if you just love flowers, why not consider visiting Araluen for its annual Spring festival, we've got the Best Tips For Araluen.
Dwellingup Wildflowers
We love Dwellingup for a short weekend getaway from Perth and have listed all our favorite Things To Do In Dwellingup.  One of our favorite conservation areas is Lane Pool Reserve which has an old-growth forest of jarrah and marri, as well as Wandoo woodlands.   We visited in late September last year and there was still a range of wildflowers blooming.
About The Wildflowers Of Western Australia
There are only 34 biodiversity hotspots in the world and one of them is in the South West of Western Australia.  Nearly 80% of Western Australia's plant species are endemic – meaning they are found nowhere else in the world.  Many of them are brightly colored wildflowers.  As the ancient supercontinent Gondwana separated from the other continents, Australia developed its own unique plant and animal life.  Then, separated by the desert and blessed with heavy rainfall, the fauna and flora of the South West hotspot have evolved in isolation.  Their colors and shapes are insanely different and beautiful!
The Southern Forests Wildflowers
The Pemberton, Manjimup, and Northcliffe area are collectively known as the Southern Forests and put on a stunning display of wildflowers, including reds, whites, and purples.  They are also famed for their stunning orchids, with over 100 terrestrial orchid species in this area.  Interesting orchid fact – there are two types of orchid Epiphytic and terrestrial.  Epiphytic Orchids generally take root in trees and Terrestrial Orchids are found on the ground.
Some of my favorite orchids found in this area are the Cowslip orchid, pink enamel orchid, Karri Spider Orchids, and Donkey Orchid.  This year we have our sights on a hike up Mt. Chudalup and will be looking for the fabulously named Pink Bunny Orchid!
Our Best Things To Do In Pemberton WA give you an idea of the many nature-based activities to do, and you would definitely see wildflowers while doing them.
For the full list of places to see wildflowers around Northcliffe and Pemberton check the Pemberton visitors website.
Walpole Wildflowers
The Walpole Wildflower season is heralded by the blooming of the boronia, which we always went hunting for on my grandmother's birthday, the 6th of September.
From early September through October the wildflowers and orchids are in bloom all around the Walpole and Denmark area.
What we especially love about Walpole is that wildflower tours don't have to be like the wildflower tours north of Perth.  Essentially, you can just visit the tourist spots and there are wildflowers in bloom all around.  We'd strongly recommend doing the Giant Tingle tree scenic drive.  It includes short walks at the Giant Tingle Tree and Circular Pool, as well as the world-famous Valley of the Giants Tree Top Walk.   Walpole is a stunning place to enjoy the natural environment.  There is so much to do and see so check out the full glory of Things to do in Walpole WA.   Also, in order to get the best out of the Valley of the Giant's visit see our tips!
Our favorite wildflowers in the Walpole Region are the purple Hovea, the red/orange Chorizema, the white Clematis, and the yellow Karri Wattle.  You can also see the Karri Cowslip Orchid, and Purple Enamel Orchid, amongst a host of others!
Denmark Western Australia Wildflowers
The best place to see truly unique wildflowers around Denmark WA is at Mount Lindesay National Park.  This granite monadnock is the centerpiece of the Mount Lindesay National Park and one of the best locations to see wildflowers in Western Australia.
Some species found at Mount Lindesay truly grow nowhere else in the world.  The summit of Mount Lindesay (385 meters above sea level) offers dramatic views of Denmark's coastline, farmland, and sweeping vistas of the Walpole Wilderness.  This 5km hike to the summit of Mt. Lindesay is quite steep on the way up, but a joy on the way down (10 km in total).  In spring there are amazingly colorful wildflowers and fantastic views over the Stirling and Porongurup Ranges and Walpole Wilderness all year round.
Getting there Mount Lindesay is 26 kilometers from Denmark (about 30 minutes' drive).  The good news is you can make a side detour along the Scotsdale road food and wine tour.  Definitely stop at a winery on the way home!
Margaret River Wildflowers
As you travel south the wildflower season starts later.  Starting around September to November, with October generally being a good month to visit.  Like the rest of the southern forests in Margaret River are Jarrah, Marri, and Karri trees and the associated gorgeous wildflowers.  There are also a number of rare orchids.
North of Perth Wildflowers
The wildflowers in Western Australia are made famous because of the wildflowers north of Perth.  As the whole countryside becomes awash with color from the north to the south – and out to the East in the Goldfields, it becomes overwhelming.  I keep thinking, I want to see the best western Australian wildflowers but where should I go?
Here is my #1 tip:
Western Australia Wildflowers are different every year.  Don't get too caught up on finding the "best spots".  Rather, head out into rural Western Australia, enjoy the small towns and beautiful red earth, and if you see wildflowers you will feel like you discovered them all on your own.
Around Jurien Bay and Cervantes
As you know, we are family travelers, and taking on road trips with small kids can be arduous.  Therefore we aren't going to follow the itineraries that stay in a different place every night (though these are probably the best way to see the widest range of WA wildflowers).
For this year's WA wildflower exploration we've chosen Jurien Bay as a base.  You could also pick nearby Cervantes.  As a bonus, you can also make a visit to the nearby Pinnacles in Nambung National Park For places to stay and other things to do, check out our Weekend Trips From Perth post.
Lesueur National Park
Jurien Bay is just 18km (or about 20 minutes' drive) from the famous Lesueur National Park.  This is one of the best places to see Western Australian wildflower species, with an amazing amount of diversity.
In fact, Lesueur National park includes just 10 percent of Western Australia's known flora.  Some of the plant species you might see include Gastrolobium, Acacias, Hibbertias, Schenaultias, and Melaleucas.
Lesueur Scenic Drive 
The one-way Lesueur Scenic drive is a great way for all abilities to see the flowers easily.  This 18.5-kilometer loop bitumen scenic drive is a great way to enjoy the park's main attractions delights.  There is also frequent pull over bays so you can stop and take as many photos as you like.  This is one of the easiest and least strenuous places to have a great look at the colorful wildflowers Western Australia!
The scenic drive trail loops around through the park from Cockleshell Gully Road and back to the same road.  In spring this trail is sure to delight with the vast array of wildflowers it takes you past. There are many opportunities to stop and take a closer look or follow marked trails deeper into the bush, up Mount Lesueur, or down into Cockleshell Gully.
There are several good walks within Coalseam Conservation Park, including a pram and wheelchair accessible short walk that includes signs explaining the 900 plant species in the Coalseam Conservation Park and some of their traditional uses
The Gairdner trail is a 2.5 km Loop (allow 1 hour) or alternatively consider the Mount Lesueur Trail to the top of this flat-topped mountain.  The summit is on a mesa with amazing views (4km return, allow 1-2 hours).
Alternatively, consider the 8km Yued Ponar Trail at the Cockleshell Gully Picnic Area.  This trail requires a decent level of fitness.
Nambung National Park
Most famous for the Pinnacles, Nambung National Park also comes alive with wildflowers.  You can see different species of Wattles, Yellowtail Flowers, white Clematis, and Banksias to name a few out of many.
Badgingarra National Park
Another place that is a great place to see Western Australia wildflowers is the Badgingarra National park, an hour east of Jurien Bay.  There is a 90-minute walk, the Badgingarra Nature Trail, which includes a climb up a steep hill to different lookouts.  Along the way, there are various chances to enjoy the landscape and the wildflowers of the area.
Tathra National Park
The Tathra National Park is a lot less well known than either Lesueur National park or Coalseam Conservation Park.  In fact, there wasn't a lot of information on the web including from the Park managers.  It seems like more research is in order.  What we can tell you is that Tathra National park is about an hour's drive to the north of Cervantes/ Jurien Bay.  If you drive along the Carnamah Eneabba Road you will drive through Tathra National Park, the Nyungar word for a beautiful place.  The terrain is described as low heath on rolling sandplains, and the indigenous owners call this sandy country the 'kwongan'.  The 'kwongan' has over 70% of the species from the Southern part of Western Australia up to 2600 species of plants!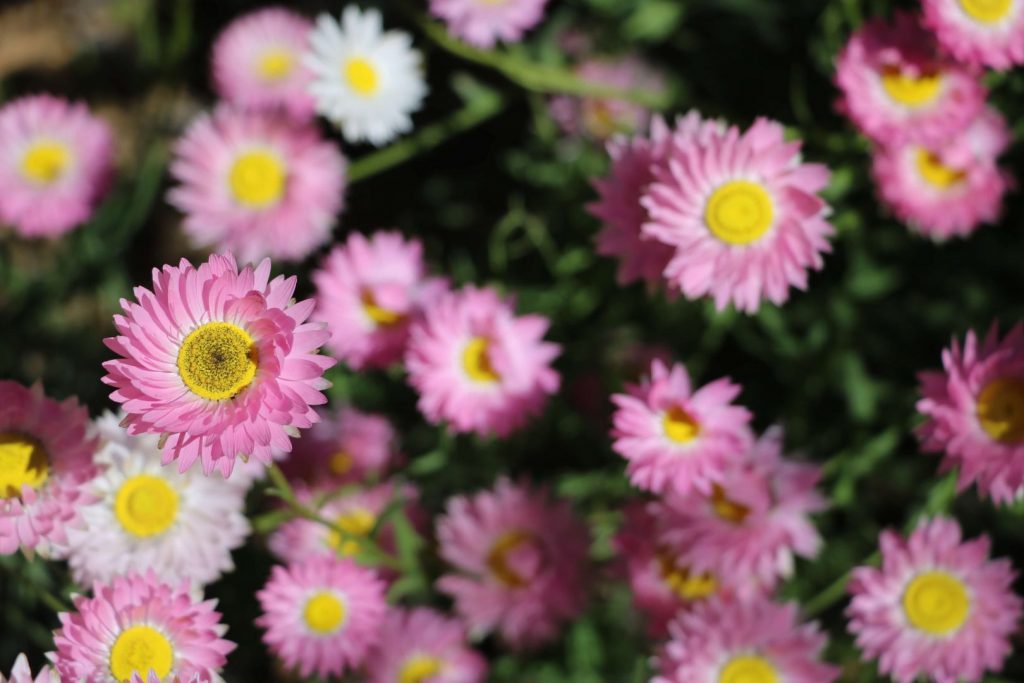 Everlasting Flowers – Perth & Western Australia
Lots of people associate Everlastings as being the distinctive Western Australian wildflower.  I think we have shown here that it is only one of many different varieties.  However, if you are dead set on seeing carpets of yellow, white, and pink Everlasting Wildflowers often stretching as far as the eye can see we suggest Googling the Everlastings Wildflower Trail.
How Do I See Wildflowers In Western Australia – Self Drive Itinerary
One of our favorite things about the WA wildflowers is that you can see them all with a self-drive itinerary.  We are not going to step on the toes of various regional marketing bodies that have done an incredible job putting together some self-drive itineraries
Why not take a look at this collection from the Wildflower Country
http://wildflowercountry.com.au/plan-you-trip/suggested-itineraries/
And this one from WA's Golden outback
https://www.australiasgoldenoutback.com/page/outback-wildflower-trails
It even includes a wildflower tracker!
How To Take Care Of Our WA Wildflowers
In this day and age, it goes without saying – don't pick the wildflowers!  Not only would you ruin it for other people visiting, if you pick the wildflowers it can really damage future generations.  Flowers are an important part of setting the seed for regeneration.  In short – please don't pick the wildflowers!
A whopping HALF of the native plant species in the South West of Western Australia is susceptible to dieback (also known as jarrah dieback).
A more scientific explanation is that Phytophthora dieback is caused by the pathogen, Phytophthora cinnamomi.  It kills susceptible plants, by attacking their root systems.  In simple terms, the plants die because they cannot take up the water and nutrients they need.
While dieback can affect many wildflower plants, it also can affect vegetation that other native flowers and animals were reliant on (like jarrah trees, grass trees, and banksias).  It could devastate entire ecosystems into the future.
These are basic precautions that you should follow when visiting the wildflowers of Western Australia.
Clean your shoes between sites.
Avoid exploring for wildflowers after heavy rain (eg, for two days).
Avoid wet soil and muddy areas by sticking to roads and tracks while on foot and in vehicles.  Observe the signs.  Do not venture into closed tracks.  Also, generally promote good, hygienic practices to reduce the risk of spreading dieback.

Western Australian Wildflowers – The Verdict
I've loved the wildflowers of Western Australia since I was a child, going on road trips out to the Goldfields with my parents.  Over the years road trips to the South West of Western Australia during Wildflower season have ignited my passion once again.  I've tried here to give you a sound overview of when – and where – you should be looking for Western Australian wildflowers!
Like It> Pin It> Where To Find The Best Wildflowers In Western Australia