Last Updated on July 16, 2022 by Travels with Kids
Are you looking for fun things to do on a plane?  Well, you have come to the right place.  We have years of experience in coming up with interesting airplane activities for kids!
If you are about to start traveling with kids, you might have a few concerns.  In our experience, parents often worry about flying with kids.  With good reason, flights are often long, and people are seated tightly in a plane.  While all of us can feel restless on a young flight, it is doubly difficult for energetic and bouncy children!
That is right; we don't believe that flights should be a cause for dread at the beginning of your long-awaited family holiday.  If you want to get to the crux of the matter jump right to the airplane time with kids as quality time section.
This post was first written when my kids were 3 and 6, and largely included airplane activities suitable for 3 to 6-year-olds.  Since then, we've done a lot more flights, and the kids have grown older.  Now the children are aged 10, 7 and 2 years old and I've recently adopted our suggestions to what has changed for our family.
In short, here are some awesome screen free airplane activities for kids that will help you keep them occupied throughout the flight.  Long flights don't need to be stressful or boring.  In fact, they can be fun and, if you wish, screen free.
This post may contain affiliate links, from which we would earn a small commission, at no extra cost to you. More info in my disclaimer.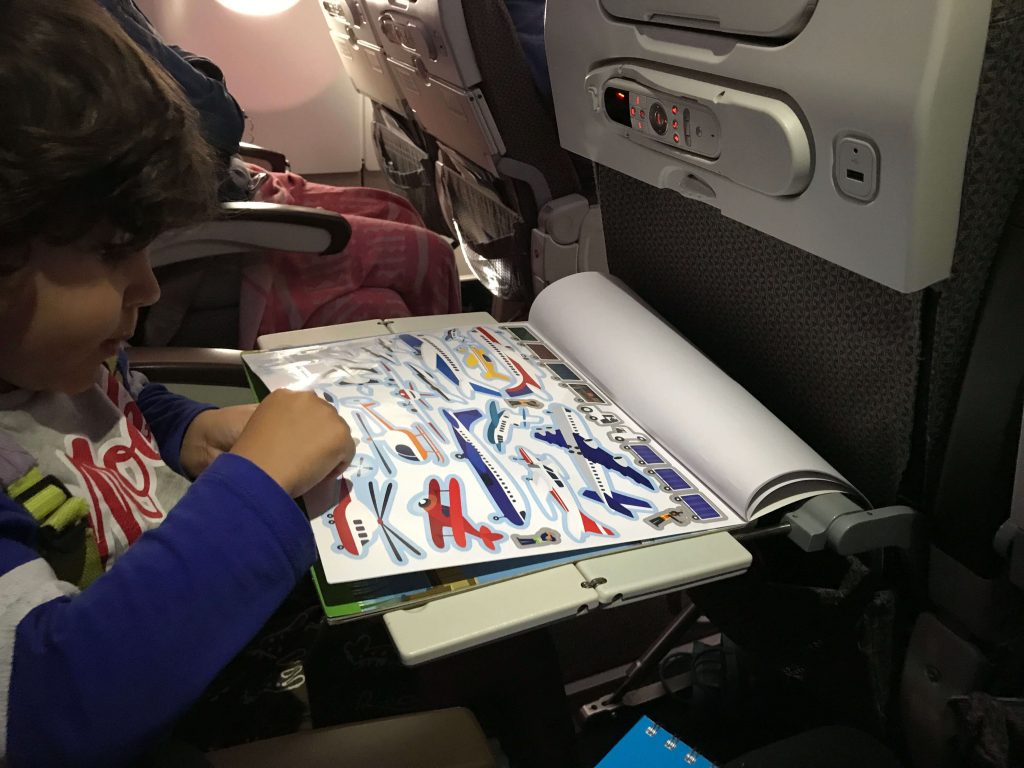 What's This About Screen Free Activities For Planes?
During 2015 and 2016 we began to consciously reduce our use of screens in all aspects of our lives, asking ourselves "Can We Go Screen Free"?  On Instagram, we sought advice from other parents.  We got a wealth of fantastic ideas, which are included here, along with some of our own about screen free airplane activities for kids.
We've noticed lots of blogs and posts of late that make mention of an iPad loaded with new games as a 'must go' item for children's travel.  It's true, and iPad or device is an excellent device for keeping the kids quiet – and helping you save your sanity.  I've even read people suggesting that even if you are a limited screen time family – then flights are not the time to go screen free.  Each family is different – you will know yours best!
We are considering taking it off our travel list altogether, but first; we need to get well prepared with different screen free airplane activities for kids!

Have A Plan – Activities For Kids On A Plane
I am going to give you the cheapest and easiest tip you will get all day:
To have a successful flight with young people you need to have a plan!
In essence, I know you are a planner because you are here searching for fun things to do on a plane before a trip with children.  However, I'm suggesting you need to take your plan to next level!
For example:
Consider how long your flight is, whether you will get your kids to sleep, and when you think the meals will come.  Then, plan around this.
For young children consider that each of these activities might occupy 20 minutes.
For a 4 hour flight, you have take-off and landing (each about 15 minutes), plus a meal.  I calculate therefore you need 3 hours of toys or activities.
Fun Things To Do On A Plane – The Surprise Element
Surprises are fun – so are presents- we all love them.  Having these toys, books, and activities for the plane organized but kept secret from the kids is your "secret weapon".  They are going to be excited when they hear about the flight you have got planned for them!  I've included a bag of goodies here as this post is now about airplane activities for older children.
A Bag Of Goodies
For my younger children, eg, 9-24 months, a bag of random things can keep them entertained for hours.  A keychain, a pair of old sunglasses, hair ties, or an old necklace to name a few.  Make sure each item is pulled out with care.  Once they have seen the item and played with it, often they aren't interested again!
Presents/Gifts To Pack For Kids On A Plane
My mother first did this when we were heading off on a 36-hour long-distance marathon with a 2-year-old.  It sounds consumer-oriented but, in fact, it doesn't have to be about buying new things.  In short, toys don't have to be expensive to be entertaining.
Op-shops have so much cheap stuff, often good quality, which you can buy 'new' like cars/toys/dolls for just a few dollars.  Wrap them up and instant interest!  Given they are cheap you don't feel bad should you leave them at your destination.  You can also encourage your child to give them to another child.  Many of the activities listed here can also be wrapped up to add to the excitement!
Books – An Airplane Activity For All Ages
Taking books on a plane can be a good idea but a bit of planning is needed.  You want the book to be interesting and capture the kid's attention but not too big or bulky.  We often take books on flights but we limit the amount the kids are allowed to bring.
One good idea is to bring books about the countries you are traveling to.  For instance, if traveling to Peru, here are some great book ideas at Best Books About Peru For Children.
What About Travel Activity Packs For Kids?
The weeks preceding a vacation or holiday always seem to be busier than most as you rush around preparing to have a break.  There are house maintenance issues to sort out, pets to be cared for, and usually an extra workload at work!  It's busy, we get it!
There is a wide range of children's travel activity packs on the market that can make your life a lot easier than needing to go through our recommendations and build your own pack yourself.
We were gifted some Very Busy Bags which have become amongst our favorite travel kits!  We specified the age and gender of each of the children, and the kind Very Busy Bag people packed a whole range of different activities that were age-appropriate, educational, and best of all DIFFERENT!
Whether you are looking for airplane activities for a 10-year-old or a 3-year-old, the team at Very Busy Bag have got something for you.  If you have already used the bag, they also provide a refill pack!
Airplane Activities For Different Age Groups
Airplane Activities For Toddlers
Let's face it – traveling with a toddler is a very different ballgame than any other travel you will likely experience!  We traveled a lot with our youngest as a baby and summarised our best travel toys and ideas for international travel with a baby at Best Travel Toys For 1 Year Old.
We have also created a specific list of Toddler Plane Activities, which focuses on travel toys for toddlers on airplanes and other toddler airplane activities.  So if you are traveling with a toddler that is between 12 and 36 months (airplane activities for 1 to 3 years old) please check it out.  We even cover how to entertain a toddler on a plane.

Airplane Activities For 4 to 6 Year Old Children (eg, Pre-school)
In our opinion, the 4, 5, and 6 years old age range is the toughest age to travel after the toddler period.  Many 4 and 5-year-olds are still developing at a rapid rate and find it hard to focus for long periods.  In general, they need to move often and be entertained while on a plane.  Here are some of our suggestions.
Stickers, Stickers, Stickers
Everyone agrees that stickers are easy/light to pack and can keep kids of all ages entertained.  Stickers on paper are good, but so are stickers on plastic water bottles.  Take a look at Melissa & Doug Reusable Sticker Pads. Re-usable stickers that can go on windows are fun as they can go on the airplane windows.  In Australia can be found at target or ordered on Amazon.  Kids need to share the window though!
Here are some of our favorites.
Duplo
DUPLO is Lego for littles – or toddlers.   We love our Duplo and believe that not only does it develop their motor skills, it also helps with creativity.  For parents traveling on planes, it is way easier to find Duplo bits that have fallen between seats than Lego pieces, so it's a much more practical option for travel than Lego.  Until the kids are old enough to not drop Lego pieces!
Beads!  Bracelets Or Necklaces
Take some beads and make beaded bracelets or necklaces.  Make them for the entire crew and gift them at the end of the flight.  For little ones, you need some chunky beads and thicker yarn!  If your kids are older, take a look at these acrylic beads
.  For younger ones, a fantastic set is the Skoolzy Lacing Beads for kids.
Pipe Cleaners 
Pipe cleaners are easy, light, and awesome airplane activities for kids.  They stimulate creative thinking and can be used again and again.  If you don't want to buy simple pipe cleaners they are marketed as Wikki Stix and even are sold in a Wikki Stix traveler kit.
Magnet Set 
If you are able to find a portable magnet set, they are light and easy to carry and you don't lose bits.  We have something like the Lewo Wooden Kids Educational Toys Magnetic Easel Set.   This set looks like it would be good for older children,  Magnetic Blocks Building Set.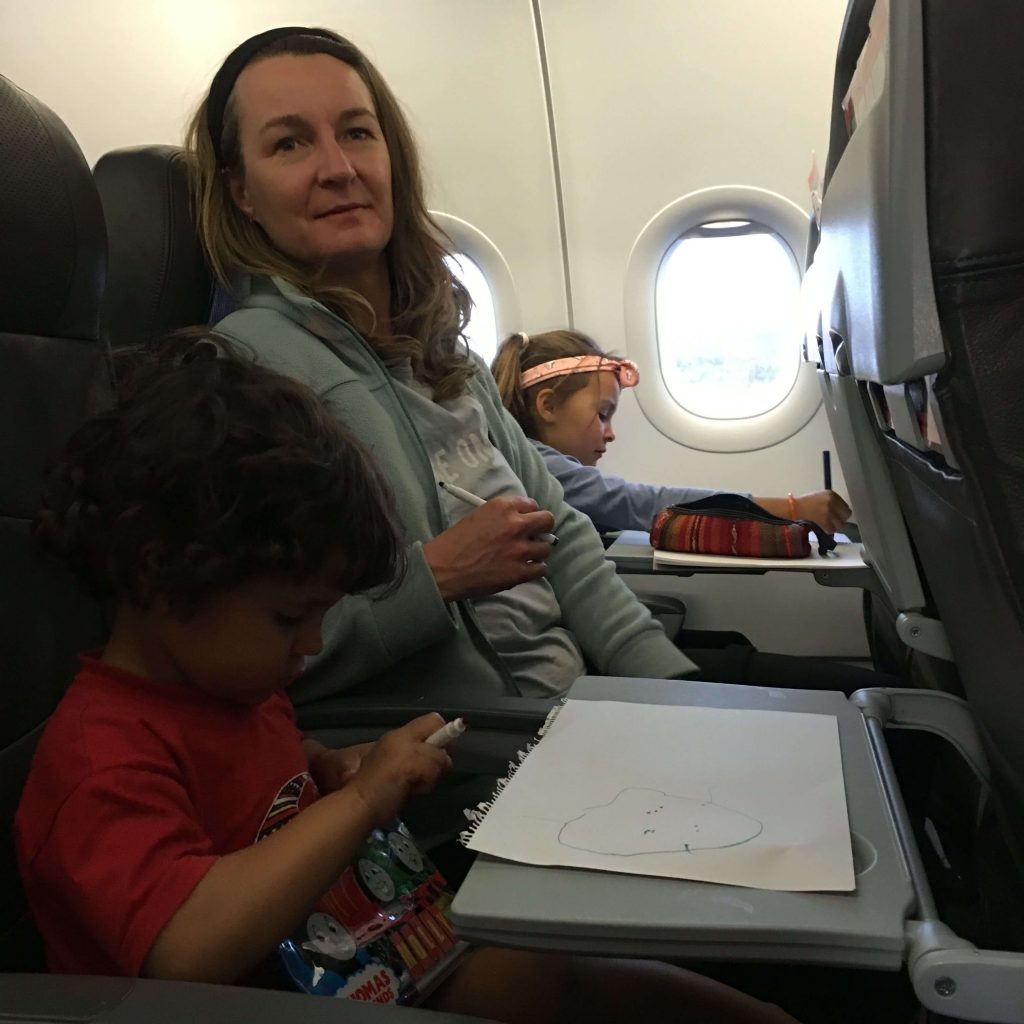 Medical Kit
Medibag 117 Piece Kid Friendly First Aid Kit is complete with a box of band-aids, cotton balls, tape, and cotton buds, and bandages for your toddler to fix up her doll or stuffed animal.  Wrapping legs or arms in bandages is good for their fine motor skills.  Alternatively, you can buy a real ready-made medical kit.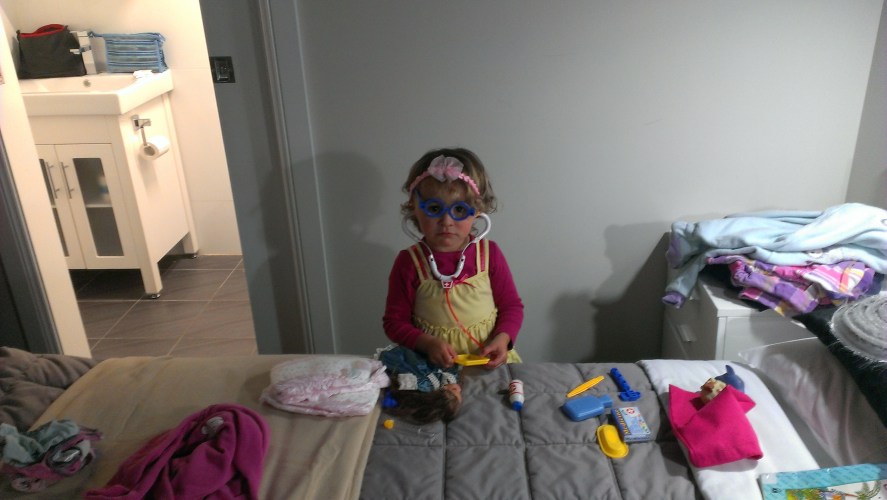 Finger Puppets
Finger puppets are really fun for creative play, telling stories while on long flights.  We bought ours in markets in Peru but you can get some similar ones here.
You can also get really great ones on Amazon.  Here are some of our favorites.
Airplane Activities For 7 to 9-year-old Children (eg, Early Primary School)
By the time children are aged 7 years and up, airplane activities get somewhat easier.
Lego 
Legos are our screen-free winner on the plane.  Our kids each have a small pack and a small base plate with a sticky bottom.  They build and then play with it…for hours!  There are so many different sets you can purchase, but this one is ace because it comes with its own carry case.
For children aged 4 to 7 Lego Juniors is a bit easier, and this is a great suitcase option.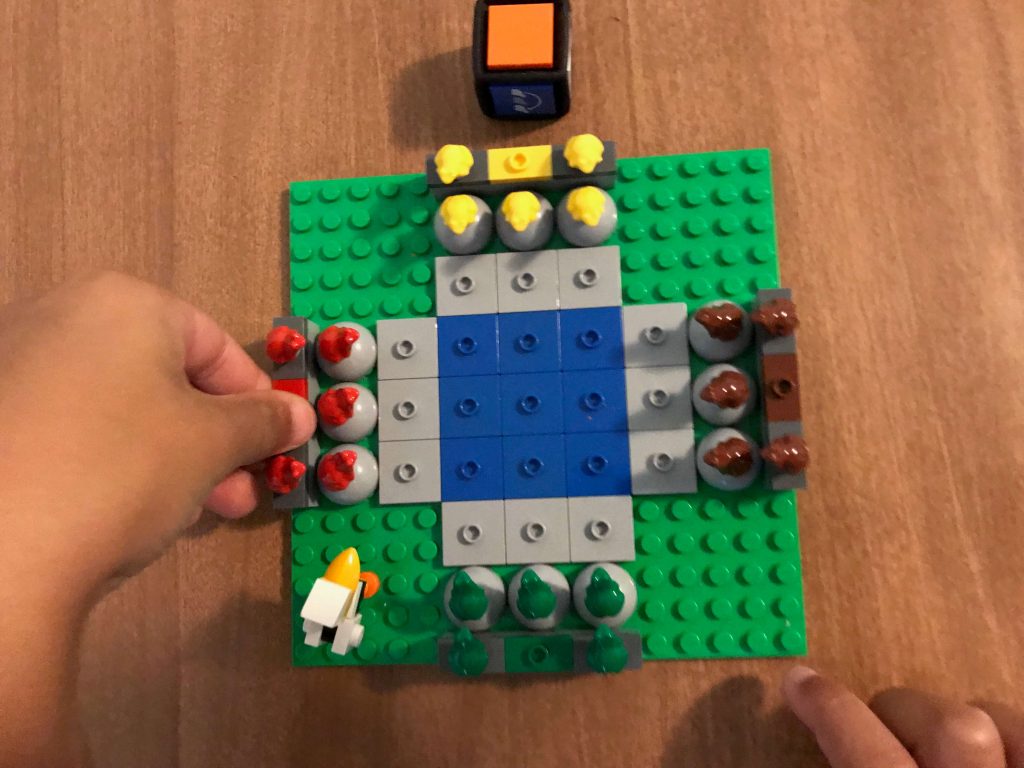 Games – Lego Frog Rush
Our new fave game is Lego-inspired (yes we have a Lego fan in the house) but makes a great travel game.  What we especially love about Lego is that they encourage you to come up with your own rules.  Make sure you have a tray or something to keep the little frogs in place.  Lego rates this game as 7 plus, but our 5-year-old competently plays it.   Highly recommended, check it out on Amazon here.
Magnet Set 
I have divided up the magnet set into both age categories.  This Picasso Tiles set looks like it would be good for older children.
Cards
That's right, playing cards are a brilliant way to spend time on an airplane.  For little ones think Old Maid, GO FISH.  By the time they are about 6,  UNO can be played for hours.  Even a standard pack of cards for a full house is excellent (and great for math)!
WorkBooks 
These can be anything from education workbooks or handwriting workbooks to crossword puzzles.  They are lightweight and easy to carry on to the plane.
Here are some we suggest.
SmartGames IQ Twist
120 unique challenges are included with this version of SmartGames IQ.  Again this is good for kids aged 6 or older, and everything packs neatly into a compact travel case.  While it's designed for single players, it can also be fun to solve the puzzles as a team.
We have this listed in our Gifts For Kids Who Travel: 29 Top Picks.
Colouring / Drawing/ Writing

Look for small clipboards & systems for keeping crayons and pencils in one place.  Again, you want variety for the kids
Journals are a vital part of recording your trip. Even our 4-year-old has a place he can keep memories and draw pictures, while an older child begins to use words etc.  A glue stick is handy so you can glue in entries, postcards, and other paraphernalia that you collect along the way.
Teach Money

This is for early school-aged children and helps tremendously with their early knowledge of currency.  We count, add up, and subtract – either in your own currency or of the country that you are going to.

Airplane Activities For 10 Years Old And Up (Tweens!)
Ok, you are looking for fun things to do on a plane with tweens?  Eye Roll.
In short, by now your 10, 11, or 12 years old is going to have some evolved interests and in some ways, it will be more difficult to distract them.  A new toy wrapped up in paper is not likely to entertain them for very long.
All of the above activities will work for 10-year-olds, depending on their interests.  My daughter is a keen artist and will always take her sketch pad and pencils on a plane.  Also, my 10-year-old is happy to play cards with her younger brother, but prefers taking on an adult and plays a mean hand of Gin Rummy.
However, she is unlikely to take a novel to read, but her 10-year-old cousin would likely devour two Harry Potter novels during a long flight.  There is no point hauling books on a flight if your tween is not an avid reader.
Travel Journal
A travel journal is a wonderful memory for any traveler.  I still treasure my own travel journals from when I was 11 years old, and then on another big international trip as a 14-year-old.  Why not gift a beautiful journal for your tween and see what memories they can collect?  Lonely Planet has a great kids travel journal found here.
Boggle
Boggle is an easy-to-carry game, and quite addictive too.  It involves moving dice (with letters on them) in a plastic tray and then players looking for words.
General Kids Activities For All Ages
Being Grateful 
Part of keeping the kids busy on flights, for us, is giving back to the cabin crew and pilots.  We sometimes create artworks/notes on the airplane and a treat sometimes is brought with us to give it to them as thanks for getting us to our destination safely.  We also do the walk down to the back of the plane and say thank you to the cabin crew.  It breaks the trip up on the plane, and my children are learning about being grateful and giving back
Photograph Album

If we have time before we travel, we put together a small album of photographs to look at and bring it out for the first time on the flight.  Kids love looking at themselves at different ages, doing different things.  This also works well if you are going to be away for a while, to remember grandparents, pets, etc.


Finally, Think Of Airplane Time With Kids As Quality Time
Also consider that time on an airplane is quality time with kids, and what kids want more than anything is loving time with their parents.  Eileen of Families Go explains it beautifully Make Flying Time Quality Time With Kids.

Inflight Entertainment – A Final Word
Note, when you are flying with budget airlines often there will be no in-flight entertainment making it easier to stay away from screens. If there is in-flight entertainment we are 100% fine to use that once we have worked through some of the games, especially if there are new release movies etc so that there is a sense of special-ness about the flight.  In-flight entertainment is the go-to airplane activities for kids in many cases but considers your other options first.
Why Did We Create This List Of Kids Travel Activities?
We realized that screens were becoming a really solid part of our daily life.  So, we challenged ourselves, and wrote Can We Go Screen Free On A 3-Hour Flight?
We have been really influenced by Sue Palmer's book, Toxic Childhood. We highly recommend this book if you are looking for a different perspective on how to raise children in the modern world!
So there you have it – our tried and tested screen free airplane activities for kids!
Check Out Some Of The Books That Inspired Us
The Verdict – Fun Things To Do On A Plane!
So – you are worried about the upcoming trip with the kids.  We understand – we've been there and done that many times before.  However, with this very comprehensive list of kids travel activities we hope that you will go well prepared and that your flight is a success, as is your holiday.
If you like our ideas, you might find our post Ideas To Ace Traveling As A Family & Travel Essentials For Kids useful when planning a trip.
Looking for Toddler Plane Activities?  This is our dedicated Toddler Airplane Activities post.
Like It > Pin It> 21 Awesome Airplane Activities For Kids and Tweens

This post was featured on #MondayEscapes hosted by Extraordinary Chaos
Save
Save
Save
Save
Save
Save
Save
Save
Save
Save
Save
Save
Save
Save
Save
Save
Save
Save
Save
Save
Save