Have you been dreaming of a going to Peru with kids but worried it might be too risky or too hard to plan? You do not need to put your Peru travel plans on hold! With our helpful advice, you can be planning your visit to Peru with your kids today!
This page contains affiliate links.
I lived in Peru for over a decade and I know the country like the back of my hand. Not only was my first child, Miss M, born in Peru, I have done multi-generational trips to Peru with two of my kids and their nana. I've got amazing tips for travelling to Peru with toddlers, hiking in Peru with a baby and also being in Peru with children of school-age.
When it comes to planning family holidays in Peru – dare I say it? – I'm an even better resource than the Lonely Planet! That's why I've put together this Peru destination guide to help with all your trip planning needs.
Thinking of going to Central America, too? I've also got a great destination guide for traveling to Nicaragua with kids!
Why You Should Plan a Peru Family Vacation
Not only is travelling to Peru with kids feasible, we highly recommend it. With a bit of preparation and our top Peru travel tips, you can plan an amazing Peru family adventure.
There are not many places in the world that ignite the imagination quite like Machu Picchu, the fabled lost city of the Incas, located high in the Andes. In recent years Peru – and Peruvians – have pulled out all the stops to make sure that a trip to Peru is a safe, enjoyable and thoroughly interesting one, including for families. There is something for everyone in Peru.
Peru is the third largest country by size in South America. It is incredibly diverse, with coastal deserts, tropical jungles and soaring mountains. With great food, great tourist infrastructure and truly friendly people, Peru is a wonderful place to travel to for a family holiday.
Peru is an incredibly family-oriented country.
Peruvians love kids, full stop. Everywhere in Peru, people will likely be interested in your kiddos and want to know more. It is a great way to get to know the locals, and you will find that people are generally warm and welcoming.
And Peru is an easy sell for kids: from the adorable fuzzy alpacas to the tales of mysterious lost cities, Peru is sure to capture the imagination of kids of all ages.
Honestly, in our opinion there is no better place to travel in South America with kids than in Peru.
Planning Your Peru Family Holiday: When to Go
First things first: Peru is located in the southern hemisphere. If you are used to the seasonal calendar of the northern hemisphere, Peru is going to be backwards to you! When it's summer in the north, it's winter in Peru; winter in the north is summer in Peru.
When is the best time to visit Peru with kids? It really depends on what you most want to do:
Do you want to visit Machu Picchu or go trekking with the kids?
Do you plan to hit the coastal beaches?
Do you want to avoid as many tourists as possible?
If your key destination for a Peru family vacation is Machu Picchu, the Sacred Valley, or Lake Titicaca
You really can visit any time of the year, and there are advantages and disadvantages to the month you choose.
May – August: This is known as "dry season" in the Andes and is the peak period for tourism. In terms of conditions, it is the best time to go hiking in Peru. With clear, sunny days and cold (often below freezing!) nights, this time of year is optimal for visiting the main tourist attractions around Cusco. That also means it's the busiest time of year – you can expect lots of crowds, especially at Machu Picchu.
April, September or October: These are the "shoulder months" between the dry season and the onset of the rainy season in the mountains. April is often very beautiful with the mountains still an emerald green, but the chance of rain showers is considerably less. September and October are usually less touristed and, depending on your luck, relatively dry. It also starts to warm up in September and October, making them – generally speaking – great months weather-wise.
November – March: This is full-on rainy season, and also low season in Cusco. This is the season of discounts and nearly empty sights, but you might get wet! If you travel to Peru with kids in the wet season, make sure you're properly prepared for wet weather with full rain gear, umbrellas and a back-up plan: as weather is unpredictable, unexpected or prolonged heavy rains can cause mudslides and road closures. This is where booking with a reputable travel agency can be your best friend, as they will have contingency plans in place.
A Note about Inca Trail Closures & When to Plan Your Trip to Peru with Kids
If hiking the Inca Trail with your kids is your goal, keep in mind that it is closed in February for regular maintenance. Although the Inca Trail is usually open in January and March, we don't recommend trekking in those months as certain parts of the trail are prone to landslides. Extreme weather can also cause closures in late January or early March as well.
If you want to visit coastal Peru with kids: Lima, Nazca, Paracas, Trujillo
To complicate your life, coastal Peru has completely opposite weather compared to the Andes. (It's almost like they did it on purpose to guarantee you'll make a second trip. Of course, you'll want to anyway!)
May – August: While it's nice and sunny and clear in Cusco, in Lima it will be cool, grey and overcast. There is also the chance of some drizzle.
December – February: This is the best time to visit Lima and the South Coast of Peru. While it's raining in the mountains, it's full-on summer in Lima: hot and sunny. Lima can get pretty humid so be prepared to feel sticky most of the time.
Another way to plan your trip is around Peru's festival calendar. Peru has a rich culture with fascinating festivals happening nearly every month. You can plan a really interesting culture-based family trip to Peru around these festivals.
Festivals in Peru include a lot of music, dancing and colourful costumes and can be an incredible delight to watch. They also tend to involve a lot of drinking, so better to stick to daytime events with the kiddos.
When should I avoid visiting Peru?
Again, it really depends on what you want to do. If you want to avoid tourists, you're better to go during the off-season (Nov-Mar). If you really want to hike the Inca Trail, then maybe brave the crowds and book your family trip to Peru between May and September.
Travelling to Peru with Kids: Where to Go?
Peru is a very diverse country with so much to see and do for kids…and for you! Peru is a great destination for kids because you can adapt your holiday to your family's ages and abilities.
Are you thinking of traveling to Peru with toddlers? We have a load of toddler-friendly suggestions on our website, having travelled to Peru more than once with children ages 0 to 5 years old. 
There is so much to do and see in Peru with your family, there really is something for everyone! We have location guides with tips on how to visit and what to do in each of these great Peru destinations:
Lima
We love Lima! Lima is a great place to stop and get your traveling feet before continuing on the rest of your Peru journey – especially if you are coming from a long way away! We have a great guide for visiting Lima with kids: Things To Do In Miraflores With Children.
South Coast
Peru's south coast is a destination in its own right and should not be missed! Pachacamac, the Nazca Lines, Ica, Paracas and more – there are so many great things to do with kids.
A visit to the south coast of Peru connects you to some lesser-known pre-Columbian cultures as well as the contemporary Afro Peruvian and Latino culture. We love a visit to the South Coast for a getaway. Plus, it has lots to do and see that kids will enjoy! For more, check out our Guide to Peru's South Coast with Kids.
Cusco
We have gathered together a list of fantastic tips for a trip to Cusco. Many view Cusco as merely the departure point for a visit to see Machu Picchu, but it has so much more to offer – especially for families travelling with children! For the history buffs out there, there are lots of Inca ruins to check out, too. Read our tips for a trip to Cusco with Kids.
Sacred Valley
With towering mountains, lush gardens and quaint villages, exploring the Sacred Valley is a great experience in Peru for kids! There lots of kid-friendly activities to do, but there is an eminently practical reason as well: spending time in the Sacred Valley when you first arrive to Cusco is a great way to help you and your family acclimatize to the altitude (more tips about acclimatization below!)
Machu Picchu
Taking the train to Machu Picchu was a real highlight for our kids. It's a long way to Machu Picchu, and for many a once-in-a-lifetime experience. You will want to do it right! I've compiled my top 8 tips for visiting Machu Picchu with kids; check it out!
Trekking in Peru with Kids
For many people, the allure of Peru is the chance to hike the Inca Trail. The good news is, if you're planning a family vacation to Peru, you might still be able to do some trekking!
There are many things to consider when deciding if a trekking vacation is right for you and your family, but luckily we've got you covered. We've gone trekking in Peru with a baby and with a toddler, so we know what we're talking about! Check out our helpful guide, Should I Take my Children Trekking in Peru?
This is just a taste. With the islands in Lake Titicaca and Puno, the Amazon, Arequipa, North Coast and more, the possibilities for visiting Peru with kids are positively endless.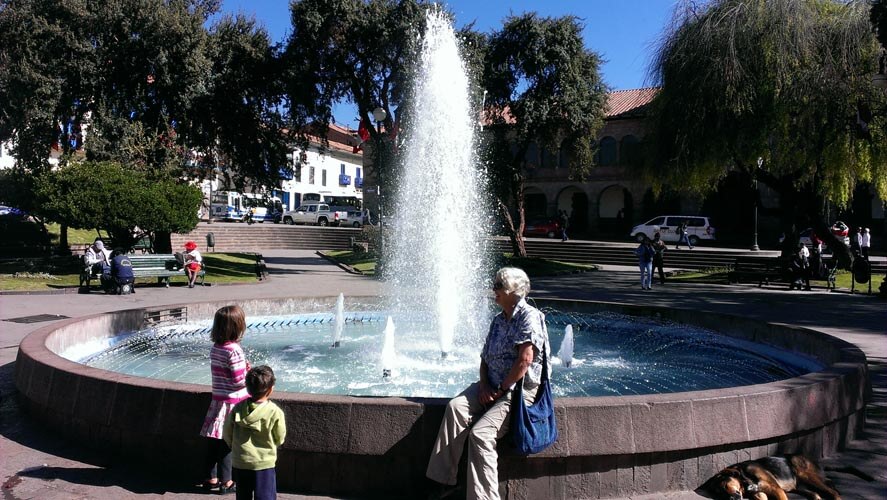 Ready to go? How to Plan Your Peru Family Holidays
Booking Your Trip to Peru with Kids
Should you book your family vacation to Peru through an agent, or on your own? If you are an experienced, independent traveler, you can definitely plan a trip to Peru with your kids on your own. Peru is a well-organized country and it is not hard to get around.
For the rest of us, it's a good idea to look for a reputable, kid-friendly travel operator to help you plan everything. Especially if you're a little nervous about traveling to Peru with your family for the first time, a good travel company will make sure you get from A to B with the least amount of hassle. After all, you want to enjoy your family holiday in Peru, and having the logistics taken care of by someone else makes things way less stressful.
Wherever we travel with the kids, we always look for a local company so that we can work with them directly. If you book through an agent in your home country, they will subcontract to someone in Peru (or maybe lots of people!) and this can cause headaches. In the end, it is better to deal directly with someone on the ground who can be with you every step of the way.
Pro Tip for travelling in Peru with kids: Peru has an amazing thing called 'atención preferencial' which basically means that if you are traveling with children you can skip the queue. Better still, the locals know this and will usher you to the front of the line. Bonus points if you are pregnant: they always look after a pregnant woman in lines and public places!
How Long Should You Plan Your Peru Family Holiday?
This is the $64,000 question: how long should you plan to go for? There are a lot of factors to consider when planning the length of your Peru family vacation, including how much time you have, budget and what you want to see. We've taken the guess-work out of planning your Peru itinerary with this post, Best Peru Itineraries for Kids.
Getting the Kids Excited about Your Family Trip to Peru
Half the fun of travel is the anticipation, and learning about your destination. Weeks or even months in advance of your family trip to Peru, you can start to get the kids excited by learning about Peru together.
There are some amazing books about Peru out there – for kids and adults alike! Reading is a great family activity. Sharing in the experience of learning about a new country, a new culture and a new language are great ways to bond as a family. Check out our selection of the Best Peru Books for Kids.
Do you and your family like trivia? Learning some interesting or unique facts about a place can be another great way of getting to know a destination before you get there. For example, did you know that Peru is home to the deepest canyon in the world? (Hint: it's the Colca Canyon!) Read more of our 11 Fun Facts About Peru for Kids.
Also, if your kids are learning Spanish, Peru is a great place to practice. Peruvian Spanish tends to be easier to understand than some other Latin American countries who speak very fast and in a garbled way.  Here are some of the Most Common Spanish Phrases that you will find helpful!
You DO Need to Plan
When it comes to family travel, you don't want to wing it. In our post about Planning for a Peru Family Vacation we share some of our best advice for preparing for your trip. Did you think about what it will be like to fly with your kids? Were you hoping to skip Lima and head straight to Cusco? We will tell you why that might not be the best idea!
What to Pack for Your Peru Family Vacation
Have you thought about everything you'll need for your family trip to Peru? From totable toys and books to snacks and clothes, our Tips on Packing for Peru will help you make sure you are totally prepared.
Where to Stay in Peru with Kids
Although Peru is a favourite destination among backpackers, you don't have to stay in a dorm when you travel to Peru. There are plenty of upmarket hotels and resorts in Peru, many of which cater to families. In fact, luxury hotels outnumber backpacker hostels in Cusco!
There are also plenty of high quality, mid-range budget hotels. English is widely spoken, many hotels will provide heaters on request, and most also have oxygen available if you need it.
Here are our top recommendations of where to stay in Peru when you're travelling with kids:
Where to stay in Cusco and the Sacred Valley:
Where to stay at Machu Picchu:
Where to stay in Lima and the South Coast:
Best Places to Eat in Peru with Kids
Do you have a picky eater? Peruvian cuisine is famous worldwide, but there is also plenty of food for kids in Peru. In addition to some really yummy (but no so kid-oriented) dishes like ceviche, the locals also routinely eat roasted chicken and a yummy Peruvian version of Chinese food called chifa (pronounced chee-fa…also fun to say!).
Pizza and pasta are also popular and easy to find. They also love a good guinea pig (known as cuy) but don't tell your kiddos that one.
Read all our suggestions for the Best Places to Eat in Peru with Kids.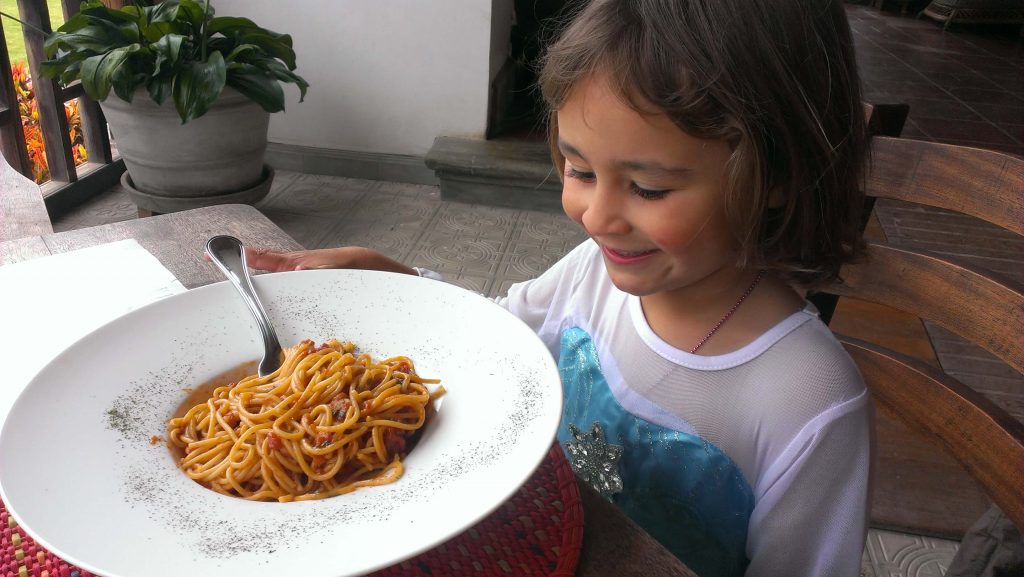 Travelling to Peru with Kids: Are there risks?
Is Peru too dangerous for kids?
Actually, Peru has great infrastructure and has cleaned up its act in recent years. Yes, in the past Peru did have a pretty bad rep. There were most definitely pickpockets in the major tourist areas and other types of petty crime. Well now that is rare. There has been a concerted effort to clean up and make things safe. Tourist police are everywhere and you rarely hear of the type of crimes that made Peru known as a slightly dangerous destination.
Peru is generally a safe country to travel to. Accidents or crimes can happen anywhere in the world, but in general, if you follow good common sense, stay in a mid-range accommodation or above, and acclimatize sensibly you should encounter few problems.
Road Safety
Road safety is an important consideration when you're planning a trip to Peru with kids. It's true: you can find irresponsible drivers, poorly maintained vehicles, and rundown equipment.
This is where budget can be an important consideration. Typically, the more you spend, the better services you receive. For example, if you hire a private car and driver they will generally be better, more responsible drivers, and their cars will be well-maintained. However, accidents can happen anywhere.
Altitude Acclimatization
One major and valid concern parents have is how to properly acclimatize with their children when travelling to high altitude destinations in Peru.
I have done this many times with my family, and you can read all my best advice here: Tips For Acclimating To Altitude With Kids. We have never taken Diamox (the altitude sickness prevention tablets), but definitely ask your doctor about this and other options in order to be sure you do what's right for you and your family.
Sun Protection
You can get really sunburnt in Peru!
Whether on the hot dry coast or in the Andean mountains, the sun in Peru really burns. If you're thinking, "Oh, I'll be fine, I never burn," trust us: you will burn in Peru.
Particularly when you're up in the mountains around Peru, it's easy to forget just how high up you are. Even when it doesn't feel that warm, the sun shines really intensely. Make sure you protect yourself and your little ones really well against the sun. We recommend a high SPF sunscreen AND a hat.
Malaria & Other Mosquito-Borne Illnesses
If you wish to travel to the jungle (for example Puerto Maldonado or Iquitos) then mosquito-borne illnesses are of concern. Our full post Traveling and the Risk of Malaria in Kids explores these considerations.
Yellow Fever
Peru is officially a yellow fever country, with the disease occurring in the Amazon. If you are over 9 months of age you should be vaccinated.
Yellow fever vaccination does affect travelers if you are flying back to countries with strict quarantine laws immediately after being in Peru. Australia is one such country, and so are Costa Rica and Brazil. Our baby was denied boarding as she had not been vaccinated against Yellow Fever! In short: if you choose not to get the shots, make sure you will be allowed into your next destination country.
Dogs
Don't let your kids pet dogs in Peru, or go anywhere near them. This is not Peru-specific advice, but advice to kids travelling in any developing country.
Last but not least: Get good travel insurance!
Having good travel insurance is vital for us when planning a Peru family holiday. The peace of mind that it offers outweighs the cost of the policy.
Make sure you get a comprehensive travel policy that provides medical attention, evacuation from isolated places, as well as more standard features like covering you for cancellation of services or theft. We have used World Nomads Family Travel Insurance, but you will need to make sure it suits your family.
We can't wait to explore more of Peru with our kids! Take a look around our website, we have many resources for when you're planning a family trip to Peru.
Like this? Pin it!
We've travelled with Lonely Planet for over 20 years! For unbiased and detailed advice, they are our trusted guide book.  Even in this digital age, you can't go past them for maps and info on the go.
Save
Save
Save
Save
Save
Save
Save
Save
Save
Save
Save
Save
Save