Last Updated on August 30, 2020 by worldoftravelswithkids
After multiple trips to Peru with kids, we definitely have some ideas of our best places to eat in Peru with kids.  I should mention Peru has some amazing restaurants (not kid friendly) and I've cheekily mentioned a couple here.  Just in case you get a babysitter or a night out.
Lucky for families travelling to Peru, there are a number of popular Peruvian types of food that are "kid friendly" – and better still, they are also affordable.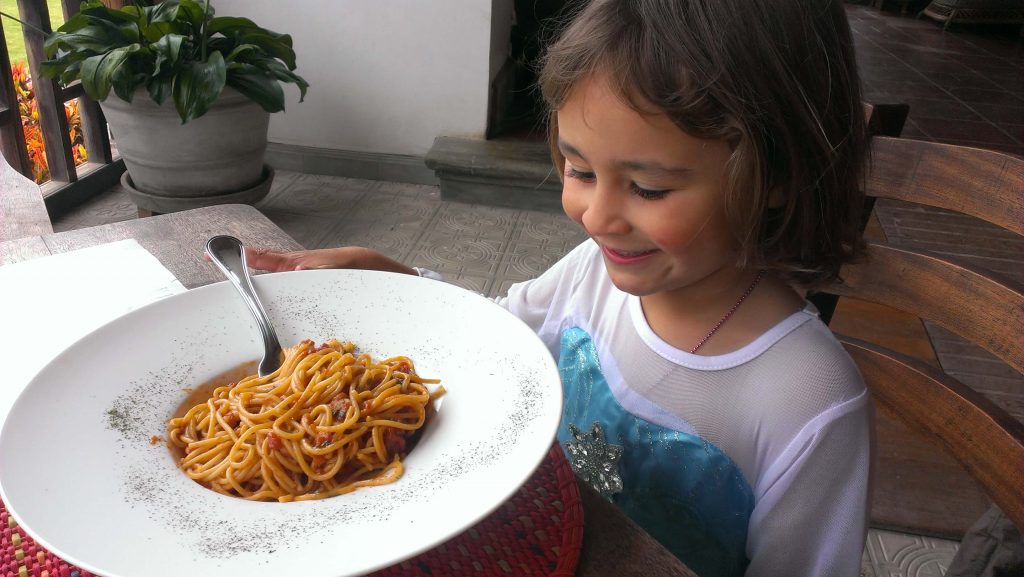 What To Eat In Peru
Slow Roasted Chicken
The Polleria offers pollo a la brasa which is slow roasted chicken over hot coals, which are served up with hot French fries/chips.  Without exception, in our experience the best place to eat in Peru, affordably, for kids is the Polleria.
For smaller kids you can ask for an Octavo (1/8 chicken) and for the adults we usually go for a Quarto (quarter chicken).  If you have a fussy eater that prefers the white chicken ask for 'pecho' (chicken breast).
Most pollerias serve a watery chicken broth for starters and allow you to access a salad bar to serve your own salads.  Obviously the cleaner the establishment, the more hygienic the salad bar will be.  Keep in mind that lettuce and other vegetables might have been washed in local water so you should exercise caution with the salad bar.
Peruvian Chifa
Only in Peru is Chinese food referred to as 'Chifa' so you will sound VERY local referring to it!
Peruvian style Chinese is very popular all around the country.  Like other Peruvian meals, it is a fusion of Peruvian and Chinese ingredients and typically has huge portions.
Chaufa is the most popular type of Chifa and is basically a version of fried rice. Tallarin are yellow noodles on every Chifa menu and one of my personal faves!
Peruvian Pizza
When I first arrived in Peru, some 17 years ago, pizza was rare.  It was something gringos ate at their expensive tourist restaurants.  Then, slowly over the next couple of years, little pizza restaurants started popping up on every corner.  Now a good, cheap pizza cooked in a wood fired oven is almost ubiquitous in Cusco.  While not exactly the same as pizza in other parts of the world, I'd almost say it is more delicious.  Try it!
Other ideas for what to eat in Peru check here.
Want to know more about traditional Peruvian meals? Check out Trip Savvy's guide to meals in Peru.
Best Restaurants In Lima, Peru
There are so many wonderful places to eat in Lima, I could write a whole blog dedicated to the best restaurants in Lima Peru.  Here are a couple of kid-friendly options that also have a great Peruvian vibe.
El Cordano
This restaurant is located in the heart of Lima, opposite the presidential palace. El Cordano is wonderfully atmospheric.  A popular dish includes tacu tacu (pan-fried rice and beans).
We've included it on our list because the busy restaurant and good hearty food will work for kids.  You can check out their website here for more information.
Los Escribanos
This is another Lima restaurant serving up typical Peruvian meals, as well as some international dishes that will work for you kids.  Again, it has a simple Limeno atmosphere and makes a great place for rest while visiting the Plaza de Armas of Lima.
Miraflores Food Options
While the center of Lima offers some very typical Peruvian options, Miraflores is more upmarket and cosmopolitan.  We usually base ourselves in Miraflores because it is considered the safest part of Lima, and it offers easy access to some major sites.  There are a lot of Miraflores Peru restaurants to choose from.
For kids, it is important to note that Miraflores offers all the major food chains that they are likely familiar with; Burger King, Pizza Hut, and a McDonald's on the corner of Parque Kennedy has a reasonable sized upstairs playground.  We've had some great cultural interactions with our jet-lagged kids at that McDonald's!
Our kids also love eating at the chain Chili's, which has a restaurant at Larcomar. Spectacularly sited, there will be something for everyone at Larcomar.
In addition, there is a kid's game arcade, a 10-pin bowling alley, and cinemas.  It's a place the kids have fun, and you can get away from the rigors of travelling.
While not as internationally well known as Peru's most famous dish, ceviche, another popular food in Lima is sandwiches.  For us, sandwiches are a great kid friendly meal (if you ask for simple ingredients).  Two of the most famous sandwich restaurants in Miraflores are La Lucha Sangucheria Chola and El Pan de la Chola.
Another Lima institution, and possibly one of the most romantically cited restaurants in all of Peru, is La Rosa Nautica.  Many describe it as the best restaurant in Peru.  If you are going to splurge on a kid free evening, then La Rosa Nautica would be the place to do it.  Imagine sipping a pisco sour before tucking into some delicious ceviche, while watching the sun set over the Pacific Ocean.
Gaston Acurio
If you are truly looking for the best restaurants in Lima, then you can't go past celebrity chef Gaston Acurio's restaurants. With Lima at the heart of his cooking empire, Gaston Acurio is famous worldwide as an ambassador for Peruvian food.
He has four restaurants in Miraflores, one in Cusco and another in Arequipa.  Another great place for a kid friendly escape, if you can organize it.
To learn more about famous Peruvian chefs and their restaurants, read Living In Peru's post.
Best Restaurants In Cusco Peru
Jack's Café
Jack's Cafe is a Cusco institution.  This place has been serving up the same tasty meals for over 20 years.  Thousands of weary travelers each year line up outside for their yummy food and delicious coffee.  Loud, warm and friendly, I've taken my kids to Jack's a number of times, and they fit right in.  The menu was originally created by an Australian lady, so it's the perfect comfort food for someone far from home.
For another review of Jacks Café Cusco check the Double-Barrelled Travels review.
Cusco Pollerias
The best polleria in Cusco is Los Toldos, on the corner of Alamagro and San Andres.  Having visited many, many times, I can say that Los Toldos is the best (if not the priciest).  The servings of chicken here are the biggest and the juiciest, the fries are tasty, the salad bar is fresh and it is always warm and cozy.  This is one of the best restaurants in Cusco Peru for families.
Etapoy, just around the corner and half a block towards Av.Sol is another fantastic polleria and is popular with locals.  Etapoy also has great Peruvian favorites like Anticuchos on their menu and serve up great big portions.
Best Restaurants In Sacred Valley
Many of the major resort style hotels in the Sacred Valley of the Incas have excellent restaurants that are used to catering to children.  In addition, there are a number of independent restaurants in the Sacred Valley which are definitely among the best.
Paca Paca
Rustic, warm and friendly located upstairs in an old Urubamba building.  It has great Peruvian food and pizza for the kids.
Tunupa
This buffet restaurant is housed in an old Spanish mansion that has been converted to a restaurant.  Located on the Urubamba River, it has a beautiful patio and gardens that give your kids space to run and play.  Tunupa is popular with tour groups at lunchtime, so be warned.  Another buffet style restaurant that is housed in lovely gardens is Muna, just outside Urubamba.
El Mayu in the El Albergue, Ollantaytambo
This lovely restaurant is right on the platform of the Ollantaytambo train station.  You can sit and watch trains come and go as people head off to Machu Picchu.  There is a special excitement on this platform that adds to the overall ambiance.  The food at El Mayu is also excellent, featuring organic vegetables in season from El Albergue's own garden.
Hearts Cafe
One of my favorite restaurants, if not for its delicious comfort food, is the Hearts Café in Ollantaytambo.  Founded by a British woman to support social projects in the mountains of the Sacred Valley, she also created some wonderfully tasty dishes.
I always stop for a coffee or a meal, enjoying the fact that the meal gives back to women and children of the surrounding areas. For more information about Hearts Cafe take a look here.
Some more great Sacred Valley restaurants to consider with the kids.
Best Places To Eat In Peru Conclusion
Peru, overall, is a wonderfully family friendly travel destination.  Plus, Peru is a destination for foodies that offers plenty of good family friendly places to eat with the kids.
Like It> Pin It. Best Places To Eat In Peru With Kids