Last Updated on January 25, 2021 by worldoftravelswithkids
We love Lima!  We especially love Lima with kids and recommend it as a great place to stop and get your traveling feet!  This especially applies if you have traveled long haul and are likely exhausted upon arrival.  Here is our great guide, Things To Do In Miraflores With Children.
Our Planning for Peru with Kids page explains that the altitude in Cusco 3400m (11,154 feet) can really knock your system about!  We prefer to rest and get our body clocks in order in Lima.  More specifically Miraflores, a suburb of Lima which is modern and safe.  There are wide footpaths which a great for prams.  This is not the case in most other parts of Peru.   After writing the post we realized that we would separate the information into three distinct posts as there was so much information to share!
This post may contain affiliate links, from which we would earn a small commission, at no extra cost to you. More info in my disclaimer
Things To Do In Miraflores With Children– Road Tested By Kids Under 5
Parque Kennedy
This is a great playground that is the most modern of all the playgrounds we have seen in Lima.  Also, in Parque Kennedy is a thriving community of cats.  The cats are fed by the kind citizens of Lima who you see bringing cat food.   Despite their vast numbers, the cats are apparently allowed to stay by the benevolence the church of Virgen Milagrosa which is in the center of Parque Kennedy.
One of our number 1 tips for Lima with kids is letting them get out and explore.  There are safe paths, fun food carts, and a carnival atmosphere.   Also, there are often artworks on display or movable art projects that come and go.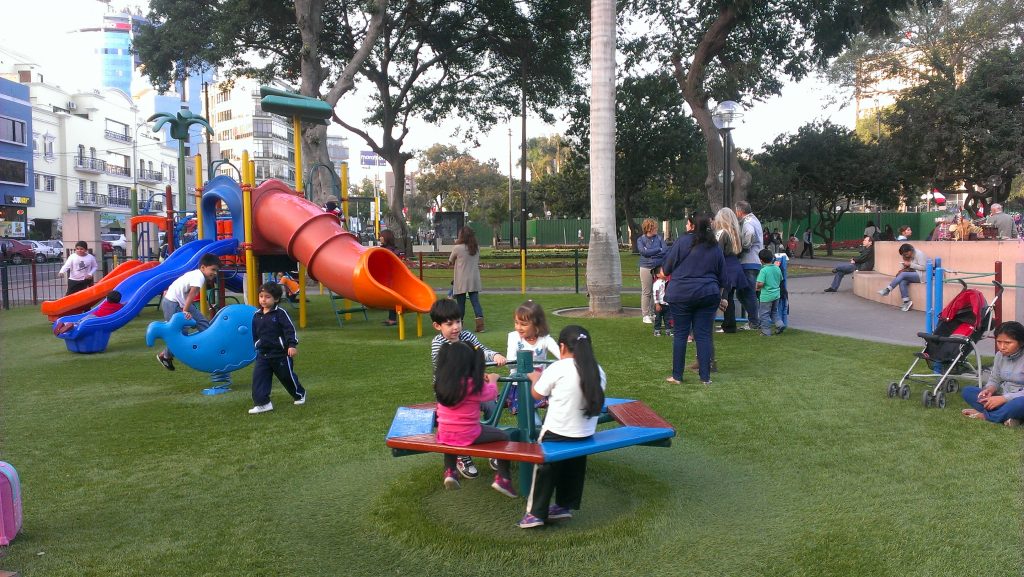 Fast Food
Did I just mention fast food?  Yes, one of those things that I said I would never do as a mother is let my children eat fast food.
When you are visiting Lima with kids it's worth knowing there is an abundance of fast food in Miraflores.  The likes of Mc Donald's, Burger King, KFC and Pizza Hut.  Priced at Western prices it is also familiar to little kids.  I find that they need recognizable things in their lives, especially after long flights.
Also, travel doesn't have to be complex.  The playground in Mc Donald's works just as well as the playground outside!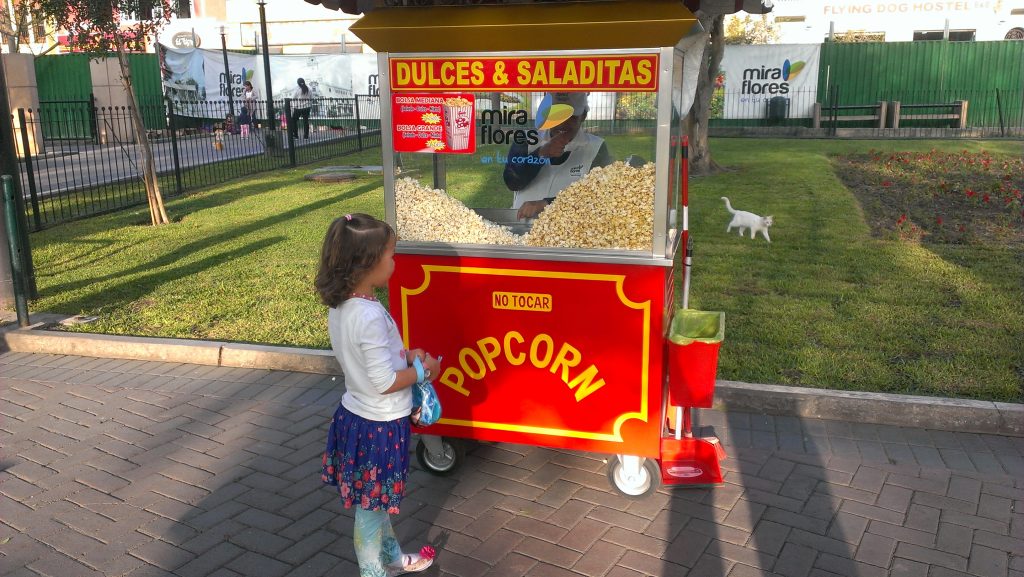 Parque del Amor
A nice long walk (think 6 blocks or more) from the center of Miraflores is the beautifully named 'Parque Del Amor,' the Miraflores "Park of Love," which has a great view of the Pacific Ocean and a series of statues with poetic inscriptions dedicated to love.
This is a perfect walk if you have children happy in the pram and you want to stretch your legs after a long flight!   From here you can watch the paragliders whoosh in and out of the coast as well as get a great view of the sea.
Larco Mar
Impossibly built into the cliff wall at Miraflores, this is an upscale shopping center where only Lima's most wealthy, or tourists, can afford to visit.   There are some nice restaurants and some that are kid friendly like Chillis.   Of note is a huge games parlor, with all sorts of rides for kids.  As anywhere in the world they are not cheap but kids go home satisfied.  It breaks like this that makes Lima with kids much easier.
Also of interest when visiting Lima with Kids, there is a small Museo de Oro (Gold Museum) should you not have time to go to the bigger one, a bowling alley and movie theatre.  One of us played in the games parlor with the kids while the other one soaked up some of Peru's golden history.
Double Decker Bus
Mira Bus is the double-decker panoramic bus that departs from Parque Kennedy.  This bus is a lot of fun for the kids to ride on the top deck – plus a utilitarian way to get around, especially if you don't have a lot of time.
Swimming Pool
In short:  most kids love to swim, and for ours, it is a real treat.  So this is something that we can do in the hotel, fit in midday naps, and take care of our bodies while recovering from a long flight.
This is listed last on our tips for Miraflores & Lima with Kids, but it's the 'non-negotiable one!'   More information about our Lima Hotel Recommendations.
Looking For More Information On Peru And Lima With Kids?  Check Out Some Of Our Other Posts
A Guide To Peru's South Coast With Kids
Visiting Machu Picchu With Kids
We have traveled extensively throughout Peru.  Below are some of our favorite guidebooks and favorite books about Peru.  Click each one to check the current prices.
Like It>> Pin It>> Lima With Kids: Things To Do In Miraflores With Children
Save
Save
Save