Last Updated on November 23, 2020 by worldoftravelswithkids
For anyone considering a trip to Cusco with kids, we have gathered together this list of fantastic tips for a trip to Cusco.
Nestled in the high Andes, Cusco is a cosmopolitan city that offers a lot for families traveling with children.  Especially those who want to linger awhile and delve a little deeper into this fascinating city, there is a lot to do. A trip to Cusco doesn't come without its challenges.  It is located at extremely high altitude, being 11,152 feet (3,399 meters) above sea level.
This post may contain affiliate links, from which we would earn a small commission, at no extra cost to you. More info in my disclaimer.
Fantastic things to do in Cusco with Kids
Playgrounds Of Cusco
Yup, I have listed the playgrounds of Cusco at number 1 in Cusco with kids!  Why?  Because if you have kids, sooner or later they are going to want to Play!
In my first week on Instagram I posted a picture of a playground.  Someone commented that "there had been no playgrounds in Cusco."  I felt so sad for them.  There are SO many playgrounds in Cusco that we love, almost a small one in every neighborhood.  Especially if you are traveling for a while and haven't seen a playground, make sure that you plan to visit one or two while in Cusco!
Our favorites are Urpicha and Marianito Ferrro.   Both of these are within walking distance of the center (albeit a long walk) or ask your hotel to organize you a taxi. We'd go to Marianito Ferro first, followed by a walk down the long promenade to the Statue of Pachacutec and finish up at the Urpicha Park.  On Sundays, it turns into a fairground with a number of electronic rides (that you need to pay for).
For older kids there are some seriously crazy slides at Pukllaycancha near the airport.
Plaza de Armas of Cusco
Once the literal heart of the Inca Empire, Huacaypata is now known as the Plazas de Armas.   The royal palaces of the Incas are long gone, but the special energy remains.  We will sit and ad soak up the sunshine, enjoy the ambience, and feed the pigeons.  There is plenty of people watching to be done.
Parents of toddlers BE aware – the grass must not be played on!  Should your errant little step on the precious green, the tourist police will blow their whistle! EEEP! Other squares that we like to play in are Plaza San Blas, Plaza Recogicio or Plaza San Francisco (all located within the center).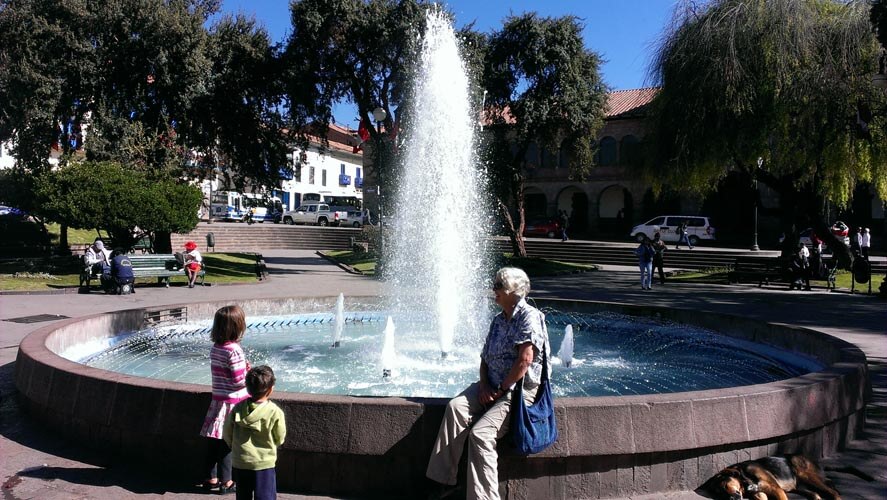 Choco Museo
Cusco boasts the very first Choco Museo!   There are now many Choco Museums in Peru.  In Lima, the Sacred Valley, and even two locations in Cusco.  Plus, Latin American in cities like Cartagena, Granada or Antigua.
Despite their ever growing popularity, we still recommend doing a class here because they are simply awesome!  Their interactive chocolate making is a hit for kids from about 6 upwards, as you literally learn the process that takes your favorite sweet from the Bean to the Bar.   If you are short of funds, there are also mini chocolate making classes which might be better for kids aged 4 upwards.
Check here for information on the Choco Museo Cusco.
Local Markets
San Pedro market most definitely warrants an hour or more of investigation, to see Peruvian curios like dried baby alpacas and a range of other items that are used in Peru's traditional medicines.   In the food section you can try local cheese, or check out the frogs for sale.  We do recommend trying a "jugo" which is a juice prepared fresh before your very eyes!!!  Delicious!
Delve Into History
Count the angles on the 12 angled stone / enjoy the ruins (Coricancha rooms are fun for kids).
There are many wonderful churches, Incan ruins and museums in Cusco.  Though they are not necessarily that "kid friendly" and if you are traveling with smaller kids I would certainly prioritize which ones you want to see and make sure the kids are well fed & exercised prior!   The 12 angled stone (Hatunrumiyoc) is outdoors and fun to count the sides.
The Coricancha has got some large spaces to run and play in, including some very easy to admire stone work!  Lovers of religious art will not want to miss the famous Cusco School painting of Jesus and his disciples enjoying guinea pig for the Last Supper.  If you would like to enjoy the art inside the Cathedral the kids will be happy to run and up the steps outside (under the eye of a parent of course!)
Cusco or Cuzco?

You'll see Cusco also spelled as Cuzco in lots of places!  It's a long historical debate that harks back to the Spanish conquest, and how the Spanish pronounced the name of Cusco.  We use the local spelling of Cusco, which how it is spelt on all signs around the city after a municipal decree some 30 years ago!  For more info check here.
Shop 'Til You Drop
Cusco is full of tourist markets that offer all sorts of fun shopping – and bargaining experiences.  Finger puppets and Andean dolls are always popular with the kids.   You can also buy brightly colored beanies, gloves, and sweaters that will remind you of your Peru holiday for years to come!
The salespeople will always tell you things are made of "baby alpaca" but if you are buying it for about $10 then I'd be doubtful!   For the kids, they can practice their basic Spanish asking how much things are or even try their hand at bargaining.
Note: as a rule we believe that aggressive bargaining is not respectful to the local people.  However, a little fun banter won't go astray in the Cusco tourist markets where they deal with tourists on a daily basis.   It is a different matter in the high altitude communities though where they don't bargain so happily.
Food, Glorious Food!
Cusco is a cosmopolitan city, with some truly amazing restaurants from of a number of Peruvian celebrity chefs.  Modern day Cusco is certainly a place that celebrates and elevates the wonders of Peruvian cuisine.
When we are traveling with kids, we don't usually visit the gourmet restaurants of Gaston Acurio and Coque Ossio.   But rest easy, there are plenty of options that kids enjoy including a plethora of pizzerias, pollerias (the name of chicken and chips restaurants) and worst case scenario; there is even a McDonald's in Cusco these days.   Our very favorite polleria is Los Toldos, on the corner of Alamagro.
Get A Super Memorable Photo!
In the mountains around Cusco many local people still wear their traditional dress, day to day.  However, there are also people who dress in traditional dress, and take lambs and alpacas to the central streets of Cusco because their job is a "photographic model" for tourists.
We've always felt awkward about this particular job.  On the other hand, good on the people that do it as long as they don't exploit small children or treat their animals badly.   So, should you choose to get your photo taken with one of these photographic models (and their super cute lambs!), then please work out a price before you take the photo.  Then honor your word!
Learn about typical dances.
If you are lucky – or with some good planning- you might be in Cusco for one of the very frequent fiestas.  There are quite literally traditionally celebrations year round, and it is not uncommon to step outside and stumble upon the most colourful, passionate and enchanting typical celebration occurring…!   Apart from consulting the Apus Peru Cultural Events Calendar  – if you want to be sure to get in some dancing,  we love the Picanteria La Cusquenita.    Our kids aged 5 and 2.5 were captivated.
Want To See Cusco Like A Local?
Our ideas for Cusco with Kids like a local are found here in this great blog post.
We love that post, it really encapsulates what there is to do and see 'behind the scenes' of what is a touristy city.  We would recommend it as a useful read for anyone who wants to spend more than a few days in Cusco.
Cusco For Older Kids
Despite our daughter being Cusquena born, we have not been in Cusco with older kids.  She is about to turn 8.  Based on feedback from friends and clients, these are three activities that we'd love to do with Tweens and Teens (in addition to the list above)
Cooking classes
We love getting our hands dirty and cooking classes are that and more!   There are a range of cooking schools in Cusco, some newer than others.  Peruvian Cooking Classes gets good reviews from families at the moment, but we have not tried it.  Mumma has done a class with Rooftop Kitchen and they said that they would accept children for private classes.
Learn Spanish
You would need to spend at least 5 days in Cusco in order to do some daily Spanish lessons.    It all depends on the age of the kids, but when inquiring I would opt for private 1 on 1 classes rather than trying to fit into the Spanish school programs which can be a little convoluted.   The best thing about learning Spanish in Cusco with kids is that they get to practice every day!
Like It>> Pin It>> Cusco With Kids