Last Updated on March 18, 2021 by worldoftravelswithkids
Here at World of Travels with Kids, it is no secret that we love to travel!  First up that's because traveling is fun – like, a lot of fun!  We will get to our facts about traveling in the second part of the post,  first of all, let's wet your appetite for the world with our fun travel facts.  These traveling facts are about places we have visited – or places we would like to go to in our exploration of the world.  From the curious to the crazy, from the fun to famous, there are all sorts of fun facts about travel and the world for us to share with you. Enjoy learning more about the benefits of travel and indeed, you will be able to answer the question "Why do people travel?"
Fun Travel Facts
There Is An Island Of The Gods
That's right,  Bali is known as the Island of the Gods.  This could be because it is truly a paradise on earth.  Perhaps it is also because it a deeply spiritual place.  There are altars to the gods all over the island and offerings to the gods are placed every morning.
Interested in learning more fun travel facts about Bali?  Check out our Interesting Facts About Bali post.
Where Is The Land Of Smiles?
Did you know that Thailand is considered the Land of Smiles?  If you have ever visited Thailand you would know this fact to be true, the Thai people smile a lot!  However, smiles are not just to express delight but also a way of expressing an opinion.
Thailand is a unique and varied country with interesting geography and history.  Read more Interesting Thailand Facts here.
The Longest Place Name In The World
This honor belongs to New Zealand!  It has the longest single-word name place in the world, Taumatawhakatangihangakoauauotamateaturipukakapikimaungahoronukupokaiwhenuakitanatahu.  Try saying that three times fast.  Heck, trying saying it just once!
When it comes to Interesting Facts About New Zealand and fun travel facts there are many.
Some Fijians Can Walk On Fire!
In Fiji firewalking is an ancient tradition that dates back over 500 years.  The gift of firewalking comes from a Fijian legend.  A boy from the village of Nakarovu met a tiny spirit god.  In exchange for the boy letting him live, the tiny spirit god gifted the boy control of fire, allowing him to walk on hot coals.
Nowadays, firewalking is a sacred tradition.  Many tourists that visit Fiji are able to view one of these firewalking ceremonies in person.  For more interesting traveling facts about Fiji, read Fun Facts About Fiji.
The Island Country of Singapore Is Comprised Of 64 Different Islands
Our entire family loves Singapore.  When researching our most recent visit, we were surprised to learn that Singapore is made up of 64 different islands.  Normally you think of Singapore as a one island city-state so we think this is one of the great travel facts about Singapore.
We also learned that there are so many great Islands Near Singapore For Families to visit.  If you want to learn more about Singapore then read our post Interesting Singapore Facts.
Australia Is Home To The Most Poisonous Animals In The World
Being an Aussie, this isn't necessarily one of the "fun" travel facts for us.  However, we know that when others think about our home country, the poisonous animals is what they think of and this is one of the most well known and fun travel Facts About Australia.  In fact, you aren't even safe in the ocean in Australia!  Australia has many deadly and poisonous marine creatures as well.
Uluru Ayers Rock Is A Whopping 500 Million Years Old

Ayers Rock, also known as Uluru is a 500 million-year-old sandstone monolith in the Northern Territory.  Uluru is a sacred place of the Anangu Aborigines who have inhabited the area for 10,000 years or more.  It is of such importance that it has been listed as a UNESCO World Heritage Site … twice.  There are so many more Interesting Facts About Uluru and its history.
Speaking Of Rocks In Australia – Wave Rock Is An Iconic Western Australia Site
As you might be able to guess, Wave Rock is a huge rock formation that looks like a giant wave crashing down.  If you ever find yourself visiting Western Australia definitely check out Wave Rock.  Not only are there some great Facts About Wave Rock to learn but it also makes for a great backdrop to some awesome Instagrammable photos.
The Sydney Opera House Is One Of The Most Photographed Sites In The World
There are lots of Interesting Sydney Facts but one of our favorite fun travel facts about Sydney is that the Sydney Opera House is one of the most photographed buildings in the world.  Built by Danish Architect Jorn Utzon, the Sydney Opera House dominates the Sydney harbor.
If you are looking for Amazing Beaches, Visit Australia!
There are many awesome facts about traveling the world BUT if soaking up some sun is your idea of the perfect vacation then Australia is your destination.  Did you know that Australia has over 10,000 beaches?  Yes, 10,000 beaches.  While we haven't had the pleasure of visiting all 10,000 of them we have visited many amazing beaches in Western Australia.  See which ones we think are the Best Beaches In Western Australia.
60% Of The World's Lakes Are Located In Canada
This is one of those fun travel facts I don't think most people would guess.  Who knew Canada had so many lakes? There are more lakes in Canada than there are lakes combined in the whole rest of the world.
The Worlds Longest River Starts In Peru
The Amazon River is the world's longest river by volume and length and it starts high in Peruvian Andes.  This famous river is home to creatures like the piranha, anaconda, and the Amazon River Dolphin.
Peru is such an amazing country with many Fun Peru Facts.  The country is very near and dear to me because before having children I lived there and traveled extensively throughout the country.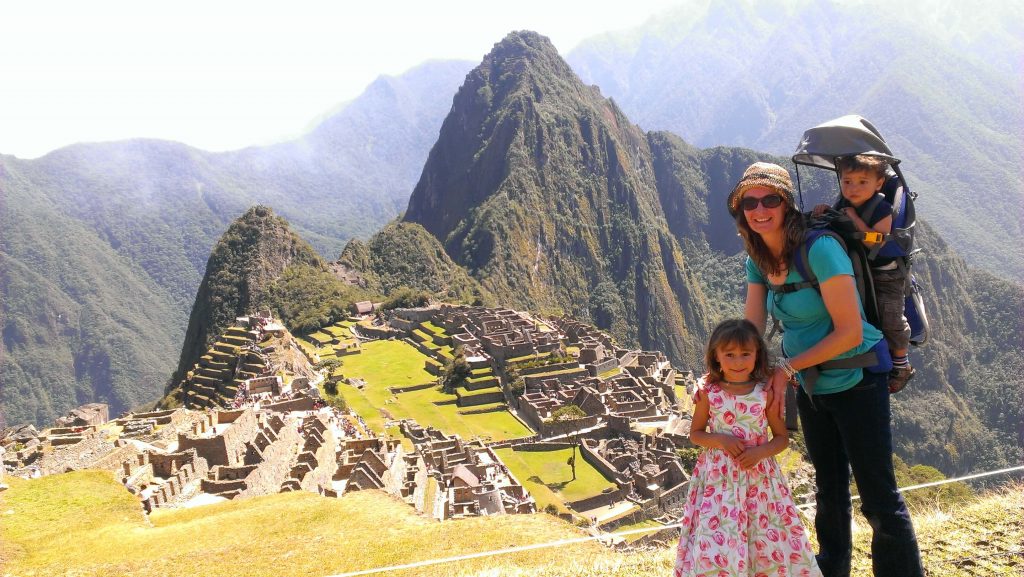 No one knows why Machu Picchu was built! 
Machu Picchu is the most famous landmark in Peru, and arguably one of the most famous in the world.  Yet, no one knows exactly why it was built, who lived there, and for how long.  Having visited Machu Picchu many times, I can tell you that it is vast and fascinating.  There are many interesting Machu Picchu Facts to be explored.
Want To See Alpacas, Visit Peru
Not to be confused with llamas, Alpacas are vital animals in Peru.  If you ever struggle to tell the difference between the two take a look at our post The Difference Between A Llama And Alpaca.  We know many people get confused between the two.  However, Alpacas are useful and quirky animals with fleece that is more sought after than wool.
The Driest Place In The World Is In Peru
I am not sure if this is the driest place on earth, that honor might go to the Atacama Desert in Chile, but south of Lima is Ica.  This region borders the Atacama Desert.  It is so dry there that human remains do not decompose, thus turning the ancient people that inhabited the lands into mummies after death.
Perhaps one of the craziest travel facts about Ica is that scientists have discovered fossil evidence of a 4-foot tall penguin that once lived there.  Not sure if that is amazing or terrifying.  We visited the desert region ourselves, read more about it in our post A Guide To Peru's Southern Peruvian Coast With Kids.
Nicaragua Is Home To The Oldest City In The Americas 
Nicaragua is another country near and dear to us as the World Of Travels family is half Nicaraguan.  Having traveled and stayed extensively in Nicaragua we know there are many Fun Facts About Nicaragua we could share.  One interesting, and important, traveling facts about Nicaragua is that it is home to the oldest colonial city in the Americas that continues in the same place as when it was founded in 1524.  That city is Granada.
What Is The Most Visited Country In The World
Home to the Eiffel Tower and other dreamy and historical sites, France is the most visited country in the world.  With almost 90 million people visiting it annually, you don't have to be a Francophile to fall in love with this magnifique country.  Paris usually tops any traveler's bucket list.  With its rich history, delicious food, amazing shopping, and fashion scene, it is easy to see why France is the most visited country in the world.
What Is The Least Visited Country In The World
Tuvalu is the least visited country on earth with 2000 visitors annually.  Where is Tuvalu you ask? Well, it is a tiny island country in Polynesia.  It is located about halfway between Hawaii and Australia.
Are there any other travel facts you know of? If so, be sure to share them in the comments below.
Facts About Traveling The World
If we haven't inspired you with those fun travel facts (which quite literally make us want to get out and explore) let us tell you the other, most important of the facts about traveling.
Traveling is FUN!
Oh, and apart from the fact that traveling is FUN, it also has many health benefits.  If you are not sure why travel is good for you, please read on.  Let's start out with some of the easy ones.
You Are More Confident When Travelling
Out of your comfort zone, you have nothing to lose.  Nobody knows you.  You can wear what you like, eat what you like, and even say what you like.  I find that this anonymity makes me a lot more confident.
You Gain Weight
If you go on vacation, especially to all-inclusive resorts, you gain weight on holiday.  You eat the most amazing delicious foods, and drink fabulous wines… beers… or whatever tickles your fancy!
You Lose Weight
If you are like our family, traveling means adventure and lots and lots of walking.  I always lose weight when traveling around the world.
You Make New Friends
When traveling you are often literally 'thrown together' with people you would never meet under any other circumstance.  Whether you meet people on a short walking tour or start talking over the course of an 8-hour bus ride, you find that you will make new friends.
The great thing about making new friends while traveling is (see point 1) you have nothing to lose.  Sometimes you like people, sometimes you don't.  Back in the day of email and postcards, I stayed in contact with travel friends for years or even met up for coffee on another continent.  Others I've parted ways when we have shared a taxi.  Some people you like, some people you don't and that is the great thing about traveling, you can take them, or leave them.
You Challenge Yourself In Ways You Might Never Expect
Travel throws you out of your comfort zone in many ways.  You find yourself challenged in ways you could never dream of at home.  Eating a fried bug or jumping on the back of a moto-taxi is just two that jump to mind.  Adventure implies adrenaline and excitement.
You Use Amazing Problem Solving Skills And Grow As A Person
Two immediate problems I remember are being lost in the Moscow subway with all the signs writing in Cyrillic – and then navigating Chinese streets with the street signs only in Chinese.  Both of these times I had to use important life skills.  Not to mention avoiding shakedowns by police in Uzbekistan and negotiating with a Kazak driver to take us 100km in a broken down Lada because we'd misunderstood his quote.  The problem-solving skills you learn through travel are unsurpassed in your daily life.
You See The World In A New Way
One of the benefits of travel is that your horizons are broadened.  Both literally in seeing other places, but also metaphorically.  You see and experience things that make you question your own, comfortable world.  Whether it is the beggars of India, the poverty of the slums, or the decaying apartment blocks of central Asia, you question what happens in the world deeply.  When you return to your home country, I believe this makes you a more empathetic citizen.
Did I Mention … Travelling Is Fun
Whether it's white water rafting down a river in Ecuador or drinking rice wine with your Tibetan bus driver,  there are so many laughs to be had while traveling.  Traveling is just a lot of fun.  I mean, the fun is found in the adventure, the challenges, and meeting new people.
Travel Is Like A University Or School – But FUN
When you travel you visit famous sites and you learn the history and significance of them.  This is what you do when at school – but in person.  I believe that seeing, touching, and experiencing these places firsthand cements it in your mind, and years later you still remember these lessons.
You Can Learn Languages
As part of my responsible travel ethos, I learn a few words of a language when visiting a country, as that delights the locals.  Over time I also spent substantial time learning Japanese and Chinese.  In the end, after living in South America for many years I became fluent in Spanish and studied the language of the Incas, Quechua, at the university in Cusco, Peru.
Facts About Traveling
To finish up let's jump in and summarise.  Some more facts about the benefits of travel – why do people travel?
1. Travel is good for your health – whether you gain weight, or lose weight, people are happier on holidays.
2. There is no word in English which adequately describes the urge to travel.  Wanderlust comes close.  Here's how to fuel your wanderlust at home.  However, the Germans have the word 'fernweh' which describes the intense desire to travel.
3. Travel makes you grow.  It helps you to get better at problem-solving, more creative, and more knowledgeable.  Hey, we'll go as far as to say travel makes you smarter!
Some More Facts About Traveling That Are Not So Much Fun
What Is Bali Belly, Delhi Belly, Rangoon Runs
Frequent travelers are familiar with getting traveler's diarrhea.  This is basically your stomach reacting to unfamiliar bacteria in the food or water (an intestinal infection).  In the Americas, it can be called Montezuma's revenge, turista, or the GI trots.
Altitude Sickness
Also known as soroche, altitude sickness occurs when you ascend too fast in the mountains and your body can't cope with the change of oxygen.
Jet Lag Is Harder If You Travel From West To East
For Aussies, we always say that the jet lag on the way home from the Americas is easier – which is backed up by science.  Apparently, it has been proved that jet lag feels worse if you travel from west to east due to how our bodies perceive the length of the day.  For more tips on handing jet lag with toddlers go here.
The Planning For A Trip Is Half The Fun
I owe this one to my brother; he used to say all the time "half the fun is in the planning.'  Not only is it looking at all the places, reading up on what is good to see, but the anticipation of all the fun you are going to have!
The fact we have traveled so much, means we have also done a lot of travel planning.  Here are some links to our top-rated posts:
Western Australia Destination Guide
Brilliant Toddler Plane Activities
Trekking With Toddlers In The Andes
Best Of Peru Itineraries With Kids
Tips For The Best Fiji Family Holidays
Off The Beaten Track Thailand With Kids
The Conclusion- Travelling Is Fun & Other Fun Travel Facts
Whoa, I hope that we have you convinced of the benefits of travel, why travel is important. and especially that traveling is fun!
Travel adventures are worth having.  Not only for the moment that they happened, but the memories that remain with you for a lifetime.  We hope you've been inspired by our fun travel facts and that you too will get out there and come up with your own list of traveling facts.
Like It> Pin It> Fun Travel Facts -Traveling Is Fun