Last Updated on January 14, 2021 by Travels with Kids
If you are looking for facts about the Sydney Harbour Bridge and Sydney facts for kids you have come to the right place!  We love Sydney and have put together this group of facts about Sydney for kids that will make you smile.  And guess what, we even have a Sydneysider in the family.   Don't know what a Sydneysider is, then you will have to read on to find out.
If you are looking for Sydney Opera House facts for kids you've also come to the right place.  We've included a full section on both the Sydney Opera House and another on the Sydney Harbour Bridge.
This post may contain affiliate links, from which we would earn a small commission, at no extra cost to you. More info in my disclaimer.
Why Are We Sharing These Sydney Facts For Kids
Sydney is very special to us.  To start with, Mumma was born in Sydney some 45 years ago.  When she was a small baby her parents would commute to work over the Sydney Harbour Bridge with her in the car, a fun family Sydney Fact!
She spent her first few years in Sydney in a suburb by the water before the family made the move to Western Australia.  As a 17-year-old she flew into Sydney and a new love affair started, with her attending Charles Sturt University in Bathurst and then later the University of Sydney.
We've visited Sydney on a couple of occasions as a family, with one child, then two.  In short, we love exploring Sydney with kids and intend to keep heading back over the next few years.
Sydney Harbour Bridge For Kids
So you are heading to Sydney and you are wondering what is the best way to experience the Sydney Harbour Bridge with kids?
The short answer is that wherever you go around Circular Quay you can see the bridge.  You can walk under the bridge, or climb up the pylons.  We spent several days enjoying the bridge from different angles.  For example, not only can you walk around the bridge, but you can take one of the iconic Sydney ferries to see the bridge as well.  For example, we took the ferry to Manly and got great pictures of the bridge.  On another night we took the ferry back from Luna Park to Darling Harbour and again got awesome Sydney Harbour Bridge views.
Or… you can do a bridge climb! Yes, that's right, children can climb the Sydney Harbour Bridge too!
Anyone from the age of 8 years old who is at least 1.2m tall and fit is welcome to give the Sydney Harbour Bridge climb a go.  One adult can be in charge of up to 3 kids up to 15 years of age.
We often travel with the grandparents.  So older people who want to do the bridge climb over 75 years need a certificate of fitness from their doctor.  For more about the benefits of traveling with grandparents, take a look at The Benefits Of Multigenerational Travel.
If you are looking for something especially different, or have a very tight schedule, The Sydney Harbour BridgeClimb is open up to 24 hours a day, 364 days of the year.  Imagine heading up onto the bridge at dawn, or sunset.
One of my biggest concerns was whether the kids (and I) would be fit enough to do the BridgeClimb Sydney!  The good news is that only a moderate level of fitness is needed to successfully climb the bridge.  Also, the guide does make frequent stops and there are water fountains along the way to keep you hydrated.  My other concern about doing the Sydney BridgeClimb is that I hate heights! Overall reviews make it sound like it is not as scary as I thought!  This remains my biggest issue as to why I wouldn't do it!
Remember, all equipment is provided for the climb.  You only need to bring enclosed, rubber-soled shoes.  You can't take your camera up on the bridge climb.  In fact, you can't bring water or anything else.  The only thing you can take is your sunglasses!  That kind of counts as one of the facts about Sydney Harbour Bridge.
If you are considering doing the Sydney Harbour BridgeClimb with kids you will discover that it is fairly pricey.  This makes sense as it is such a bucket list item!  We strongly recommend shopping around and looking for the best price before purchasing.
Not keen on doing a BridgeClimb Sydney?  Check out these other amazing ways to view the iconic Sydney Harbour Bridge below.
Sydney Harbour Bridge Facts For Kids
Affectionately known as the 'Coathanger' by locals, the Sydney Harbour Bridge is another fascinating monument that is synonymous with Sydney.  For lots more information take a look here at these facts about Sydney Harbour Bridge.
What Is The Nickname for the Sydney Harbour Bridge
The Sydney Harbour Bridge is also known as the "Coathanger" as we said above.  People have nicknamed it this because of the arch-shaped design.  Want to add your opinion to facts about Sydney Harbour Bridge for kids?  Let us know in the comments below what you think the Sydney Harbour Bridge looks like.
Just How Big Is It
It is the world's largest steel arch bridge.  The famous arch spans a whopping 503 meters or 1605 feet!
How many people cross The Bridge Each Day
One cool Sydney Harbour Bridge facts for kids is just how many different types of people and vehicles cross the bridge.  The bridge carries many types of traffic: rail traffic, vehicular traffic, bicycle traffic, and pedestrian traffic.  That is a lot of people crossing the bridge each day to go between the Syndey Central Business District and the north shore.
How Old Is The Sydney Harbour Bridge
The Sydney Harbour Bridge is older than the Sydney Opera House.  It was built 41 years before the opera house was.
Does It Cost Money To Cross?
When the Syndey Harbour Bridge first opened it only cost 6 pence to cross.  What a deal!  Now, it costs about $4 but there are no toll booths on the bridge.  So that the bridge does not get congested with people paying tolls, there was an electronic system installed that has automatic number plate recognition to charge people crossing.  We think this is one of the more interesting facts about Sydney Harbour Bridge.  Think about in 20 years how much the toll price will rise?
Fact About Sydney Australia – Interesting Sydney Facts For Kids 
Is Sydney The Capital Of Australia?
Sydney is NOT the capital of Australia.  However, it is Australia's largest city with over 4 million inhabitants.
The capital of Australia is Canberra and has an interesting story about why it was built.  After the Federation of Australia in 1901, there was such a strong rivalry between the two main cities in Australia: Sydney and Melbourne.  Neither would allow the other to be the capital and eventually, they agreed to build a new capital which later was called Canberra. Canberra is located about 300km south of Sydney and was purpose-built.
Another fun fact is that there are only 13 purpose-built capitals in the world including Islamabad, Pakistan, and Brasilia, Brazil.
Sydney Is Home To The Iconic Sydney Opera House
The Sydney Opera House is one of the world's most recognizable buildings!  If you've come to us looking for facts about Sydney opera house for kids then we've put together a whole section below.  Discover the story behind the Sydney Opera House, but for kids!
Located on the largest and most beautiful harbour in the world, the Sydney Opera House adds to the entire Sydney experience.
Interesting Facts About The Sydney Opera House For Kids Are
The Sydney Opera house hosts over 1500 performances per year which are attended by over a million people.  It is also so popular that it is one of the most photographed buildings in the world. It is estimated that more than 8 million people visit the Sydney Opera House each year!
In fact, the Sydney Opera House is an amazing and interesting structure.  You can read more in our The Most Interesting Sydney Opera House Facts For Kids.
What Is A Sydneysider
Australians love giving people and places nicknames.  For example, someone who lives in Sydney is referred to as a Sydneysider while those from Melbourne are called Melburnians.  The state of Queensland is the land of banana benders, while Western Australia has wonderful beaches leading to the nickname, Sandgropers.
Lots Of Famous People Were Born In Sydney
If you are into Sydney facts for kids you should google who was born in Sydney!  Lots of interesting and eminent people.  But to make it easy for you the most famous Sydneysiders are Nicole Kidman, Hugh Jackman, and Russell Crowe!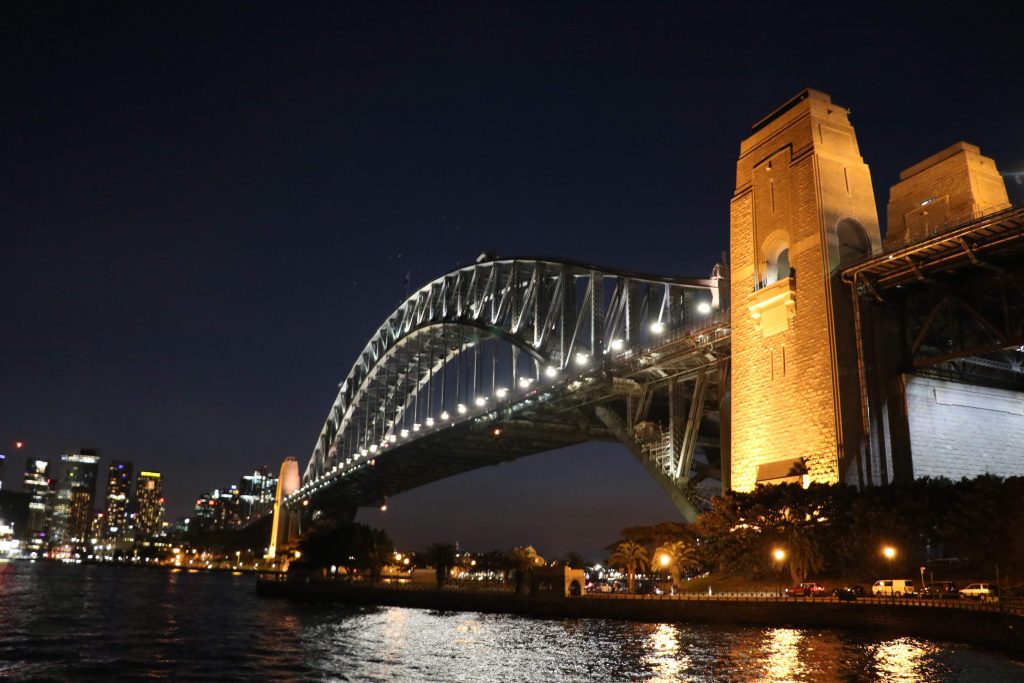 Sydney Is The First Major City To See The New Year
Another fun Sydney facts for kids is that due to its location near the International Date Line, Sydney is always the first major city in the world to see in the New Year.  Sydney is famous for its incredible fireworks show around the Sydney Harbour Bridge and Sydney Opera house which is reputedly watched by over a billion people across the globe.
The New Year fireworks spectacle is set to popular music as the fireworks explode over the harbour, illuminating the boats and people watching.  The finale usually involves fireworks on the Sydney Harbour Bridge itself!
Sydney Started Out As Jail For Convicts From England
Rushing to establish a claim to the great South Land, the first Europeans to settle the Sydney area were a fleet of convict ships.  They landed at Botany Bay in 1788 and founded Sydney.
The majority of convicts were transported for minor crimes, like theft of a loaf of bread due to overcrowding and poverty in England at the time.  After serving their sentences they were freed and became the founders of Australia.
By the 20th Century instead of being a cause of shame, it is a cause of pride to be descended from a convict.  It is estimated that approximately 20% of Australia's population has a convict ancestor.
From A Jail To A Fantastic Place To Live
How things change!  Another Sydney facts for kids is that the city is considered a GREAT place to live!  During the last ten years, Sydney has often appeared in the Top Ten Most Liveable Cities Lists, which are judged on criteria like stability, healthcare, culture and environment, education, and infrastructure.
In 2019 Sydney came in at number 11!  Just out of the top 10 but still, a great place to live.
Sydney Is Also One Of The Most Expensive Places To Live
According to a 2018 report Sydney was among the top 10 most expensive cities to live in.  The Worldwide Cost Of Living Report ranked Sydney as such.  It judged criteria like the cost of food, clothing, rent, transport, utility bills, private school fees, domestic help, and recreational costs.
The 2019 report rated Sydney more expensive than London and New York!  However, it is still cheaper than Singapore or Hong Kong!
Sydney Throws An Incredible Mardi Gras Party
One of the more colorful Sydney facts for kids is that Sydney is the spiritual home to the crossdresser!  It has an awesome Gay & Lesbian Mardi Gras parade each March which is also one of Australia's biggest tourism events.  The Mardi Gras grew from gay rights parades in the late 1970s with participants being arrested, right through to the present day when it still champions LGBTQI rights issues or themes.  A much more open attitude prevails today with groups of uniformed Defence Force and police participating.
If you are interested in more, why not watch the fabulous Aussie movie, Priscilla Queen of the Desert?
Sydney Has The Most Beautiful Harbour In The World
Sydney's beautiful harbour is the most recognizable harbours in the world.  Not only are the Sydney Opera House and the Sydney Harbour Bridge located on Sydney Harbour, but so is much of Sydney.  There are so many gorgeous bays with sand and azure blue waters.  Without a doubt, Sydney Harbour is stunning and takes your breath away.
Sydney Has The Biggest Natural Harbour In The World
Not only is it the most beautiful, but Sydney Harbour is also the biggest natural harbour in the world.  It has a single entrance and a water area of 55 square kilometers.
Because the harbour is so big, many animals and species of fish call Sydney Harbour home.  These include the Grey Nurse Shark, Weedy Seadragon, Australian Fur Seal, Bottlenose Dolphins, Green Sea Turtle, and the Moray Eel among others.  This is one of the coolest facts about Sydney harbour.
Why Is Bondi Beach Australia's Most Famous Beach
Bondi Beach has nice waves, white sand, and a warm water temperature.  Somehow over the years, it has become Australia's most famous beach.  If you are heading to Sydney for the first time,  stopping at Bondi Beach and either going for a swim, learning to surf, or just lying on a blanket on the sand will help you tick off this bucket list item!
Bondi Beach is synonymous with Australian culture and a number of popular television series, like Bondi vet, are set in this suburb!
Oh, we are not really sure why it is so famous – it just is!
Why Are The Blue Mountains Blue
On the outskirts of Sydney lie the Blue Mountains, which are known as a great spot for a day trip or weekend getaway.  The Blue Mountains are known for their dramatic scenery, wilderness, valleys, and waterfalls – but the question is,  why are the Blue Mountains blue?
This is because the Blue Mountains are forested with oil-bearing Eucalyptus trees.  The atmosphere is filled with the tiny dispersed droplets of oil, which, in combination with dust particles and water vapor, spread out short-wave rays of light that are mostly blue in color.  For more ideas to explore from Sydney, take a look at our Best Weekend Getaways From Sydney
The Verdict – Facts About Sydney Harbour Bridge And Sydney Facts For Kids
Sydney, Australia is super interesting.  From basically being a place to house convicts in its' beginnings to being one of the most expensive to live in and iconic cities in the world.  There is so much to see and do in Sydney.  If you are thinking of visiting, check out our favorite Sydney guide books below!
We hope you have enjoyed our facts about Sydney Harbour Bridge And Sydney facts for kids.  Did we leave anything out?  What are some interesting facts about Sydney, Australia that you can think of? Let us know below.
Like It> Pin It> Facts About Sydney Harbour Bridge And Sydney Facts For Kids