Last Updated on October 14, 2021 by worldoftravelswithkids
It's no secret that we are passionate about all things Aussie –  and since we call Australia home, here is our list of famous Australian landmarks for your bucket list.
When thinking about Australia there are SO many iconic Australian landmarks that come to mind.  There is the Sydney Harbour Bridge, the Sydney Opera House, and Sovereign Hill.  Then there are the famous natural landmarks in Australia like the Great Barrier Reef, Bondi Beach, and Daintree National Park.
In fact the first version of this list was super long!!!  It took a good deal of thinking to pare the list down to the places you are going to discover here.  Whether you are planning your Australian bucket list or you are just indulging in a bit of virtual travel, we hope that find these places to be as amazing, interesting and downright delightful as we do!
This post may contain affiliate links, from which we would earn a small commission, at no extra cost to you. More info in my disclaimer.
Famous Australian Landmarks for your Bucket List!
Australia is a huge continent with much to see and do.  Listing all the amazing landmarks in Australia is a huge undertaking.  So we wondered how was the best way to  list them? Below we have broken down the best of the best Australian landmarks by state.
Landmarks In Australia – Queensland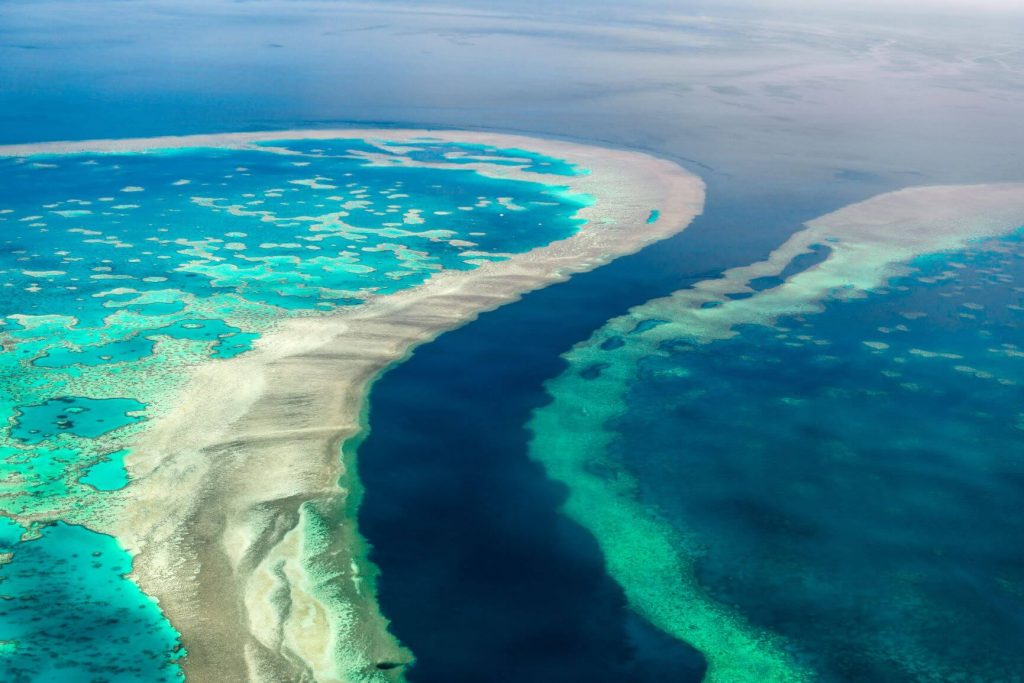 Great Barrier Reef
When people think of landmarks in Australia of course one of the main things that comes to mind is the Great Barrier Reef.  It is the world's largest coral reef system and perhaps the most well-known.
The Great Barrier Reef is located in the Coral Sea just off the coast of Queensland.  Home to many unique habitats and species, it is thought to be one of the most complex ecosystems in the entire world.
Interested in learning more about the amazing Great Barrier Reef?  Check out our Great Barrier Reef Facts For Kids.  And, if you happen to be visiting them soon, read Amazing Great Barrier Reef Tours And Tips For Snorkeling In Cairns.
Kuranda Scenic Railway, Cairns
The Kuranda Scenic Railway runs from Cairns, through the rainforest and up an amazing escarpment, to the mountain village of Kuranda.  If you are visiting Cairns you must take a ride on the Kuranda Scenic Railway.  You pass by breathtaking scenery of dense jungle, waterfalls, and it's a great family day out – we loved our ride on the Kuranda Scenic Railway.
While you pass through the Barron Gorge, commentary is offered on the history of the railway's construction.  Not only is the journey beautiful but educational as well.  Make sure to read our  17 Best Cairns Day Trips post for more information.
Speaking of Cairns, if a visit is in your future check out these resources:
19 AMAZING Things To Do In Port Douglas | The Best Cairns Holidays
The BEST Cairns Holidays: Our Ultimate Guide To Family Holidays In Cairns
Where To Stay In Cairns With Kids: The 13 BEST Cairns Family Accommodation
Things to do in Cairns with Kids

Daintree National Park, Cape Tribulation
Daintree National Park is located approximately 100 km northwest of Cairns.  It was founded in 1981 and became a World Heritage-listed site in 1988.  Daintree National Park is made up of two distinct sections, Mossman Gorge and Cape Tribulation.
Lush rainforests cover the mountainsides in the Mossman Gorge, which is the the traditional land of the Eastern Kuku Yalanji people.  Due to the steep slopes and rugged terrain, much of the Mossman Gorge is inaccessible.  However, there are several trails that let you see the wonder of the Mossman Gorge and its the easiest place to experience the Daintree Rainforest.
Cape Tribulation, known as "where the rainforest meets the sea" is also one of the most biologically diverse areas in the entire world.  Absolutely breathtaking, the jungled rainforest literally sweeps right down to the sandy beaches.
For more information about the Daintree Rainforest, take a look at 15 AMAZING Daintree Rainforest Facts: Get Ready to be Wowed.
New South Wales Landmarks

Sydney Opera House
One of the most famous landmarks in Sydney – and Australia- is, of course, the Sydney Opera House.  Opened in 1973, the design and architecture of the opera house is truly iconic!  Although not the biggest opera house in the world, it is one of the most famous Sydney landmarks  and hosts over 8 million visitors per year.
Not only is it visually stunning but there is so much to learn about it.  Want to learn more about the Sydney Opera House?  Check out our post The Most Interesting Sydney Opera House Facts For Kids.

Sydney Harbour Bridge
Another famous landmark in Sydney is the Sydney Harbour Bridge.  Perhaps you can say this is one the first iconic Sydney landmarks as it is older than the Sydney Opera House.  Built 41 years before the opera house, this is the largest steel arch bridge in the world and is also a vital access link that connects the Sydney city area to the North Shore.
An interesting fact about the Sydney Harbour Bridge is that Syndeysiders refer to it as "the coat hanger" that refers to the fact the steel arch bridge looks like a giant coat hanger.  Check out other interesting Sydney Harbour information in our Facts About Sydney Harbour Bridge And Sydney Facts For Kids.

Bondi Beach, Sydney
When you think of famous beaches around the world and the most famous landmarks in Australia, Bondi Beach is sure to come to mind.  Bondi Beach is located in the suburbs of Sydney about 4 miles from the Central Business District.  The Aboriginal world "bondi" means "water breaking over rocks", and Bondi may have been named for the  stunning rock cliffs that form the left-side boundary of the beach.
There are so many Facts About Bondi Beach that we wrote a whole post about them.  But what makes Bondi Beach one of the most famous Australian landmarks?  Well, it is a favorite of tourists and locals alike.  Not only is it visually stunning and close to the heart of Sydney but there have also been a few reality tv series filmed at Bondi Beach that helped propel it to stardom.  Maybe you have heard of "Bondi Vet" or "Bondi Rescue"?
Blue Mountains, Katoomba
The Blue Mountains are not only one of the Best Weekend Getaways From Sydney but also one of the most popular natural landmarks in Australia.  The Blue Mountains were named such for the blue glow the mountains radiate.  But what in the world is that all about?  Well, it is an effect of the Eucalyptus vapors that radiate from the trees.  Pretty cool huh?
There are numerous Blue Mountain tours you can take part in, gorgeous resorts, interesting bush walks, and fabulous restaurants  that all make the Blue Mountains worth visiting.  The Blue Mountains also contain many sites of Aboriginal importance including the famous Red Hand Caves.
Mount Kosciuszko, Thredbo Village
One of the most stunning  New South Wales landmarks and attractions, Mount Kosciuszko is not to be missed.  The hike out of Thredbo Village to the peak of Mount Kosciuszko offers views from the highest peak in Australia.  Even though this sounds daunting, the trek is relatively easy.  You start by taking a chairlift from Thredbo Village to the start of the 13 km return walk.  At the top you are rewarded with sweeping views across the Snowy Mountains.
For the more adventurous, you can skip the chairlift and start out directly on Merritts Nature Trail.  This is a very difficult, uphill trail which takes about 2-3 hours.  It then connects you to the top of the chairlift departure area from where you join the main trail.
Victoria Landmarks

Great Ocean Road, Torquay
When you dream about Australian landmarks and the beauty of Australia, the Great Ocean Road encompasses all of those dreams!  This famous 243 kilometre stretch of road is one the top Victoria landmarks.  The Great Ocean Road has it all  -from shipwrecks to surfing, natural beauty and dramatic landscape to upscale resorts.
There are many major landmarks in Australia to see on this journey including the 12 Apostles, several lighthouses, the Dingo Awareness Centre, whale watching, several national parks, and just overall stunning coastal scenery.

Sovereign Hill, Ballarat
Sovereign Hill in Ballarat is one the notable Famous Man Made Landmarks in Australia.  Known as an extremely popular open-air living museum in the suburbs of Ballarat, Sovereign Hill depicts everyday life in Ballarat after the discovery of gold in 1851.
When we visited we loved stepping back in time and become a part of the gold rush community, and learning what life was like on the Victorian Goldfields.  You can literally walk the streets of Ballarat in the 1850's and participate in many demonstrations throughout the day such as gold panning.  Make sure you visit the gold museum and view all the memorabilia from that time period.  This is a family favorite Australian landmarks and one of the top Victoria landmarks.
The Giant Ned Kelly Statue in Glenrowan
Australians have a love of big things and this even extends to a giant statue of the famous bushranger Ned Kelly.  The statue was erected to commemorate the last siege of the famous Kelly Gang that took place in the town of Glenrowan.
Unveiled in 1992, this 6 meter high outlaw is made up of 1.5 tonnes of fiberglass.  If you happen to be visiting Glenrowan make sure to get your picture taken next to this famous outlaw who was the first person born in Victoria to be hanged.
Phillip Island
Phillip Island is a popular day trip from Melbourne and one of the not-to-miss Melbourne landmarks.  It gives visitors a chance to witness and learn about Australian wildlife.  This includes witnessing the famous sunset penguin parade where you can witness groups of adorable penguins coming ashore, waddling in lines.  Sooo cute!
Phillip Island is not just for the wildlife lovers but also for the surfers.  It was declared a National Surfing Reserve as it is known for its killer breaks.
Landmarks in Western Australia

Wave Rock
Wave Rock is one of the coolest looking natural landmarks in Australia.  It looks almost like a surf wave has been frozen in time in this granite rock formation.  As one of the most famous landmarks in Western Australia, make sure you stop here for an obligatory photo session.
If visiting is on your list, read ourFacts About Wave Rock Australia – Everything you need to know!

Ningaloo Reef and Cape Range National Park
Most everyone is familiar with the famous Australian landmark, the Great Barrier Reef.  But, have your heard of Ningaloo Reef and Cape Range National Park?  Just as stunning, maybe even more so, than its famous cousin Ningaloo Reef is one of the must-see natural landmarks in Australia.  As one of the largest coral reefs in the world, it is in fact the largest fringing reef in the world.  This means that the reef system actually comes right up to the beach making it much more accessible than the Great Barrier Reef for instance.
Not only is it a gather place for the gentle WhaleSharks but nearly all the sea turtles in the world visit Ningaloo.  You absolutely must read our Facts about Ningaloo Reef and find out for yourself just how amazing (and important) Ningaloo Reef is!

Natures Window, Kalbarri
Nature's Window is a gorgeous sandstone rock formation in the Kalbarri National Park.  The rock formation literally frames the perfect view out over the river gorge in the distance.  This is perhaps one of the most visually stunning Western Australia natural landmarks.  Some visitors describe the view is something they will never forget in their lifetime.
So how do you get to Natures Window?  It is located about 6.5 hours north from Perth off Highway in Kalbarri National Park.  The walk to Natures Window is a relatively easy one.  It is about a 1 km walk from the lookout carpark down a sealed path.  Make sure you bring water with you as it can be hot and there is no drinking water located in the park.  Check out our Things to do in Kalbarri for more information!
Rottnest Island
Rottnest Island is one of theBest Perth Weekend Getaways, and is perhaps most famous for its cute little smiling quokkas.  But Rottnest Island isn't all about the photogenic quokkas.  With its close proximity to Perth, top-notch accommodations, and stunning beaches Rottnest Island is one the top Perth landmarks.
There are no vehicles allowed on the island, so it is also a great destination for cycling.  There are so many beautiful beaches, coral reefs, and trails to explore Rottnest Island is one the landmarks in Western Australia you must visit.
The Pinnacles Desert, Cervantes
Less than a 3 hour drive outside of Perth makes the Pinnacles Desert one of The Best Perth Day Trips.  An out of this world looking destination, it must been seen to be appreciated.  Located in Nambung National Park, these interesting looking limestone rock formations are also sacred to the Aboriginal peoples.
Make sure to allow yourself about 1-2 hours to view the formations and also check out the Discovery Centre.  You will quickly see why The Pinnacles are one the most interesting natural landmarks in Perth.
Karijini National Park
Karijini National Park is a stunning wilderness and one of the top Western Australia natural landmarks.  Located about 14 hours north of Perth, it is also the second-largest national park in Western Australia.
A nature-lovers paradise there is so much to see and do in Karijini National Park.  The park offers absolutely stunning views around this landscape that was carved out over 2 billion years ago.  You can swim in spring fed pools, view breathtaking waterfalls, explore the vast network of walking trails, and even paddle your way thru canyons that inhabit some of the oldest rocks on earth.
For more information, check out the Karijini National Park website.
Northern Territory Landmarks
Kakadu National Park, Jabiru
Kakadu National Park is a giant nature reserve in the Northern Territory.  It is extremely bio-diverse and one of the must-see natural landmarks in Australia.  At over 20,000 square kilometers it is the largest national park in Australia.  Like other national parks in the area you will encounter lush rainforests, awe inspiring waterfalls, wetlands, and Australian wildlife.
Kakadu National Park is a World Heritage listed park with amazing natural swimming pools and some of the oldest indigenous rock art in the entire world.  Cruise down the Yellow Water Billabong and be on the lookout for crocodile and many natural migratory birds that call Kakadu home.
Litchfield National Park
Located about 100 km southwest of Darwin, Litchfield National Park is considered one of the must-see Darwin landmarks.  This park is one of the gems of the Northern Territory.  With its many waterholes and monsoonal vine forests, it offers a cool escape on a hot day!
Swim, camp, go waterfall chasing, and enjoy all that Litchfield National Park has to offer.  Plus, you can see some of the largest magnetic termite mounds that tower up to two meters high and are over 100 years old.
Kings Canyon
Located on the western end of the George Gill range, Kings Canyon is one of the most stunning natural landmarks in Australia.  Of all the Northern Territory landmarks, make sure to put Kings Canyon on your list.  Located in Watarrka National Park it is the highlight of Central Australia.  The ancient red canyon colored walls rise dramatically above Kings Creek.  This environment protects an abundance of flora and fauna on the creek below.

Uluru Rock, Uluru-Kata Tjuta National Park
Commonly known as Ayers Rock, Uluru is a scared place of the Anangu Aborigines who have lived there for around 10,000 years.  The Angangu poeple make decisions about the management of the area and the rock itself.  Did you know it is the largest monolith in the world? At some 600 million years old, this giant inselberg was around even before the dinosaurs were roaming the earth.
Learn more about Uluru in our Interesting Uluru Facts For Kids.
Tasmanian Landmarks
Cradle Mountain-Lake St Clair National Park
Located in the Central Highlands of Tasmania Cradle Mountain is  one of the most-popular landmarks in Tasmania.  Known for its ancient rainforests, glacial lakes, and the world-famous Overland Track this is a declared Wilderness area. The Overland Track is a 65 km (40 mi) trek through the Cradle Mountain National Park and on many hiker's bucket lists.  (including ours!)  For the experienced trekker this is a moderate multi-day hike that offers stunning scenery, some of the most famous in Tasmania.   However, if you aren't into hiking you can see Cradle Mountain from the carpark!
Bay of Fires
Known as one of the must-go places in Tasmania, the Bay of Fires is naturally stunning.  It is a gorgeous bay of white sand dunes, the turquoise waters of the Tasman Sea, framed by orange rocks that seem to be "on fire".   The rocks themselves are covered in orange-rust colored lichen that gives them their unique appearance.  Known all over the world, it is one the landmarks in Australia that is not to be missed if you are visiting Tasmania.
Wineglass Bay in Freycinet National Park
As you can see, Tasmania abounds with natural beauty and Wineglass Bay in Freycinet National Park is no exception.  Lush greenery extends right down to the dreamy white sand beaches and blue crystal clear waters.  Nestled into the iconic Hazards Range with its pink granite peaks, Wineglass Bay is the most photographed view in all of Tasmania!
The Verdict – Famous Australian Landmarks for your Bucket List!
Phew, as you can see there are so many famous Australian landmarks our list is just beginning to scratch the surface.  Man made and natural landmarks in Australia are abundant and there is a lot of ground to cover.  What famous landmarks in Australia would you like to see added to the list?  Let us know in the comments below.
Like It> Pin It> Famous Australian Landmarks for your Bucket List!