Last Updated on April 9, 2021 by Travels with Kids

Cairns city is a wonderful holiday destination.  There are a whole host of family-friendly things you can do in the city itself, plus about a million possible Cairns day trips.  It's a great "home base" when you're setting out to explore North Queensland.
If you've decided to base yourself in Cairns city and are looking for some day trips you can take, we've got plenty of ideas!  In this post, we'll explore 17 of our favorite day trips from Cairns.
This post may contain affiliate links, from which we would earn a small commission, at no extra cost to you. More info in my disclaimer.
The Top 17 Cairns Day Trips
Cairns Day Trips 101: The Great Barrier Reef Tours
No trip to tropical North Queensland is complete without a tour of the World Heritage-listed Great Barrier Reef!  Luckily, visiting the Great Barrier Reef is an easy day trip from Cairns.
The Great Barrier Reef is one of Australia's top tourist attractions, and one of the main reasons people travel to North Queensland in the first place!  It is the largest coral reef system on Earth – so big, it can even be seen from space!  With over 900 islands and thousands of marine wildlife who call the reef system home, it is a no-miss Cairns day trip. (See all of our kid-friendly Great Barrier Reef Facts!)
If you're worried about this being all about Great Barrier Reef diving tours, don't be. Great Barrier Reef snorkeling may be an unforgettable experience, but there are many ways you can see the Reef in all its glory.  There are lots of Great Barrier Reef tours from Cairns suited to every need.  Do your research to make sure you're maximizing your time spent in the water vs. on the boat!  We cover our favorite tour options for the Great Barrier Reef here!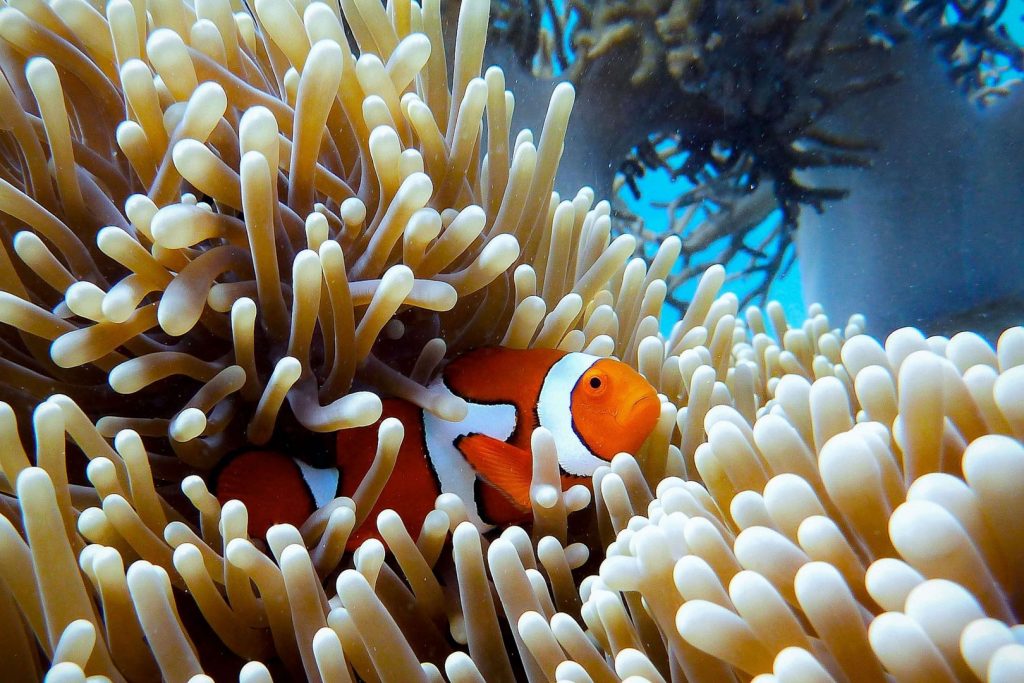 Green Island
Located a scant 27 km east of Cairns, Green Island is one of the most popular day trips from Cairns to visit part of the Great Barrier Reef.  It is also very accessible, given its size: it takes just 45 minutes to walk around the entire island.  As soon as you land on the jetty, it takes less than 5 minutes to walk to either of its most popular beaches.
The beaches are wonderful for relaxing.  Or, go swimming, snorkeling, or kayaking in the crystal clear reef waters!  For the adventurous, there are a number of snorkeling and scuba diving tours you can take, or, take a ride on a glass-bottom boat to take in the colorful reef sights.
Green Island National Park is actually a protected area.  Explore the rainforest on nature walks, listen to the birds and perhaps learn a bit about the island's history.  There is also the Marineland Melanesia Crocodile Habitat – a great attraction to see and learn about crocodiles!
Interested in visiting more islands from Cairns?  See our post about exploring the islands near Cairns!
Fitzroy Island
Green Island may be more famous, but Fitzroy Island is where the locals go!  Largely unspoiled with a laid-back vibe, Fitzroy Island is an off-the-beaten-track alternative to Green Island.
And it's easy to get to, making it a wonderful option for Cairns day trips.  After a short boat ride from Cairns, you'll have at least 6 hours to explore the island.  Don't spend all day on a boat – you can walk the white shell beaches, admire the sparkling turquoise waters, hire snorkeling gear to explore the corals of the Great Barrier Reef, or sign up for scuba diving trips, too.
For young kids, there are boogie boards with a viewing section for small children to see under the water without getting their faces wet.
Another great Fitzroy Island attraction not to miss is the Cairns Turtle Rehabilitation Centre.  The turtle sanctuary offers tours to give you an insight into the great work they are doing to care for sick and injured turtles, one of the reef's endangered species.
Looking for some other Great Barrier Reef guided tours?  Below are some of our favorites.
Day Trips From Cairns To Kuranda
Kuranda is one of the top Cairns day trips.  I go into more detail about this Cairns tour here, but in brief – Kuranda makes a great day trip from Cairns.
You might hear some talk about the Kuranda markets but in general, Kuranda village itself is fairly small.  We did enjoy the Australian Butterfly Sanctuary.  It is Australia's biggest butterfly aviary, with over 1500 butterflies!  We also have seen recommendations for the Kuranda Koala Gardens.
In my opinion, the best way to plan your day is to take the Kuranda Scenic Railway there.  There are two train schedules in the morning, and another two in the afternoon.  Spend as much or as little time as you like visiting the town and the Kuranda markets, then hop on the Skyrail Rainforest Cableway on the way back.  The Skyrail runs continuously so it is easier to catch at a moment's notice, rather than having to wait around (perhaps longer than you like) for the return train.
Kuranda Train And Skyrail
The Kuranda Skyrail Rainforest Cableway is a 7.5 km scenic cableway that runs from the Smithfield Terminal in Cairns to the Kuranda Terminal on the Atherton Tableland.  Views from the Skyrail are fantastic, as you pass over World Heritage-listed tropical rainforests and the Barron Gorge National Park.  With the 360° views offered by the gondolas, you'll be awe-struck by the pristine rainforest canopy passing mere meters beneath your feet.
On the other leg of your journey from Cairns to Kuranda, take the Kuranda Scenic Railway.  This is an unforgettable journey with stunning views of the rainforest and surrounding mountains.
Daintree River (Julaymba)
There are also day trips from Cairns to Daintree that are worth a thought.  The Daintree River flows through the Daintree Rainforest, north of Cairns, and all the way into the ocean.
A river cruise up the Daintree River is a wonderful way to get a different perspective of the rainforest and its ecosystem. Several different tour operators depart on one-hour river cruises from the car ferry boarding point.  These tours explore the mangrove estuary which is home to a seriously amazing collection of wildlife – including crocodiles! With local guides who know the area well, this is one of the best places to see estuarine crocodiles in the wild.
You can also visit Daintree Village or Daintree National Park – a protected area for the world's oldest rainforest.  For more about Daintree tours from Cairns, see our Daintree Rainforest post.
Below are some of the top Daintree Forest tours.
Cape Tribulation
Another Cairns tours option is a day trip to Cape Tribulation.  Though it can be done in a day, it involves at least 6 hours of driving. Nevertheless, a Cape Tribulation day tour is worth it if you don't have time to spend the night.
The road north from Cairns to Cape Tribulation quite literally ends at the Daintree River where you need to take the car ferry across in order to continue northwards to Cape Tribulation.
Known by Aussies as "Cape Trib," this is an exploration into the deep jungles of Australia.  Here, you can deeply explore the Daintree Rainforest with a number of unique excursions and then marvel at how the jungle meets the white sands and turquoise waters of the Great Barrier Reef.
Whatever way you look at it, Cape Tribulation offers adventure in the heart of the Aussie wilderness.  We desperately wanted to visit but with a baby just 4 months old, we decided to put it on our future list!  On our next trip, we hope to spend a few days at the Cape Tribulation Beach House or the Ferntree Rainforest Lodge.
Below are some great Cape Tribulation and Ferntree Rainforest Lodge tours.
Mossman Gorge
The Mossman Gorge Centre is a fantastic way to experience the Daintree Rainforest without needing to travel many hours north to the Daintree River or Cape Tribulation.  It is just 15 minutes from Port Douglas, making it a great visit to combine with a Port Douglas day trip.  Of course, it also makes a great Cairns day trip, being just an hour and a quarter from Cairns.
The Mossman Gorge is a gateway to the Daintree Rainforest, and a great way to see the world's oldest rainforest while preserving it for future generations.  In order to stop the proliferation of roads, Mossman Gorge offers a low-emission shuttle bus service.  For a small fee, visitors can park their car in one of the many spots available at the Centre, and then be transported safely into the heart of Mossman Gorge.
We love that the Mossman Gorge Centre is indigenous-managed.  There are many indigenous-led tours of the Rainforest to introduce visitors to the traditional flora and fauna, many of which have traditional medicinal and other uses.
More about Cairns tours of the Mossman Gorge.
Dunk Island
Dunk Island is an animal lover's paradise.  Best-known for the striking blue Ulysses butterflies, it is also home to over 100 species of birds.  You'll also have a chance to spot dugongs and sea turtles, who are known to swim up close to the beach in order to feed on seagrass found in the shallow waters.
This is a low-key Cairns day trip option, and you can enjoy being on "island time" while you relax on the beach, go for a swim in the ocean, or camp under the stars.  There are opportunities for snorkeling, too, and of course, you won't want to miss one of its main attractions: Mount Kootaloo.
It takes three hours to walk up to Dunk Island's highest point, but it is well worth it!  From here, you'll enjoy spectacular views of the surrounding island and reef.
Mission Beach
Looking for a more "hidden gem" of a Cairns day trip, rather than going where everyone else goes?  Then you might want to consider Mission Beach, located at the heart of the Cassowary Coast.
The Cassowary Coast is a quiet stretch of coastline running from Cairns to Cardwell, lined on one side by the tropical rainforest and the Great Barrier Reef on the other.  Mission Beach is actually the mainland spot closest to the offshore Great Barrier Reef. So close, you'll feel like you can almost touch it!
Mission Beach has a wonderful beachy laid-back vibe, and you can count on tourists never outnumbering the locals.  Given it's the banana capital of Australia, you won't want to miss out on their roadside fruit stalls.  Just take what you like, and leave payment in the "honesty box"!
Other things to do in Mission Beach – if you want to get active instead of lazy – is to drive along the Cardwell Forest Drive which loops through the Girringun National Park.  Here you'll be treated to spectacular waterfalls, secluded swimming holes, and the spa pool.  The spa pool a natural rock pool where the water actually bubbles like a jacuzzi!  Don't miss this tours in Cairns option.
Paronella Park
Opened in 1935, Paronella Park is these days one of North Queensland's premier tourist attractions, making it a great choice for Cairns day trips.
The park has been described as a "five-hectare mystical wonderland," and features a Spanish-style castle set within an incredible tropical forest that boasts over 7000 palm trees and other tropical vegetation.  You can also visit a waterfall!  This is one of the great tours in Cairns options.  Check here for a Paronella Park guided tour.
Atherton Tablelands: Lots Of Options For Cairns Day Trips
The Atherton Tablelands is a wonderful tourist area west of Cairns that you can easily spend a couple of nights in if you have the time.  Up in the Atherton Tablelands, you can visit the Millaa Millaa water pool, Curtain Fig Tree, and also the Nerada Tea Plantation, famous all across Australia.
Millaa Millaa Waterfalls Circuit (Waterfall Tour Cairns)
Zillie Falls is part of the Millaa Millaa waterfall tour Cairns route, which also includes Ellinjaa.  You can drive to the falls, park on the side of the road, then walk across the street to the waterfall. You'll be standing at the top of the waterfall, looking down on it.  There is a path you can take down but it is a bit tricky, so be careful and make sure you have proper footwear!  This is not a great activity for small kids.
Curtain Fig Tree
The Curtain Fig Tree is a famous tree that you can visit during your Atherton Tablelands Cairns tours.  Located along the Curtain Fig Tree Road, about 1km north of Yungaburra in the Curtain Fig National Park, this famous 500-year old strangler fig tree is listed on the Queensland Heritage Register!
What makes this tree such a tourist attraction for those visiting Northern Queensland, is its extensive aerial root system that cascades down to the forest floor, creating a 7m wide "curtain".
Nerada Tea Plantation
On the way to Millaa Millaa Falls is the Nerada Tea Plantation.  What a beautiful place to spend an afternoon!  The plantation grounds are absolutely picturesque, with rolling hills as far as the eye can see, and full of wildlife.  If you like bird-watching, there are lots of photo opportunities, and if you're really lucky you might get to see a tree kangaroo!
The Nerada Tea Plantation is also a great place to have lunch – and not too expensive!
 Babinda Boulders
Named for its outcropping of huge granite boulders, Babinda Boulders is a popular swimming and picnic area in the foothills of Bartle Frere (Chooreechillum), Queensland's highest mountain.
The area is located along the Babinda Creek which is flowing with sparkling clear mountain water.
Tully Sugar Mill
Ever wanted to visit a real live sugar mill?  The Tully Sugar Mill is the only sugar mill in Australia that you can visit!
The Tully Sugar Mill tour is fascinating from start to finish. It is interactive and informative, and showcases the whole operations, from the sugar cane arriving on the train to processing the sugar and separating the molasses.
Despite the noisy factory, it is easy to understand the tour leaders through the electronic communications system.  In addition to walking through the mill where you can see giant spanners and furnaces, the tour includes a safety briefing and an overview of the entire production process.
If you're looking for an educational and different day trip from Cairns, we recommend heading to Tully for this tour!  It lasts about 2 hours and only costs $25 per person. You can buy tickets at the Tully Visitor Centre.
White Water Rafting On The Barron River & Tully River
If you're looking for adventurous Cairns day trips, a day of white water rafting might just be the ticket!  White water rafting can be done on either the Barron River or the Tully River.  As both are Hydro release rivers, suitable water levels can be guaranteed year-round.
The Barron River offers rafting tours more suited to beginners.  These are more like half-day trips from Cairns, best for families, those not so confident in the water, or those without a lot of time.
On the other hand, the Tully River offers white water rafting with 1-4 grade rapids.  Better for the more experienced or the more adventurous, Tully River white water rafting is a full-day tour.
What about the greater Cairns region?
Here we have covered the top day trips around Cairns, with the idea that you will return to the city of Cairns each evening.  The area around Cairns has so much to do and see, like in the Mareeba, Normanton areas and the therapeutic Innot Hot Springs.
The Verdict – So Many Day Trips From Cairns To Choose From
Cairns is the perfect home base from which to explore tropical North Queensland, with a seemingly unending supply of day Cairns day tours options.  With something for everyone – from active tours to exploring nature and learning about wildlife to relaxing on the beach – there are enough day trips from Cairns to set you up for a week of visits!
Keep Reading!
Cornerstone Cairns Post
Port Douglas
Kuranda
Islands Off Cairns
Great Barrier Reef Tours
Like It> Pin It> 17 BEST Cairns Day Trips – Explore Tropical North Queensland