Last Updated on October 13, 2021 by worldoftravelswithkids
Here are our favorite famous man made landmarks in Australia!  It's no secret that we love Australia; not only her wide-open spaces, rugged coastline, and unique way of life.  We also love the way that people have adapted to the landscape.  In many ways, their adaptions come in the form of building.  Some are famous worldwide, like the award-winning Sydney Opera House or Tree Top Walk in Western Australia.  Others are famous only amongst Australians who will tell you how they have photos near the Giant Banana at Coffs Harbour, one of the large Pineapples in Queensland, or perhaps the statue of Ned Kelly in Glenrowan in Victoria.  For this list of famous Australian man made landmarks we have tried to pick the truly famous, unique, special but also funny!  We hope you enjoy reading about these interesting landmarks as much as we did writing about them!
This post may contain affiliate links, from which we would earn a small commission, at no extra cost to you. More info in my disclaimer.
How do we Define Man Made Landmarks in Australia Compared to, well the Famous Landmarks in Australia?
We have covered the complete list of the best landmarks in Australia in our complete Famous Landmarks in Australia.  Buildings, bridges, memorials, treetop walks are all examples of famous man made landmarks in Australia.
There are a number of Australian landmarks that are a combination of man and nature.  For example, the Barossa Valley in South Australia takes beautiful countryside and has added vines and German heritage – but it's a combination of natural and man.  By the same token, Kings Park in Perth (another of our favorite places) has a lovely natural outlook.  Man has only built upon it to make it more beautiful.  Broome in Western Australia is often listed as a man made landmark, but really it is Cable Beach, a naturally occurring wonder, that is so special!  Neither the Barossa, Kings Park or Broome make our list of the best man made landmarks.   Going global – here are some of the most famous landmarks around the world!
Man Made Landmarks in Sydney & New South Wales
Sydney Opera House
The Sydney Opera House is perhaps one of the most well-known man made landmarks in Australia or even the world for that matter.  It is so iconic that it is estimated that over 8 million people visit it every year!  That is a lot of visitors!  The Sydney Opera House is the second-largest Opera House in the world and has hosted many famous performers and operas.
Want to find out more about the Syndey Opera House?  Read our The Most Interesting Sydney Opera House Facts For Kids.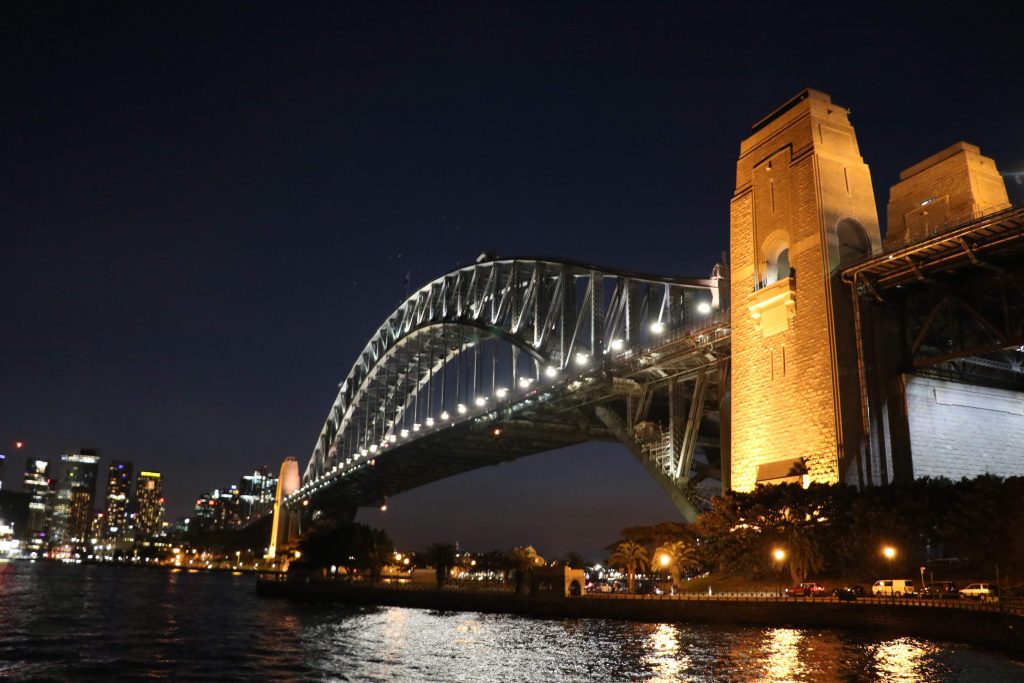 Sydney Harbour Bridge
The Sydney Harbour Bridge sits right alongside the Sydney Opera House.  This was the first iconic man made landmark in Sydney as it was built 40 years before the Sydney Opera House.  As the largest steel arch bridge in the world, it spans an enormous 503 meters or 1605 feet.
While taking pics of the Sydney Harbour Bridge is obligatory for any traveler to Sydney, one cool way to experience this iconic structure is to do a bridge climb.  Yes, you read that right, you can actually climb the bridge.  Talk about a unique vantage point to experience Sydney!
Interested in learning more about the Sydney Harbour Bridge, or Sydney as a city?  Check out our Facts About Sydney Harbour Bridge And Sydney Facts For Kids.
Sydney Tower Eye
The Sydney Tower Eye is not only one of the famous man made landmarks in Australia it is also the tallest structure in Sydney.   The tall tower in the sky (also known as AMP Tower, the Sydney Skytower, or the Centrepoint Tower) is also the second-tallest observation tower in the Southern Hemisphere.
Not only does this famous observation tower give you a wonderful view of Sydney, it also houses a 4D cinema, gift shop, and skywalk.
We visit the Sydney tower eye here in Things To Do In Sydney For Kids.
Queen Victoria Building
The Queen Victoria Building, or the QVB as it is known, is one of the popular Australian man made landmarks in Sydney.  This Romanesque Revival building was built in 1898 and was originally designed to serve as a marketplace.  Over the years it has been used in different capacities, and at one point, unfortunately, was left to decay.  In 2008/2009 the QVB underwent a $48 million dollar refurbishment.
Besides the retail and commercial establishments inside the Queen Victoria building, the memorabilia housed there is of particular interest.  Two exquisite mechanical clocks are on display, the Great Australian Clock and the Royal Clock.  Perhaps the most interesting item in the Queen Victoria building is a sealed letter written by Queen Elizabeth 2.  Written in 1986 it is not to be opened until 2085; no one knows what the letter contains.  What a mystery!
Luna Park Sydney
Luna Park is a famous amusement park located in the northern part of Sydney harbor.  Part of Luna Park's charm is that it originally opened in 1935 and was built in a whimsical art deco fantasy style.  Since then Luna Park has changed hands many times.  It has suffered tragedies, bankruptcies, and renovation but still retains its original charm.  We loved visiting Luna Park when we were in Sydney with the kids!
The Big Banana: Coffs Harbour, NSW
That's right, one of the most famous structures in Australia is … a big banana.  Stopping and taking a picture at this giant piece of fruit has become a must-do item on any Pacific Coast Highway itinerary.  Built in the 1960s, it stood in front of a banana plantation.  Today there is also a roadside stand where you can enjoy banana shakes, laser tag, and a mini-golf course.  Perhaps this is one of the quirkiest man made landmarks in Australia on the list – and we won't go into why Aussies have this thing for "big things,"
For all the BIG famous man made landmarks Australia look here.
Man Made Landmarks in Canberra
The Australian War Memorial
The Australian War Memorial is a sombre,  yet stunning, memorial to those Australians who have died in wars or operations serving the Commonwealth of Australia.  Opening in 1941, the memorial is located in the capital of Australia, Canberra.  It is comprised of three major parts.  A museum and gallery, a research center that houses many records, and a commemorative area that houses the tomb of the unknown soldier.
Besides being a commemorative place to honor those who served Australia, the Australian War Memorial also serves as a research center.  Not only does it house a vast collection of records but much memorabilia as well.
There is a large nature park behind the memorial as well as a sculpture garden located on the grounds.  If you are planning a visit make sure to check the opening hours as it is currently closed due to Covid restrictions.
New Parliament House Canberra
As the name suggests, the New Parliament Hosue Canberra is well … newly opened.  Costing 1.1 billion dollars to build, it was opened in 1988 by Queen Elizabeth II.  Prior to that, parliament was held in what is now called the Old Parliament House.
The New Parliament House architecturally is one of the most famous man made landmarks in Australia.  The design is quite thought out and unique.  It literally rises out of the landscape as parts of it were built into Capital Hill.  This was intended to show that government does not tower over its citizens but works for its citizens.
Man Made Landmarks in Victoria & Melbourne
Melbourne Cricket Ground
It is no secret that Australians love Cricket.  So really is it surprising that the Melbourne Cricket Ground, or "The G" (or MCG) as it is known, makes the list of top man made landmarks in Melbourne?  What is surprising is just how massive The G is.  It is officially the largest stadium in the Southern Hemisphere.  And, it is also home to Australia's National Sports Museum.
Built in 1853, the MCG has seen its' fair share of high-profile matches.  These include the 1956 Summer Olympics, two Cricket World Cups (1992 & 2015), and the 2006 Commonwealth Games.  If you are a fan of cricket or sports in general, make sure to add a visit to the Melbourne Cricket Ground to your Melbourne itinerary.  In 2021 the AFL Grand Final was not held at the MCG but at Optus Stadium in Perth.  Wow, it is a fantastic ground that can give the MGG a run for its money in terms of striking stadiums!
Sovereign Hill
Sovereign Hill is an open-air living museum in the suburbs of Ballarat.  Opened in 1971, it has become an increasingly popular tourist destination for people visiting Victoria.  My kids loved their visit when they were aged 10 and 7.
Sovereign Hill is all about the Australian gold rush.  Step back in time and see how life was in Ballarat for the first few years after the discovery of gold there in 1851.  Walk the streets of Ballarat in the 1800s, see the local shops, artisans, and even try your hand at gold panning.  Make sure you check out the Gold Museum with its collections of gold nuggets and coins, view the memorabilia collected from that time period, and learn about the cultural significance of the gold rush in Australia.
Be sure to take a look at the Sovereign Hill website when planning your visit.  They have an extensive timetable for the goings-on of the day.  These include gold panning, musket firing demonstrations, coach rides, mining tours, and much more.  And, if you are in the area, make sure to check out the famous Sovereign Hill Winter Wonderlights Festival.  It typically runs from late June to mid-July and includes lights, snow, and festivities.
Flinders Street Railway Station
Located in the CBD of Melbourne, the Flinders Street Railway Station is a historic railway station.  It spans over two city blocks and is the central hub for the transport systems in and around Melbourne.  With its very distinctive Edwardian Style, a large dome, towers, and clocks it is a cultural landmark in Melbourne.  Perhaps the most distinctive structure in Melbourne.  It also houses the fourth longest railway platform in the entire world.
The streets around Flinders Street Station are bustling.  It is said that it was actually the busiest passenger station in the world in the 1920s.  Today it is an icon in Melbourne.  If someone tells you to "meet them under the clocks" they are referring to the bank of clocks above the main entrance that shows the departure times for each rail line.
One popular myth is that since the Flinders Street Railway Station is so grand, it must have originally been built for Mumbai's Victoria Station and accidentally sent to the wrong Victoria… Melbourne, Victoria.  Whether that is true or not, if you are traveling to Melbourne make sure you experience its grandeur first hand.  We think the Flinders Street Railway Station is one of the best man made landmarks in Victoria.
Brighton Bathing Boxes
The Brighton Bathing Boxes are totally adorable and a must-see if you are visiting the Melbourne area.  They are located in Brighton, a suburb by the sea of Melbourne.  It takes only 20-minutes by car to reach Brighton or a short railway ride from the Melbourne CBD.
So what exactly are the Brighton Bathing Boxes?  Well, they are best described as eclectic changing rooms on the beach.  In all there are 82 boxes and, they have sold for upwards of $300,000 each!  Although they literally look like small sheds, each one is individually owned and decorated in fun and bright colors of the owner's choosing.  As you could probably guess, these boxes are an Instagrammers paradise.  Sometimes there are queues to take pictures in front of the most popular bathing boxes.  Especially the one of the Australian flag, right near the entrance to the beach.  Don't let that discourage you though.  Check out the quirky boxes, take a stroll along the beach, and soak in a marvelous view of the Melbourne CBD in the distance.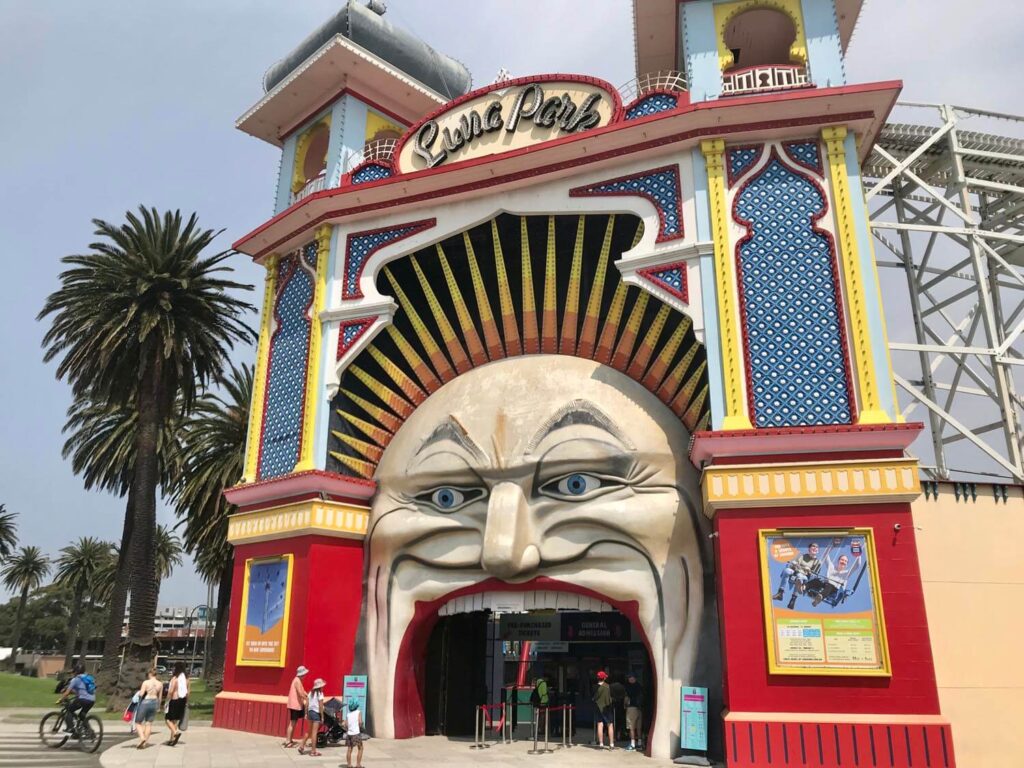 Luna Park Melbourne
Yep, another Luna Park.  Although this is the original Luna Park located officially in St. Kilda outside of Melbourne.  Out of popularity, this historic amusement park spawned three other sister parks like the one in Sydney we mentioned above.
Like its sister park in Sydney, Luna Park Melbourne has seen its share of change and renovation over the years.  However, it still remains a popular tourist attraction and definitely one of the Australian man made landmarks worth checking out.
Brisbane & Queensland Man Made Landmarks
Story Bridge
The Story Bridge is the longest steel cantilever bridge in Australia.  Spanning the Brisbane River it connects the northern and southern suburbs of Brisbane.  Until the completion of the bridge in 1940, it was known as the Jubilee Bridge.  Once opened it was named the Story Bridge after John Douglas Story, a very popular public servant who advocated strongly for the building of the bridge.
It has three lanes in each direction, as well as a pedestrian and bicycle pathway.  In total it is estimated that 97,000 people pass over the Story Bridge every single day!
The Story Bridge is one of the most popular Queensland man made landmarks as celebrations of its opening happen every 25 years.  Today, you can also partake in a bridge climb, much like on the Sydney Harbour Bridge.
Kuranda Scenic Railway
This enormously popular scenic railway runs from the seaside city of Cairns, through the Great Dividing Range, to the town of Kuranda.  The Kuranda Scenic Railway runs through the World-Heritage listed rainforest in northern Queensland.  Pass by waterfalls, mountains, and dense jungle on this out-of-this-world adventure.  The story of how the Kuranda Scenic Railway was built is one of blood, sweat, and tears, and a lot of determination.
Departing twice in the morning from Cairns with two mid-afternoon departures from Kuranda, the Kuranda Scenic Railway is one of the Best Cairns Day Trips.
Speaking of Cairns, be sure to check out all our resources on this fabulous city, the gateway to the Great Barrier Reef: 
The BEST Cairns Holidays: Our Ultimate Guide To Family Holidays In Cairns
Amazing Great Barrier Reef Tours And Tips For Snorkeling In Cairns
Where To Stay In Cairns With Kids: The 13 BEST Cairns Family Accommodation
Things to do in Cairns with Kids

Paronella Park
Of course, we can't talk about the Queensland man made landmarks without mentioning Paronella Park.  Often described as Queensland's most awarded attraction, this is a must-visit.
Jose Paronella arrived in Australia from Spain in 1913 to work in the sugar cane fields.  He returned to Spain but later revisited Australia on his honeymoon where he fell in love with this piece of land.  Jose ended up purchasing this 13-acre parcel of land for 120 pounds.  He began cultivating a pleasure garden on the grounds for the public's enjoyment.  He then built a small house but dreamed of building a castle. So that is what he did.  The entire structure was built by hand of clay and cement, officially opening to the public in 1935.  The park was a popular place for weddings and gatherings.
However, over the years tragedy struck Paronella Park.  Floods, the passing of Jose and his family, and cyclones all but destroyed much of the park.  In 1993, Mark and Judy Evans purchased Paronella Park with the hopes of restoring it back to its former grandeur.  They restored the original hydroelectric system and once again the park is open to the public as a pleasure garden just as Jose had envisioned.
Today Paronella Park is a must-see attraction in Queensland and a nature lovers paradise.  This park is gorgeous, and unique with plenty of photo opportunities abound.
Man Made Landmarks in Perth and Western Australia

Valley of the Giants Tree Top Walk
The Valley Of the Giants Tree Top Walk in Walpole is a must-visit family attraction in Western Australia.  Our family absolutely loves visiting here, as we have many times.  Take a walk through the amazingly tall Tingle Trees and experience what the Valley of the Giants has to offer.
If you are keen on visiting, make sure to read our post A Complete Guide To The Valley Of The Giants Tree Top Walk Walpole.  You want to make sure you don't miss out on one of the most-visited man made landmarks in Western Australia.

Lake Ballard Statues
Lake Ballard Statues is a unique, and world-renowned art installation comprised of 51 artworks spread out over 10 km.  Our family absolutely loved our visit.  Although be sure to take a look at our Tips – A Visit To The Lake Ballard Statues.  This is a must-read if you plan on visiting as we give our experience and tips for a visit.  Depending on the time of the year it can be gloriously muddy and you'll want to be prepared.
Gwalia Ghost Town, Leonora
Billed as Western Australia's best-preserved ghost town, Gwalia Ghost Town in Leonara is a fascinating look back in time.  Located near the Sons of the Gwalia Mine, this place has a fascinating story.
At one time, the mine was one of the most profitable mines in all of Australia and Gwalia was booming. However, on December 27th, 1963 a serious accident at the mine forced its closure.  Instantly most of the town residents were out of work forcing them to quickly flee Gwalia in search of work in places like Kalgoorlie.  They packed up what they could carry and left town, leaving Gwalia behind.  In a matter of weeks, the population was reduced from thousands to a mere 40 residents.  Most everything shut down, as the booming economy was no longer.  And just like that, Gwalia was a ghost town.
The remnants of the town were set to be demolished in the 1970s but the few remaining residents banded together and persuaded the government to leave everything standing, a relic of what had been.  Today Gwalia is just as desolate but a visit to the museum and the old shacks is worthwhile.  We have covered it here in Top Things to do in Kalgoorlie and the Goldfields.
Giant Whale Shark and Prawn in Exmouth
While Exmouth is a far distance from the top man-made landmarks in Perth, it is still worth the visit, if nothing else to see the wonderful natural beauty of the Cape Range National Park and the Ningaloo Reef.  While the town of Exmouth is best known for its role in naval communications (being home to the Harold Holt Naval Communications Station)  it is basically a fairly plain outback town.  However it boasts not one, but TWO Australian Big Things – the giant prawn, which celebrates the prawning history of the North West Cape – and more predictably the  Giant Whale Shark which celebrates the annual migration of whale sharks to these waters!
If you are venturing out to see these top Western Australian mad made landmarks.  You also want to check out Ningaloo Reef.  Want to learn more about the Amazing Ningaloo Reef?  We have you covered, read our Facts about Ningaloo Reef.
Optus Stadium Perth
As mentioned above, this is a marvelous stadium that hosted 2021 the AFL Grand Final.  Officially opened in January 2018, this is now one of the most famous man made landmarks in Perth.
While just slightly shorter than MCG in Melbourne, this is still a massive stadium.  It hosts rugby, cricket, soccer, and concerts.  The stadium is relatively easy to get to as the Armadale Line stops directly at Perth Optus Stadium on the weekends and public holidays.  You then walk over the Matagarup Pedestrian Bridge and arrive at the stadium.
The Matagarup Bridge is one of the cool man made landmarks in Perth as well.
Speaking of Perth, be sure to check out all our resources on this awesome city, our home base.
An Awesome Perth Itinerary For Family Travellers
Things To Do In Perth With Kids
The TOP-Rated Family Accommodation In Perth – Best Family Hotels With Kids
Perth Playgrounds And Parks In Perth
South Australia Man Man Landmarks
Coober Pedy
Also known as the Opal Capital of the World, Coober Pedy is located in South Australia along the Stuart Highway.  It is situated about halfway between Adelaide and Alice Springs.
So what makes Coober Pedy so unique and one of the top man made landmarks in South Australia?  Well, extreme temperatures and little vegetation make the residents of Coober Pedy preferring to live underground.  Yes, you read that right.  Most of the residents live in cave-like homes built into the hillside and dugout homes underground.  There are even underground hotels.  Pretty unique and shows how Australians have adapted to their landscape.
D'Arenberg Cube
This Australian man made landmark looks like a futuristic building or something out of this world.  The D'Arenberg Cube is actually a cellar door located in the D'Arenberg Vineyards.  It was inspired by the founder's love of the "complexities of puzzles and winemaking".  More than just a cellar door, it features many interactive experiences like a wine sensory room, 360 video room, and much more.
Nullarbor Sign
If you happen to be crossing the Nullarbor Plain a stop at the sign marking the start of this long, straight, boring drive is compulsory.  It marks the start of a very isolated, desolate, hot and dry, long straight stretch of nothingness.  In fact, one stretch of the road goes about 142 km without even a single bend in the road.  Talk about … boring.  So what better way to celebrate to commemorate this drive than by stopping at the Nullarbor Sign?  Perhaps this should be added to the list of the most boring Australian man made landmarks?
Pigs in the Mall
What is a trip to Adelaide without checking out these cute and charming little pigs?  Every time we visit Adelaide my kids absolutely love them!  These four adorable bronzed oinkers are displayed roaming the Rundle Mall.
The pigs have gained celebrity status and passersbys' take pictures, sit on the statues, and otherwise dote on these piggy statues.  Oliver, Horatio, Truffles, and Augusta don't seem to mind all the attention.
Man Made Landmarks in Tasmania
Port Arthur Historic Site
The Port Arthur Village and Historic Site are located in Tasmania on the Tasman Peninsula.  This now abandoned penitentiary is now an open-air museum.  You can roam the huge convict site itself, the Convict Church built by the inmates, and the solitary confinement units.
This UNESCO World-Heritage listed Australian convict site features many exhibits, activities, as well as a restaurant and bar.  To top it off, they even offer a ghost tour for those not easily spooked.
MONA
MONA, the Museum of Old and New Art is located in Hobart, Tasmania.  It is the largest privately-funded museum in the Southern Hemisphere and well worth a visit.  It features many unique exhibitions, musical events, and has a cellar door, wine bar, and restaurant.  There quite literally is something to pique everyone's interest at MONA, including the unique and sometimes mind-bending architectural installments.  This is one of the man made landmarks in Australia that is not to miss if you are visiting Tasmania.
Northern Territory Man Made Landmarks
The Ghan Train
The Ghan Train is a once-in-a-lifetime experience much like the Orient Express or the Trans-Siberian Railway.  It covers a span of 2979 km in a 4-day, 3-night journey.  Traveling through the Australian Outback and the Northern Territory from Darwin to Adelaide is a legendary experience.
The Ghan Train offers a luxurious onboard experience as well as amazing off-train adventures.  This journey however does not come cheap.  Starting at $1,000 per person for the most basic package and ranging upwards of $8,000 for the most ultimate packages this is truly an unforgettable experience!
The Verdict – Famous Man Made Landmarks in Australia
As you can see there is so much to do and see crisscrossing Australia.  There are many famous mad made landmarks in Australia not be missed on your adventures.  From the iconic Sydney Opera House to the legendary Ghan Train, there is much to explore.  Let us know about your experiences with these Australian man landmarks.  What famous structures in Australia would you add to the list?
Like It> Pin It> Famous Man Made Landmarks in Australia