Last Updated on November 20, 2020 by worldoftravelswithkids
We hope you enjoy this collection of interesting facts about Peru for kids!  Before I had children of my own, I lived in Peru for many years and traveled far and wide in this fascinating country.  Peru is a country in Western South America, famous for its rich history and as the home to the "Lost City of the Incas," Machu Picchu.
I've included here Peru facts for kids that my own children find interesting, and I am sure you will too!  In short, from Inca facts to Machu Picchu, from the Coast to the cities like Cusco, there is so much to discover about Peru with these interesting facts about Peru.  Enjoys these Fun Facts about Peru!
This post may contain affiliate links, from which we would earn a small commission, at no extra cost to you. More info in my disclaimer.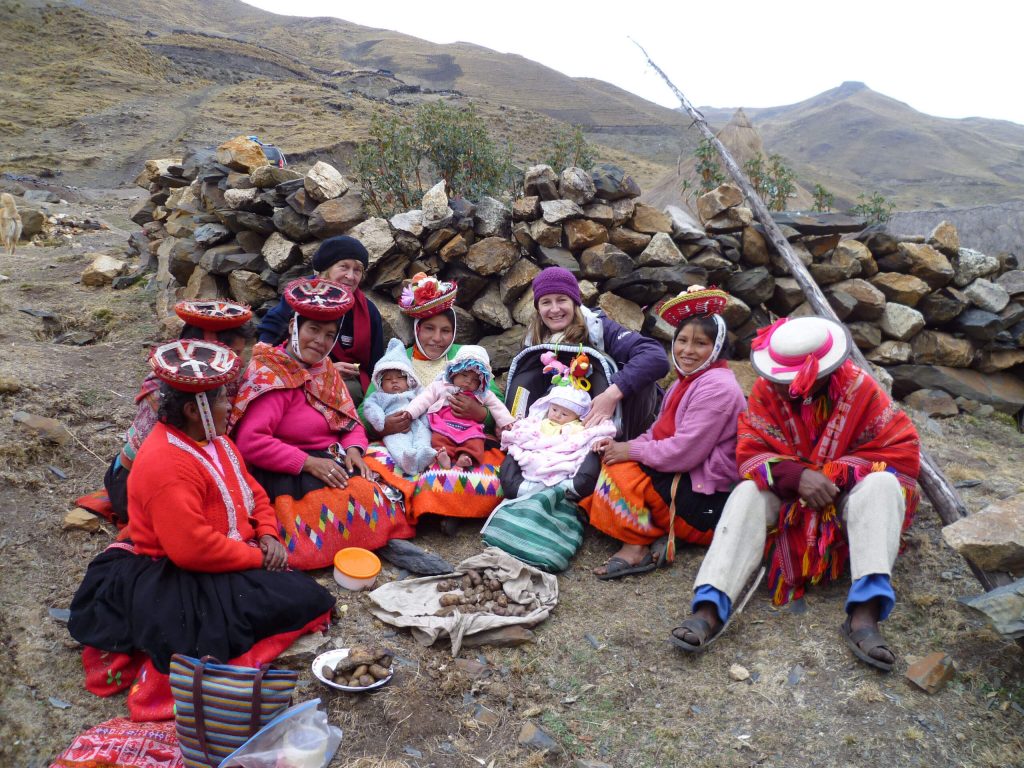 Why Share My Favorite Peru Facts For Kids?
I first arrived in Peru nearly 20 years ago and quickly fell in love with beautiful Peru.  It quite literally has it all – stunning landscapes from snow-capped mountains, to arid deserts on the coast.  Its history is truly fascinating, not only the Pre Incan cultures like the Chavin and the Chimu, but the mysteries which remain to this day.  The enigmatic Nazca lines are incredible and one of Peru's great secrets.   The Conquest of the Incas is a dramatic and captivating story, while facts about Peru's history after the arrival of the Spanish are also very interesting.
However, it's the people that really capture your heart. High in the Andes mountains Quechua speaking people carry on their daily life much as in the time of the Incas, or their ancestors before them.  Agricultural research stations such as Moray, in the Cusco region
In my travels, I stayed in earth floor huts, ate guinea pig or fresh-caught fish from high alpine lakes; and participated in local ceremonies that paid respect to Mother Earth, Pachamama.   I worked alongside Quechua women wearing traditional dress as they explained to me the meaning of their weavings.
From the most humbling experiences in the high mountains to the most elegant experiences in Peruvian cities like Cusco and Lima.  In Lima we've dined in aristocratic mansions once only patronized by the Spanish descended elite, or tasted exquisite Novo- Andino cuisine created by Peruvian genius chefs like Gaston Acurio or Rafael Osterling.
It goes without saying that I have a lot of interesting facts about Peru in my head, and I am delighted to share with you.  Enjoy this charming and special country as we journey to Peru with these Peru fun facts for you.
Interesting Facts About Peru: Amazing Geographical Peru Facts
The Andes Mountains are the second highest and longest in the World!
The Andes Mountains Are The Second-Highest Mountain Range In The World, After The Himalayas! The highest point in Peru is Mt. Huarascán, which is part of the Andes Mountain chain.  Mt. Huarascán is also the fourth-highest mountain peak in all of South America!
Another Interesting Fact In Peru is that the Andes are the longest above-water mountain range in The Andes Mountain Range goes through seven South American countries, including Peru.  Starting north in Venezuela and going all the way south through Argentina, it is about 7,000 km (or 4,300 miles) long!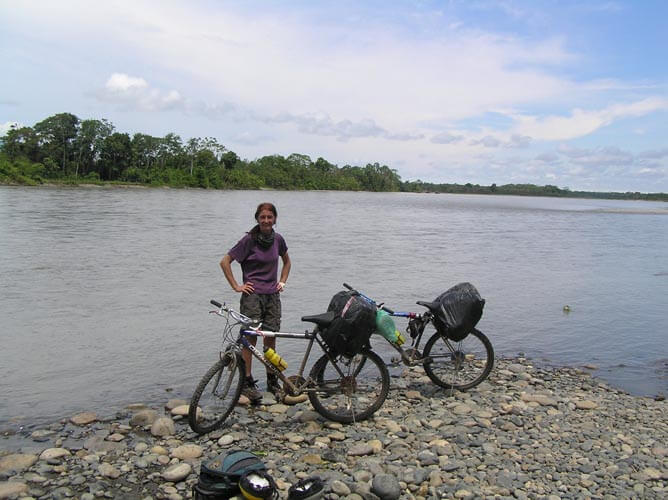 The World's Largest River, the Amazon,  Starts In Peru
The Amazon River is considered the world's longest river.  However, there have been arguments that the Nile River is actually longer.  Either way, the Amazon River is definitely the world's largest river by volume.
Starting in the Peruvian Andes and running through Peru and the entire length of Brazil the Amazon finally empties into the Atlantic Ocean.  Lots of amazing creatures call the Amazon home like the piranha, the anaconda, the Amazonian manatee, and the Amazon River Dolphin!
Peru Is Also Home To The Deepest Canyon In The World
Cotahuasi Canyon (from Quechua Kutawasi), near the city of Arequipa in Peru, is one of the deepest canyons in the world. With a depth of approximately 3,354 meters (11,004 ft), it is more than twice as deep as the Grand Canyon.
More Peru Facts: Peru has the Highest Sand Dune In The World
The highest sand dune in the world is located is in Peru.  It is 1,176 meters (3,860 feet)  tall!
Located near the Nazca Province of Peru, near the town of Nazca.  It is about 455 kilometers (283 miles) south of the capital of Peru, Lima.  Getting across the dunes is easier said than done. You can go by 4×4, and sandboarding is commonly practiced in the area too – some of the dunes flow down for a full 1km.
Lake Titicaca, In Peru, is the World's Highest Navigable Lake
For many, this makes Lake Titicaca the highest lake in the world, though technically there are many, many other bodies of water (that is, Lakes) at much higher altitudes. So you see, there are many interesting facts about Peru!
That is why, technically, when referring to Lake Titicaca being the highest lake in the world, you need to say the highest commercially navigable lake is Lake Titicaca.  It lies in the Altiplano at a height of 3,810 m (12,500 ft) above sea level and is half in Peru, and half in Bolivia.
Peru Is Home To The Puya Raimondii, The World's Tallest Flowering Plant
Puya Raimondi is the world's tallest bromeliad species of plant.  A bromeliad is a relative of the pineapple and can take up to 10 years or more to even bloom.  When it blooms, it can contain up to 8,000 white color flowers that look like lilies.  After it blooms, it does.
The Puya Raimondi is only found in the Peruvian or Bolivian Andes.  Sadly, this plant is an endangered species.  It is estimated that there are only about 100,000 Puya Raimondi plants in the wild.
Facts about Rainbow Mountain Peru
Have you heard of  Rainbow Mountain Peru?  Did you know that it is a social media phenomenon, having only been become popular from one famous Instagram post back in 2015.  Incredibly just 4 years later it has become one of Peru's most recognisable attractions: while 2500 people visit Machu Picchu each day,  1000 people visit the Rainbow Mountain.
How does the Rainbow Mountain get its colors?
There are quite a few striped mountains in the Cusco region, most of them varying shades of grey, white and yellow.  In the Rainbow Mountain area  the main colours people notice on the mountain are cochineal red, terracotta yellow, pink, white, turqoise, brown and organice. Each of these colours is caused by a specific combination of mineral deposits.
While the Rainbow mountain has been accessible for the past 10-15 years via a 6 day lodge lodge walk, it is believed that prior to that the ridge was covered with snow for much of the year and the colors have only been revealed with weathering and because due to the climate change there is much less snow.
Do the colors of Rainbow Mountains change?
Like other famous natural features around the world (I'm thinking of Uluru and Wave Rock in Australia) the colors of the Rainbow Mountain change according to the time of the day, and the weather.
Why is it sometimes called Vinicunca Rainbow Mountain?
For us, one of the most interesting Facts about Rainbow Mountain Peru is its name.  In the Quechua language the name of this mountain is Vinicunca, and is made up of the words words "wini" and "kunca" – "wini" being the name for the black stones that cover the area, and "kunca" meaning neck.   We hope you've enjoyed this small collection of rainbow mountain peru facts.  If you are interested in visiting why not take a look at The Rainbow Mountain Peru with Kids
Also, I bet you didn't know that there are more than one Rainbow Mountain – that's right, there is the Palccoyo Rainbow mountain which is considered a "Rainbow Mountain alternative" if you are looking for an off the beaten track experience, away from the crowds.
Peru Animal Facts
You Want To See A Llama, Go To Peru
¾ of the world's population of llamas live in Peru but don't get close to them – they spit! Like really far, about 10 to 15 feet (3 to 4.5 meters).
Did you know that llamas are cousins of the camel and highly intelligent animals?  Llamas can learn simple tasks after only a few repetitions.
Another fun Peru facts for kids is that many people confuse llama's with their cute cousins, the Alpaca.  So how can you know the difference?  Look at their ears!  Alpacas have short little ears with smooshed faces while Llama's have longer ears and longer faces.
The Largest Flying Bird On Earth – the Andean Condor – lives in Peru,
You can see the largest bird on earth, in the Colca Canyon.  The Giant Andean Condor can grow up to 4 feet high and it has a wingspan of up to 14 feet, which is huge for a bird!  Its wingspan is so huge that the Giant Andean Condor can fly for hours.
The Giant Andean Condor is considered a bird sacred by the Incas.  Unfortunately, it is now considered somewhat endangered by the World Conservation Union.
More Cool Peru Facts For Kids; Inca Facts
Machu Picchu Was Not A Lost City
It is now believed that Machu Picchu was abandoned before the Spanish arrived in Peru.  Its actual purpose is still shrouded in mystery – it was once thought to be the home of hundreds of Inca but later believed to be the country home or weekend getaway of the Inca.
When the Spanish conquered Peru in 1532 they were not actually conquering a massive empire, but one that was divided and weak after years of civil war between two half brothers Atahualpa, from the Quito region and Huascar, from the Cusco region.  As Machu Picchu is located near Cusco, it makes sense that the losing Cusco clans – and Huascar, were no longer taking pleasurable trips at their weekend getaway home.
Quechua Is The Language Of The Inca Empire
By imposing one language on all the people, they unified what was previously a lot of warring tribes.  It is a beautiful language for storytelling,
It is an onomatopoeic language.  What is onomatopoeia?  See the definition of onomatopoeia here.
Many people in Peru only speak Quechua, especially the women in the high mountain areas.  Only recently has Peru decided to teach Quechua as a part of the Peruvian curriculum.  However, the Incas didn't have a written language.  They recorded crops and numbers using Qhipus, a series of knots, and they told stories via textiles.
Along with Spanish, Quechua and Aymara are the three official languages of Peru.
Many Believe There Are Still Lost Cities In Peru
Andean explorers believe that there are most definitely lost cities in Peru.  The legends of lost cities of vast riches keep people interested in the stories and also attracts a lot of explorers searching for these mystical cities.
We know that not all of the Inca Empire has been discovered and maybe, just maybe a lost city of riches and gold is waiting to be found. What do you think? Peru fact, or pure fiction?
And While We Are On Lost Cities And Unsolved Mysteries
Discovered in 1927, The Nazca Lines, is a group of more than 70 huge human and animal geoglyphs.  Geoglyphs are large designs made on the ground by stones, gravel, or carving out the earth.  These particular geoglyphs are carved into the desert sand.
Located in a plateau between the towns of Nazca and Palpa, The Nazca Lines are considered one of the world's greatest mysteries because no one knows who made them or why they are there.  Some people believe they are an alien landing strip, some an astronomical calendar but no one really knows for certain.
 Peru Food Facts
Guinea Pigs Are A Special Meal
Yup, in Peru guinea pig is also a very special meal!!! Eaten on special occasions if you visit typical Peruvian homes you will hear the peeps and squeaks of guinea pigs running underfoot.  They are natural garbage disposal, the local people just peel their potatoes, carrots, etc. straight onto the floor where they are hovered up by the guinea pigs.  But what are you going to do if someone grabs a guinea pig and roasts it in your honor?
Peru Has A National Roasted Chicken Day
Peru loves its roasted Chicken so much it has a National Day to celebrate it.  Each year, the 21st of July, us the official Day of Pollo a la Brasa.
Polla a la Brasa is an authentic Peruvian chicken dish.  The chicken is roasted with Peruvian herbs and spices and served with different hot pepper sauces.
Peruvians Love Their Potatoes
There are over 4000 species of potato and if you venture out to the communities you are sure to get served up a plate of boiled potatoes.
The Superfood Quinoa is from Peru
Here is my fave Peru food fact – the superfood Quinoa has been cultivated and eaten in the Andes for over 4000 years.   But… what is so special about this superfood, Quinoa (pronounced KIN-oh-wa) It is extremely nutrient dense. For example, it is high in protein and is one of the few plant based sources of protein that inclues all 9 amino acids.  It is also a great source of iron, and magnesium.
Peru Grows More Than 55 Varieties Of Corn
Yes, that is right, more than 55 varieties.  There is so much different corn, in fact, that at the Peruvian markets you can practically find corn of every color of the rainbow and even black corn.
In fact, a popular snack in Peru and served at many restaurants in roasted corn kernels.
Ceviche Is Peru's National Dish
The word "ceviche" is Quecha for "fresh fish".  Ceviche is raw fish that has been marinated in lime juice or bitter orange juice, which preserves the fish, along with onions, chili peppers, and salt.  Sometimes it also includes vegetables such as potato or corn.
Ceviche is so popular in Peru that actually has a holiday in its honor.
More Fun Peru Facts; Weird Traditions In Peru
Peruvians Have A Unique New Year's Tradition
The Peruvians believe that if you wear new, colored underwear on New Year's Eve it will indicate what the future year will hold for you.   Yellow, for good luck, is the most popular color!  Red is for love, and green is for money!
All Around Peru, You See Little Bull Statues On Rooves
Why are they on the rooves? Well, the Torito de Pucara as they are called, are placed on the roof for good luck, an abundance of crops and livestock, and also for general prosperity.  Almost every building in Southern Peru has the Torito de Pucara on its roof.
Often times the ceramic bulls are accompanied by Christian religious symbols and symbols that honor Peru's ancient deities.
Conclusion – Peru Facts For Kids
Well, there you have it – some cool Peru facts, some interesting facts about Peru, and some weird traditions in Peru.  We recently added some more Peru food facts, and facts about Rainbow mountain Peru;  we hope you enjoyed the recent additions!  Without a doubt this amazing country is breathtaking in its scope, steeped in tradition and also full of mystery.  We hope you have enjoyed this journey in Peru with us and learned some interesting Peru facts along the way!
Interested in learning more about Peru?  Here are some of our favorite Peru books for children.
We always travel with insurance, it has saved us numerous times.  World Nomads have specially designed travel insurance for families!  Take a look at their Family Travel Insurance here.
Like It> Pin It> Peru Facts For Kids