Last Updated on June 26, 2021 by Travels with Kids
Often we are asked how to manage jet lag in kids.  From our experiences of baby jet lag, and jet lag in a toddler, it all comes down to one main piece of advice: go with the flow.  It's best to accept that jet lag is all part of the family travel experience.  Plan how you will deal with it rather than wasting time trying to avoid the inevitable!
This post may contain affiliate links, from which we would earn a small commission, at no extra cost to you. More info in my disclaimer.
Baby Jet Lag Tips & Overcoming Toddler Jet Lag
Adjust Adult Expectations
I read blogs that claim you can "avoid" toddler jet lag or having a jet-lagged baby.  Personally, I don't think that's possible.  It's better to accept what is happening and to adjust adult expectations accordingly.  Even if you have "pushed through" the need to sleep as a backpacker in the past, traveling with kids in an entirely different ball game.
Planning For Jet Lag In Kids
In our experience, avoiding toddler jet lag and jet lag in babies is impossible.  While you can minimize its effects by following our tips, the best way to deal with jet lag is to accept that it is highly likely to happen and plan accordingly.

How To Deal With A Baby With Jet Lag & Jet Lag In A Toddler
If you want the short answer on how to help baby with jet lag here they are.
Doing Nothing
In order to let ourselves naturally adjust, we allow at least 3 nights in a hotel (or resort) at our destination to quite simply "do nothing".  We make no plans so that we can do whatever suits us best at the time.  To date, trying to force babies or toddlers to stay awake has been an abject failure.  The only workable solution we've found has been to have no expectations and essentially nothing to do.  That way we can listen to our bodies.
Travel these days seems to about jamming in as much as one can see and do in a short time.  While we do like to be active and see lots of things, this needs to be at a pace that doesn't stress out the kids.  That definitely applies when working with an out-of-sync body clock.
How Long Does Infant Jet Lag Last?
In short, the most important element of surviving jet lag in toddlers, or babies and jet lag, is to know that cases of jet lag can take as little as 3 days to get over – or as long as a whole week.
Program jet lag with kids into your holiday itinerary!  Honestly, there is no point trying to "hack" your way out of this one.  You can try something like taking a night flight (or red eye) in the hope of everyone sleeping, but it can be a disaster and no one sleeps.  The result is disappointment and frustration.
It's better to have nothing planned, then you might just be pleasantly surprised!
Go With The Flow
We've had some wonderful times due to babies and toddlers' jet lag – such as getting up early to explore the streets before they are busy, as well as witnessing a few stunning sunrises.  On the other end of the spectrum, the kids once stayed out late dancing at a Peruvian fiesta as we'd slept until lunchtime!  These are the impromptu delights of travel that I would never miss for the world.
At What Age Is Baby Jet Lag Worst?
In general, an infant is classed as a child that's aged under a year old.  Although for the purposes of airline fares, a child changes from an infant to a child when they reach 2.  People often refer to any child under 4 as a 'baby', meaning that the term 'baby jet lag' can cover a newborn, an infant, or a toddler.
Jet Lag In A Baby
Do babies get jet lag?  In many cases, baby jet lag sleep training is not what you need to concern yourself with so much.  Toddlers and jet lag can be more of an issue.  A young baby sleeps for a lot of the day anyway, so time zone changes won't affect them so badly.  In fact, babies are often awake for part of the night, so they're used to dealing with that.
Jet Lag And Toddlers
While jet lag and babies may not be such a big deal, jet lag in children that are a little older can be.  Of course, these things vary from family to family. Read on to discover our top jet lag tips for toddlers, infants, and older kids.
What Causes Toddler Jet Lag?
Jet lag is really a slang term for the psychological condition known as desynchronosis.  It may also be referred to as jet lag disorder.  Desynchronosis confuses your natural sleeping and waking patterns.  Crossing time zones from west to east or vice versa disrupts the body's circadian rhythms.  The symptoms are mainly felt when flying across multiple time zones, hence the term "jet lag".
North, South, East, West
Some people experience jet lag far more acutely than others.  The symptoms can also be worse when traveling towards the east rather than the west.  Jet lag depends on the direction of travel.  Those heading north or south are not as affected, as they don't cross multiple time zones.  The body can cope with delaying your body clock better than it can with advancing it.
As Australians, we find the jet lag symptoms after flying to the Americas much worse than we do after going home.  A friend that flies in the other direction, to visit family in Germany, reports the opposite.  Her family generally feels great when they arrive in Europe, but finds that when they get back to Australia the symptoms are worse.
Before Your Trip
There are some simple things you can do as your departure date approaches.  Any of the following can help beat jet lag in kids and adults.
Catching Zzzs
If at all possible, do get plenty of rest on the nights leading up to your flight.  This will give you a head start regarding how to overcome jet lag for toddlers and babies, as it involves prevention rather than cure.  If they aren't tired at the beginning, then their symptoms shouldn't be so bad.
You can also try to adjust to the new time zone a little before you leave, simply by staying up a little later or going to bed sooner.  This can help your body adjust to the new time zone more gradually.
When flying during the day, you want to do everything you can to keep the kids awake during the flight.  You can find all our tips on how to keep the kids entertained in our Brilliant Toddler Plane Activities.  If you want them to sleep while you fly, keep them as active as possible in the days and hours leading up to it.
Eat Healthily Before Your Trip
In our family at least, the weeks running up to a departure tend to be characterized by stress, late nights, and rushing around getting things done.  As we are aware that this will happen, we take extra multivitamins, eat more fruit than usual, and generally try to be as healthy as possible prior to departure.
This is a distinct contrast to being a young single traveler working 20 hours a day because "we will be on holiday soon".  Another way in which family travel differs from traveling solo or as a couple!  Some of our favorite multi-vitamins include the following.
For adults, we like Nature Made Women's Multivitamin Tablets or the same Nature Made Formula For Men.  They both come in a pack of 300.  Children's Gummy Vites by Lil' Critters are very popular, and contain only natural flavors and sweeteners, using ingredients like corn syrup rather than sugar.  They are also gluten and dairy-free and are for kids aged 2 plus.  For babies to toddlers, we like the Yum! Multivitamin Formula with Iron.  It comes in liquid form so it's easy to dispense, and kids like the grape raspberry flavor.  This one is also free from sugar, gluten, and artificial colors.

Things To Do When Planning Your Trip
Here are some factors to consider before booking your travel, that can minimize your chances of having to ask how to get a baby over jet lag – or dealing with toddler jet lag when returning home.
Booking Your Flight with Baby Jet Lag In Mind
Do consider how the flight times will affect your children and their sleep time.  For example, if there are two flights to choose from – would one be better than the other for the kids' sleep? If both are priced similarly, then it makes sense to go for the preferred flight timings.
We always book flights via Skyscanner because we love how easy it makes comparison shopping.  Check out Skyscanner here.
Night flights can be good for getting the kids to go to sleep.  Our top tip is to dress them in familiar, comfortable pajamas, as this will ensure they are as relaxed as possible.
Consider A Layover (Under 24 Hours) Or A Stopover (Over 24 Hours)
Consider either of these options if flying long-haul.  We have done this, and it is definitely easier on the body.  The drawback is that the "travel" part of the trip seems to go on for days.  I'm not convinced it's always the best solution mentally – sometimes flying for 36 hours straight is better than being in constant transit for 72 hours.
One advantage of a stopover is that you might get to experience another destination as part of the same trip.  Compare airfares carefully, though, as sometimes it costs extra to make a stop.

Make The Flight As Comfortable As Possible
There are a number of different devices available that can make flying with small children far easier.
Inflatable Foot Rests
We personally like Sunany's Inflatable In-Flight Footrests.  These inflate to seat height, so the kids have a far better chance of getting some proper rest when flying long-haul overnight.  Before you invest, though, do make sure your airline of choice will accept the device and whether or not an inflation device is built into it.
Baby Travel Mattress
We've not personally used the type of infant carriers now available, but one that looks appealing is the Skybaby Travel Mattress, as it's specially designed for use on planes.
Booking A Bassinet
Consider reserving a bassinet seat to deal with your baby and jet lag.  You do need to confirm this with your travel agent or airline when making the booking, so you'll need to plan ahead. The weight limits also vary hugely by the airline, so do check carefully.  You can use a chart to predict how much your child is likely to weigh by the time you travel.  The type of bassinet will also vary according to the carrier.
Most people really love airline bassinets, or they hate them with a passion.  This is all according to their own experiences, of course.  The plus is that it provides your baby with a place to sleep.  If you're not taking a car seat or they don't usually sleep well in one, the bassinet can be a good alternative.
You can book a bassinet without paying more than the infant fare, but getting one is not guaranteed as it depends on demand.  The location of bassinets can also be key.  They are normally positioned in the bulkhead of the aircraft, and a traveler with a disability might be prioritized.  You should thus prepare for the possibility of having your baby on your lap throughout the flight unless you book and pay for a seat.
The bulkhead seats have their disadvantages.  While there's more legroom, you need to stow everything for take-off and landing.  Normally you will also sit near the bathroom.  Once you're in the air, though, the kids have a little more space to play.
Things You Can Do Upon Arrival
Jet lag in children and adults is most likely to strike once you get to your destination.  Here are some ways in which to ensure you can all get past it as efficiently as possible.
Adjust To The New Time Zone
Adults are advised to set their watches to the new time zone as soon as settled onto the plane.  This prepares you, psychologically, for the change.  Once you arrive, you can attempt to schedule everything as per your destination time zone.  While this is worth a try, don't be surprised if things don't go to plan!  Hence the following steps.
Plan 3 Nights At A Decent Hotel
Make sure you book a good quality hotel at your arrival destination, at least for the first few nights.  The following features can be key.  Blackout curtains or shades and thick windows are a must when staying in a busy city area.  Room service can be a bonus when feeding kids and a swimming pool or garden is perfect for playtime.
When traveling with two small kids plus a grandmother, we found that everyone was hungry at different times.  Room service thus worked for us, as did the well-stocked snack bag we'd taken on the plane!  Plenty of rest and food are two of our top toddler jet lag tips!
While budget is always a consideration when traveling, I don't believe that skimping on a hotel makes sense.  Rest in a comfortable, warm, and convenient hotel so you are ready to face the world.  Our kids still ask when we can have a "midnight feast like when we were in Lima".  Now we are mindful that sometimes the things that do not go to plan will turn out to be the most memorable experiences for them.

Get Out And About To burn Some Energy
While the first few days are about being able to rest and eat when you need to, we do always try to make some minor forays into the streets.  Find a playground or park they can run around in if you can.  With kids, it doesn't have to be any more stimulating than a trip to the local shop to buy some water and snacks.  Having parks, a playground and a swimming pool at the hotel can also help them to burn energy.  Tiring them out physically can really help to minimize the impact of jet lag with toddlers.
Sunlight Exposure
Sunlight can also be very beneficial.  The idea being that sun exposure during the day can help the body clock to recalibrate.  It's a natural way of coping with toddler and baby jet lag symptoms.  When indoors, keeping the shades or curtains open during the daytime can also help kids and adults to adjust more quickly.
Go With The Flow – What Will Be, Will Be
Let go of your expectations.  We have done a couple of 'complete body clock reversals' when traveling between Peru and Australia.  This was when both children were 2-year-olds.  This was the most difficult time – versus when they were smaller babies or older kids.  Even a whole week after arriving they were still a bit out of sync, leading to joys like rousing the whole family at 4 am!
That said, being flexible with our itinerary and allowing for midday naps seemed to do the trick!  Being mindful – and above all flexible – is key when dealing with kids and jet lag.
Other People's Experiences Say "Be Strict"!
Sticking rigidly to some rules has definitely helped some families in the fight against child jet lag.  Their toddler and baby jet lag tips thus include making rules like treating nighttime as exactly that.  There should be no lights switched on during the night, and if the kids do wake then make sure they remain in bed.  Chatting, singing, playing, eating, or using screens will only make them more wide awake.  Even if no one actually sleeps, passing the night peacefully and in darkness can really help.
Very young children can also pass some time by playing in a travel crib.  We like the Graco Pack and Go – it comes in various colors and types.  You can order one as a portable play yard only, or add a bassinet or changing station.  Your hotel may also be able to provide one.  Taking your own means you can familiarise your child with it before traveling – which can make life easier for everyone!

During Your Trip
There are various tips and tricks you can use to help you all adjust to your new time zone as quickly as possible.
Be Healthy On Your Trip
Once we get to our destination, we consciously seek out lots of water and fruit in order to get our bodies working properly again!  Staying fully hydrated and eating healthily goes a long way in minimizing jet lag with toddlers and adults.  Bring your own water bottles, which you can refill in the hotel.  We also pack small containers, so that we can cut fruit up to carry with us while on the road.
Our favorite travel water bottles include the Simple Modern Summit.  This flask-style bottle comes in lots of color and size options and attracts great ratings and reviews.  We also like the Hydro Cell Range, which can keep liquids hot as well as cold.  Rubbermaid's Easy Find Half Cup Containers are great for carrying fruit.
Stay Well Hydrated
Getting enough to drink is important before, during, and after the flight.  Dehydration can really amplify the effects of jet lag, so pack lots of water, juice, milk, or whatever works for your children and you.  If traveling with a baby or young toddler, you can take breastmilk, formula, and juice onto the plane as long as you stick to a reasonable quantity.  To avoid delays, declare it before passing through security.
You can access juice and water on the flight, but you'll need to provide your own baby milk.  Don't be afraid of requesting extra water and juice throughout the flight – that's what the crew is there for.
Don't Forget Kids' Moisturizers
While most mummas will have packed their fave moisturizer packed, it's easy to forget the kids.  Our children have never coped well with perfumed moisturizer, so we pack something simple to keep them comfortable after being dehydrated by a long flight.  The CeraVe Facial Moisturizing Lotion is ideal for all the family.  It's free from oil, fragrance, and parabens, and even contains SPF 30 sunscreen.  Whether you have oily, sensitive, dry, or acne-prone skin, this one is suitable.

Pack Kids' Activities
Having a well-stocked activity bag is key to successful travel with toddlers and small children!  Don't use all of your winners on the plane trip – as tempting as that may be!  You need to keep some engaging things "up your sleeve" for the hotel room – when you are exhausted and they are full of beans.
Pictured above are sure winners in our family – the Melissa & Doug Sticker Books.  Our son loves the vehicle's reusable sticker book, while our daughter has liked a range, including those featuring princesses and animals.
Melissa and Doug's reusable sticker books are so popular with our kids – and others we know.  They are reusable and come with flat or puffy stickers.  You can see a selection of Melissa and Doug sticker books here.
Our little boy has always loved the Tegu Pocket Pouch Magnetic Wooden Block Set. This is very simple in design, yet but perfect for travel.  It comes with its own carrying pouch. The Tegu Magnetic Wooden Wheels are ideal to go with this – we keep ours in a bathroom bag that we got from the Op shop.
Here are some more of our favorites that will keep them occupied.  These are great jet lag toddler tips, as they can keep them busy during the day or night!  We like the Melissa and Doug Take-Along Shape Sorter, as it can keep older babies and toddlers occupied for hours.
The Quiet Book by Curious Columbus is also a great pick, as it suits kids up to 6 years old.  There are plenty of practical activities inside, such as tying shoelaces and telling the time. Melissa and Doug's Water Wow activity packs are also ideal for travel, with a refillable water pen and 4 reusable pages in each book.
Our final pick is the LeapFrog Learning Friends 100 Words Book.  While it's not ideal for nighttime use, it's great for keeping kids busy during the day.  They might even learn something at the same time!  This comes in other options too, such as places and animal themes.
You can also see more of the Best Travel Toys For A One-Year-Old here.
What About Older Kids And Jet Lag?
Talk to them about what will happen. Such as, "Just think, right now people in Nicaragua are waking up – we will be too, in a few days."
We have only experienced jet lag with younger children so far, and presume that things will change for the better once they get a bit older. Hopefully, pushing through the tiredness, as adults do, will work the older they get.

Baby Jet Lag: Returning Home
Child jet lag when returning home can be as much of an issue as it is when away.  Don't despair, though, as jetlag in a baby at home can be a lot easier to cope with.  For starters, there are no worries about them crying all night and keeping all the other passengers or hotel guests awake.
It's also easier to fall back into your usual routine when at home – or even to establish a new one.  The same tips detailed above work just as well for children and jet lag once you're back from vacation as they do while away.
When Googling how to deal with jet lag in children, you may come across jet lag apps and even paid plans.  Would this work for kids as well as adults?  Not really.  Adapting babies and toddlers to their new time zone in the ways listed above is the simplest and best strategy.
If you can, schedule in at least a day to do nothing when you do return home.  It's well worth it, as you can go with the flow once more when you have a tired baby or toddler to deal with. Or in some cases, both!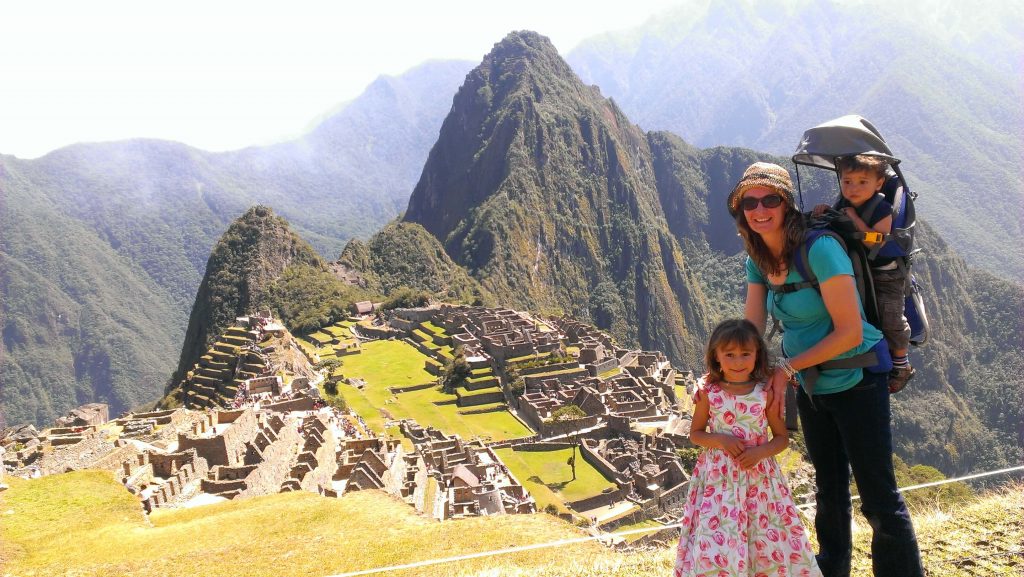 Our Own Experiences With Toddler And Baby Jet Lag
Baby number 1 and baby number 3 both did a lot of flying.  Baby number 1 went around the world, every year, for 4 years.  That's a lot of Transpacific flights involving 12-hour time zone changes!
Baby number 2 began a mega 4-month international journey when he was 22 months old – the very height of his toddler-dom.
Baby number 3 did a good number of flights within Australia and Asia, so we only had to deal with gradual time differences, such as 2-3 hours at a time.  While these time differences seem small to adults and even older children, they can certainly alter the finely tuned balance of a routine, causing jet lag for toddlers and babies.
In short, our experience is thus.  Whatever the age or disposition of the child, kids' jet lag is likely to affect them in some way.  Doing some contingency planning, regarding how to get a baby over jet lag, really can help.
The Verdict – Preparing To Deal With Toddler Jet Lag And A Jet Lagged Baby
As with many aspects of parenting, preparation can be everything.  Experiencing some degree of baby jet lag or jet lag in a toddler is inevitable, so plan for this eventuality.  With the right, flexible approach and some useful and entertaining items, it's perfectly possible to deal with jet lag in babies, toddlers, and older kids – without it ruining everyone's holiday.
We always travel with insurance, it has saved us numerous times.  World Nomads have specially designed travel insurance for families!  Take a look at their Family Travel Insurance here.
Like It> Pin It>  Jet Lag With Toddlers: How To Deal With It