Last Updated on June 16, 2021 by worldoftravelswithkids
When keen travelers become parents, many are surprised at just how much baby travel gear they quickly acquire.  But how much do babies actually need?  This post will focus on the baby travel essentials, rather than a lot of stuff that they – and you – don't really need.
We've all seen those zen-like mums who seem to get away with having very little.  Smiling serenely as they glide by, while you drag several suitcases of baby travel items.  Other parents seem to swear by some items and decry others.  Ultimately, you are the best judge of what best baby travel gear is really necessary – for each individual child and yourself.
While we found that many travel baby essentials did make life easier, their benefits had to be weighed up with how much luggage was actually necessary.  All babies and toddlers tend to come with a lot of paraphernalia – but deciding which really are traveling essentials for baby is always the first step in our travel packing and planning.
This guide aims to cut through any non-essentials for traveling with a baby, so you can travel with baby gear that is genuinely useful.  We assume that you already have items like clothes and nappies, as those things are required for everyday life, not just for travel.  The next section of this article thus covers the basic items we'll assume you already have.
This post may contain affiliate links, from which we would earn a small commission, at no extra cost to you. More info in my disclaimer.
What's NOT Included In This List Of Travel Essentials For Baby
When searching online for travelling with baby essentials you are likely to come across a wide range of suggested products.  Yet even as a new parent, you'll already know that you need to take a lot of things – even when making just a day trip with your baby.  Just a simple trip to a local park or café to enjoy a catch-up with a friend can become quite complicated when you have a baby's needs to consider.
So for the sake of clarification, here are some of the things we're assuming you already have for your baby:
A diaper bag or nappy bag that is big enough to carry enough diapers for a day out.  This is also likely to contain a change of clothes for the baby, a spare shirt for yourself, and a wet bag for storing soiled garments.
If you are looking for a new one, we recommend this diaper bag that doubles as a crib.
Feeding supplies.  If your baby is formula-fed, you will never leave home without all the right equipment.  (Having done this once, people rarely forget a second time.)  For babies who are eating solids – especially pureed food – there are some great and very portable pouches out there.
Teething toys and/or teething gel if your baby is teething
If you do need a teething toy, we recommend this carrot-shaped one that's easy to hold.
Pacifier or dummy if they use one – as well as a spare or two.  Our daughter got very attached to a certain brand and particular color of dummy!
If you do require a pacifier, this 2-pack is highly rated by parents and comes in many colors.
Feeding cover – or a muslin sheet – to cover yourself.
For those seeking a feeding cover, we recommend this 2-pack for breastfeeding and car seats.
NOTE –  If you don't use a feeding cover already, then it's a good idea to do some research regarding the cultural norms in your destination.  Some countries will require to cover up when feeding.  As part of being a responsible traveler, we fully support that.  Click here to read more on responsible family travel.
Once they start eating solid foods, you will also need baby bibs, a silicone feeding mat, and a sippy cup.  Below are our recommendations.
What Age Range Are These Baby Travel Must-Haves Recommended For?
The term 'baby' can cover newborn infants right through to pre-school age.  Toddlers are classified as such from about 12 months to 36 months.  After this, they become preschoolers.  Most of the baby essentials for travel listed here are necessary from newborn age right through to around 36 months.  The specific items required do of course vary with each individual child.
Where Does This Advice For Baby Travel Essentials Come From?
Experience, baby!
Our first daughter was born overseas and took her first flight at just 4 weeks old.  By the time she was 4 months old, she'd been to 5 countries!  In fact, she did a lot of traveling in her first two years, and we found it pretty easy traveling with just one kid.  Our second did a reasonable amount of travel in his toddler phase.  The third baby did a lot of traveling, racking up 5 countries in her first year plus two prolonged interstate trips.

Are These Tips For Flying With A Baby Or For General Travel With A Baby?
This guide covers all kinds of travel, including general travel and flying with a baby.  You can see our tips for taking flights with babies in our post Best Travel Toys For 1 Year Old.
Getting Around – Baby Travel Essentials
Diaper Backpack
A diaper backpack is one of the key travel with baby essentials.  The best ones have grab handles and stroller straps as well as shoulder straps, so you can carry them any way you want to.  Other useful features include insulated bottle pockets, a portable changing pad, a pacifier case, and a diaper pouch for soiled nappies.
We've discovered a couple of great options for anyone seeking a baby diaper backpack. There's one we mentioned above that doubles as a useful travel crib. If you don't need that, we recommend this feature-packed unisex travel backpack.
It has shoulder straps, grab handles, and a luggage strap for the stroller, plus a total of 18 pockets so you can really stay organized.  There is a portable diaper pouch and machine washable changing mat, as well as insulated bottle pockets and a case for pacifiers.
This backpack diaper bag is stylish, durable, practical, and ideal for mum or dad.  It also attracts great customer reviews and ratings.
Baby Carrier Or Sling
While it can depend on your baby's age and what you plan to do, a baby sling or carrier can be a life-saver.  Especially if your child can be clingy.  Investing in the right baby sling carrier gives you the ability to go hands-free and keep your child contained.  Anyone who has cared for a fussy baby at home, and carried them around the house to keep the peace, will know that a baby carrier or baby sling really can save the day.
At first, we used a soft baby carrier like the Boba Wrap.  This was used until our babies were about 4 to 5 months old.  This type of sling holds the baby firmly – yet organically – against the parent's body.
From the age of about 6 months to 36 months, we used the Ergobaby Baby Carrier and absolutely loved it (pictured below).  The Ergobaby Baby Carrier truly makes traveling with a baby a breeze.  We really love this carrier and recommend it every time someone asks us about baby carriers.  A baby carrier or sling is definitely one of the top essentials for traveling with a baby.
Baby Hiking Backpack
If you plan to do some day hikes or longer trekking trips, then a baby hiking backpack is highly recommended.  You can find out all you need to know about finding the best hiking backpacks for babies in The Best Toddler Carriers And Baby Backpacks For Hiking.
If you are planning to trek, then a properly designed trekking carrier is one of the best travel baby gear products you can invest in.  We adore the Deuter Kid Comfort III Trekking Carrier, and it has accompanied us all around the world!  It carried each of our kids until they were around 4 years old.  If you plan to do any hiking or trekking, this one of the baby travel essentials you don't want to forget.  Not least because trekking with a baby without one would be almost impossible.
Baby Strollers
When talking about baby strollers it's important to clarify the difference between a stroller and a pram.  A pram is designed for carrying newborns and younger babies, normally while lying down.  Prams are strong and sturdy and usually cannot be folded down.  By contrast, a stroller tends to be foldable and more lightweight, and collapsible.  Stroller or buggies are ideal for older babies.
If you travel frequently as a family, it's worthwhile investing in a decent travel-friendly stroller to take on trips.  We love the Babyzen Yoyo2 or the City Jogger.  Both are ultra-lightweight, super easy to fold, and very durable.  Babyzen says theirs can be taken on the plane – but do check with your airline in advance of travel if you want to make certain.  It should fit into the overhead luggage lockers.
While we are firm believers in babywearing, there's no denying that taking a stroller is a great idea for many reasons.  Not least because it saves back strain for the parent – or parents – who inevitably end up carrying the child.  Strollers certainly make life much easier when visiting cities.  We also recommend the BOB Gear Rambler, a lightweight option with space-saving inflatable tires.
Baby Car Seat
A car seat for your baby is one of those traveling essentials for baby that you can hire.  So it's worth weighing up the pros and cons of renting one versus taking your own.  If you do want to take your own, then we recommend the Graco 4Ever Car Seat.  As the name suggests, it's designed to last for a 10-year period – right from newborn.
Sometimes we have taken along our own car seat, while other times we have rented one.  It's a question of doing a cost/benefit analysis to see what will work out best overall.  Do you mind paying extra if it saves you from carrying one?  It may also depend on your modes of transport – such as your own car, a rental vehicle, or a bus or coach.
Mealtime Baby Travel Essentials
There are several travel essentials for baby that concern feeding time.  These include travel high chairs.
Best High Chairs for Travel
At the outset, you should ask yourself:  will there be high chairs where you are traveling to?  We have used two during our family trips and both worked quite well.  One was a chunky yet space-saving seat that we used to the age of 3.  This worked better for longer stays and was more reliably stable as the little guy got heavier.  We love this one from Fisher-Price.  The only downside was that it took up a lot of luggage space!
For both children, we used the phil&teds Lobster Highchair when they were under 18 months old.  Though it seemed like a slightly precarious contraption, it was much easier to pack and did the job very well.
If you are likely to dine in restaurants without high chairs, then the old-fashioned solution of sitting the babysitting in your lap while eating can work.
Having the phil&teds travel high chair did work quite well when establishing a dinner routine for a baby who spent much of her first two years on the road.  While we wouldn't consider this an absolute must-have among travel essentials with baby, if you do have room to take one it is a very nice item to have.
Sleeping – Baby Travel Accessories
Where will your baby sleep when you're away from home?  A portable cot, crib, or play tent can be a very useful addition to your range of traveling with baby essentials.
Portacot/Portable crib/Travel Tent
Once more your requirements will depend on how long you are traveling and where you are staying.  When it comes to traveling with little ones, there is a lot to be said for cots being provided in hotel rooms.
If you are traveling for longer or on a budget, however – whether staying with friends or renting vacation homes – you might need a portable crib.  We used a Pack and Play style crib for both of our kids and have no complaints.  For us, this is definitely another of those baby travel essentials.  It makes traveling – and life in a hotel – much more manageable.
We've seen travel tents – or pods – and regarded them with something approaching envy.  They seem ideal for picnics and camping trips, as well as traveling.  The only potential issue I can imagine is that the child could get out by themselves.  So this might not work where you are trying to establish a night-time routine, where the kids need to stay in bed.  If they 'escape' from this tent – and the closer they get to age 3 the more likely that will be – then it's going to involve a lot of putting them back in.  We didn't use one personally, but the KidCO products come highly recommended.  In the future, this is certainly a baby travel item we would consider purchasing for a young child.
Bring bedding that you use regularly – even if it has been used for a few sleeps – so it smells like the child and home.  It seems simple, but we believe things like this can be enormously comforting for a small child, especially when they are falling asleep.  (As well as when they are wake up in the middle of the night, in a strange place.)  With baby #1 we struggled with her not sleeping for months.  When in Peru, the local ladies asked repeatedly why we didn't just take her to bed with us?  We quoted the risks of SIDS associated with co-sleeping.  At about 4 months old, we did some more research and decided to go for it. We took all adequate precautions, then co-sleeping quickly became part of our life.  That's not to say that both kids weren't put down into a cot in an attempt to establish a routine, but co-sleeping seemed natural and – with the right precautions – worked for us.  When traveling, it's a no-brainer as we try to convince the hotel to charge us less!
If you have one, also pack a portable sound machine from home.  You can also use an app on your phone for this, but you will need a portable speaker if you want to use your phone at the same time.  A white noise machine can also play gentle surf sounds and doesn't have to cost very much.  We like the very affordable Marpac Hushh.
Top Tip!
Make sure you practice putting your baby to sleep in the travel cot – with your white noise if you use it.  It will definitely pay off once on holiday if the baby is more familiar with the cot and the sound. 
Also – let's not avoid that elephant in the room.  If you are traveling across time zones, you and your baby are likely to experience some jet lag. Take a look at this article for tips on how to deal with it.  Check out Jet Lag With Toddlers: How To Deal With It.

Baby Travel Essentials – Things To Do With Your Baby
How much you will need to pack for entertainment purposes will depend on the age of your baby.
I have an amusing parenting admission to make.  When my first baby was born, she had just one stuffed toy.  Nothing whatsoever that was colorful, bright, or made a rattling noise.  Yup, I had no idea.  As I'd read that babies didn't need toys or distractions, I didn't buy anything.  At about 4 weeks old, I finally headed out to buy her first (and only) rattle.
For babies that are 3 months plus, you definitely need to bring some distractions to keep them happy!
Travel Toys For 1-Year-Olds
We have written a specific article listing all the best travel toys for kids aged around one.  This includes all kinds of toys, such as books, teething toys, balls, and textured items.  Find out more in Best Travel Toys For 1 Year Old.
Toddler Plane Activities
We have also covered ways to keep toddlers entertained on the plane in another separate article.  You can read all about our suggested toddler toys, games – and even snacks – in Brilliant Toddler Plane Activities.
What About Washing And Bathing?
You can buy inflatable baby baths online, and they're not very expensive at all.  We recommend the highly-rated Mommy's Helper Inflatable Baby Bath.  It can be used within the bathtub and is suitable for use between 6 and 24 months old.
If you have a small baby and don't want to carry another item, you can simply bathe with your baby on your lap. It gives you some skin-on-skin time and an opportunity to connect.  Or you could take a shower with them.  As some babies don't like showers, however, it's best to give this a go before leaving home!
What Are Essentials For Toddlers Or Older Babies?
Do you need to travel with baby gear when your child is one year old,  or older?  We've found that the following items really can belong on a list of baby travel essentials for slightly older kids.
Graco Folding Travel Toilet Seat
If you want to toilet train during your holiday, then perhaps you are braver than we are!  If your child has almost mastered the use of a toilet, though, you'll definitely a travel toilet seat. We recommend this Jool Baby one.
Travel Foot Rest
Some people swear by a blow up piece that effectively converts a plane seat into a toddler bed.  In fact these products have taken the family travel world by storm somewhat in recent years. In short, they make the seat area more like a bed by filling the space where passenger's legs would go.  Ideal for in-flight napping.  Before you invest in one, though, do make sure they are allowed by your airline, as not all airlines permit their use.  This one comes highly recommended.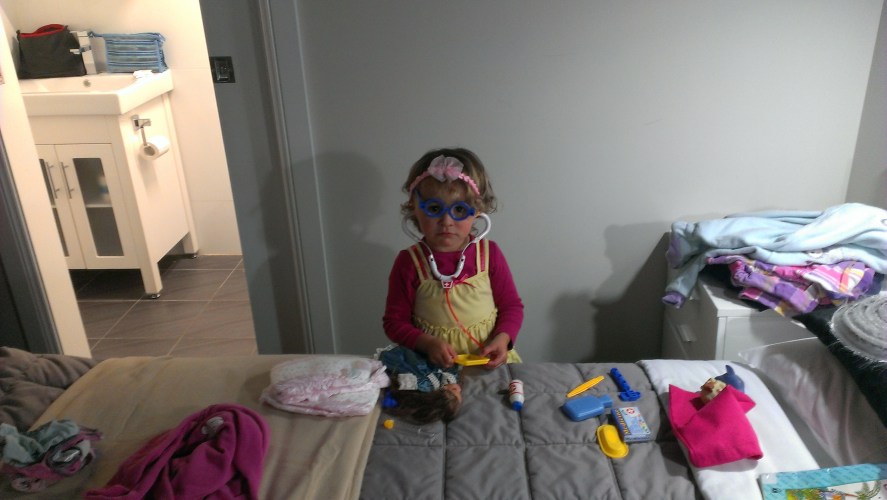 Medical Kit – An Essential For Travel With Baby
We always travel with a medical kit to treat all members of the family.  We have briefly covered the medical kit we pack in our post Our Family Travel Medical Kit.
Beach Gear When Travelling With A Baby
If you have recently had a baby, then a beach holiday can sound like the best idea in the world.  It can be great fun – but do make sure you take have the right beach gear.
Where your trip will include days at the beach or by the pool, you'll need a few extra items.  There's a whole list of baby beach essentials here if you want lots of ideas, but if you're sticking with minimalism, here is what we think you really need.
Sunscreen
Baby sunscreen is an absolute must and no one should travel without it.  We really rate the sunscreen from Blue Lizard.  It comes in a convenient spray bottle and there's a choice of sizes.  It's mineral-based, fragrance-free, and suitable for sensitive skin.  It's also water-resistant.
Swimwear
Everyone has their own preferences when it comes to swimwear. You can check out a great range of swimwear for baby boys and girls here.
Swimming Diapers
Swim diapers vary by size – as well as style.  You can see a selection of diapers for use at the pool or on the beach here.
Inflatable toys
Let's face it – small inflatable toys don't take up much space and may keep kids happy amused for hours.  You can take a look at some great kids' beach toys here.
Travel Essentials For Baby – Totally Random Things That Can Be Helpful
So to round off this article, we thought to include details of several completely random items that we've found invaluable when traveling.
Clear tape.
Muslin sheet. This can be used as a pram or stroller cover when your child is sleeping, a breastfeeding cover, or even as an emergency changing mat.  We love the Pabablic 3-pack that is made from bamboo and cotton.  They come in a choice of colors and styles too.
A stroller hook. While we're on the subject of stroller essentials – where would we be without a Mommy Hook?
The Verdict – A Guide to Baby Travel Essentials
As a family of five, we've done it all – from long-haul flights to road trips with babies and toddlers. When you're flying with a baby, you really don't need the added stress of carrying more bags and baby travel items than you need. Don't forget that you need to lug them around the airport, or find space for them in your rental car.
The Most Essential Items to Pack when Traveling with a Baby
So what do you really need when travelling with a baby?  As every family is different, there is certainly an element of finding your own way in this.
This guide details all our top baby travel essentials.  As a traveling family who spends a lot of time on the road, this is based on our experience of both international travel and more local getaways.  Many of the products listed here are items we have bought, tried, and tested ourselves, and would recommend without hesitation.  Others, that we may not have used ourselves, are included because they are highly regarded by other families.
The good news is that there are at least a few things you can test at home before purchasing any products.  Such as having a shower with your baby.  Like any good scout would say, when traveling with kids it's always best to be prepared!
Like It> Pin It> A Guide To Baby Travel Essentials

Save
Save
Save
Save
Save
Save