With hundreds of hours of flying under our belt with two toddlers, this is our collection of tried and tested brilliant toddler plane activities.  
If you are looking for airplane activities for slightly older children, please check out out our post  21 Awesome Screen Free Airplane Activities For Kids.  Otherwise, these toddler airplane activities are targeted at toddlers, eg from 12 months to 36 months but are very suitable for 4 year or 5 year old kids. 
This post may contain affiliate links, from which we would earn a small commission, at no extra cost to you. More info in my disclaimer.
Plan, Plan, Plan –  Toddler Plane Activities

The key to a successful flight with a toddler is taking time to plan.  Consider that each of these toddler plane activities might occupy 15 minutes.  For a 4-hour flight, you have take-off and landing (each about 15 minutes), plus a meal.  The meal would occupy 30 minutes if you are lucky! So, you would need 3 hours of activities which is 12 activities.  It seems like a lot, but remember that some activities can be repeated!
A Bag Of Goodies

For younger children, eg, 12-24 months, a bag of random things can keep them entertained for hours.  A key-chain, a pair of old sunglasses, hair ties, or an old necklace to name a few.  Make sure each item is pulled out with care, because once they have seen the item and played with it, often they aren't interested again!
Presents/Gifts

My mother first did this when we were heading off on a 36-hour long distance marathon with a 2-year-old. It sounds consumer- oriented but, in fact, it doesn't have to be about buying new things.
Op-shops have so much cheap stuff, often good quality, that you can buy 'new' like cars/toys/dolls for just a few dollars. Wrap them up and instant interest! Given they are cheap you don't feel bad should you leave them at your destination.  You can also encourage your child to give them to another child.  Many of the Travel toys for toddlers on airplanes listed here can also be wrapped up to add to the excitement
Things To Buy – Toddler Plane Activities
Stickers, Stickers, Stickers
Everyone agrees that stickers are easy/light to pack and can keep kids of all ages entertained.  Stickers on paper are good, but so are stickers on plastic water bottles.  Take a look at Melissa & Doug Reusable Sticker Pads.  These are some of our favorite travel toys for toddlers on airplanes.
Here are some of our favorites:
Window Stickers (AKA Window Clings)
Re-usable stickers that can go on windows are fun as they can go on the airplane windows.  Kids need to share the window though!  We have had ones like these Under The Sea Stickers before because they are unisex and both kids like marine life!
Other ideas of window clings for your toddler are found here:
Duplo
Duplo is one of our travel toddler airplane activities, which later burgeoned into an obsession with Lego for our son.  
Take a look at these easy options DUPLO.  Given its size it's a pretty chunky flight activity, but we have carried a bathroom bag full of DUPLO  in our checked-in luggage for use in the hotel room.
For children aged 4 to 7 Lego Juniors is a bit easier, and these are a great suitcase option:  
Beads!  Bracelets Or Necklaces
Take some beads and make beaded bracelets or necklaces.   For little ones, you need some chunky beads and thicker yarn!  One of our top toddler plane activities is the Skoolzy Lacing Beads For Kids. Another option for Travel toys for toddlers on airplanes 50 Jumbo Lacing Beads For Toddlers And Kids.  That one comes with a useful bag for travel. 
Pipe Cleaners (Wikki Stix) 
Pipe cleaners are easy, light, and awesome airplane activities for toddlers.  Not only do they stimulate thinking, but they can also be reused many times over.  If you can't buy simple pipe cleaners they are also known as Wikki Stix and sold in a handy traveler kit Wikki Stix Traveller Kit.
Magnet Set 
Especially for toddlers, if you are able to find a portable magnet set, they are light, easy to carry, and especially you don't lose pieces.  Magnetic sets make great toys for toddlers on airplanes. We have something like the Lewo Wooden Kids Educational Toys Magnetic Easel Set.
This set looks like it would be good fitting in the hand luggage, 8 Piece Tegu Pocket Pouch Magnetic Wooden Block Set.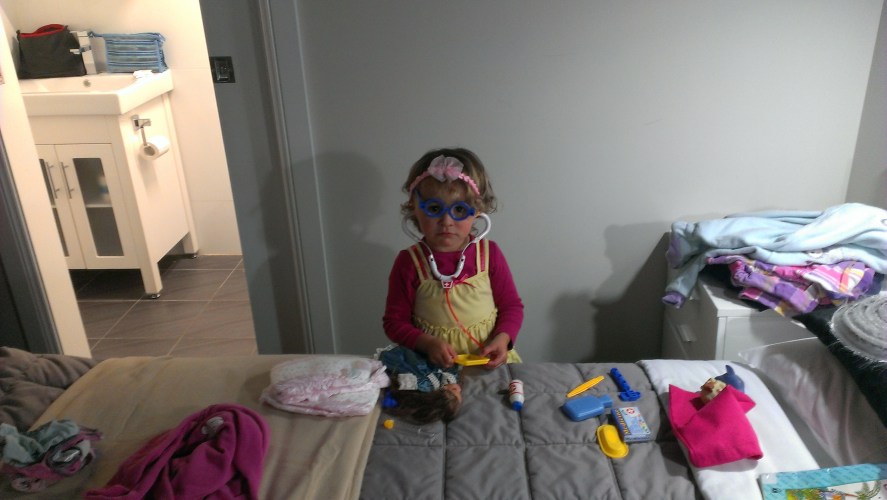 Medical Kit
Medibag 117 Piece Kid Friendly First Aid Kit is complete with a box of band-aids, cotton balls, tape, and cotton buds and bandages for your toddler to fix-up her doll or stuffed animal.  Wrapping legs or arms in bandages is good for their fine motor skills.  Alternatively, you can buy a real ready-made Medical Kit.

Finally, Think of Toddler Airplane Time As Quality Time

Having a positive attitude can also make Toddler Plane time go more quickly!   Consider that time on an airplane is quality time with your toddler, and often what Toddlers want more than anything is loving time with their parents. Eileen of Families Go explains it beautifully Make Flying Time Quality Time With Kids.
How Did We Come To Create This List of Toddler Airplane Activities?
We have been really influenced by Sue Palmer's book, Toxic Childhood. We highly recommend this book if you are looking for a different perspective on how to raise toddlers in the modern world!
So there you have it – our tried and tested toddler plane activities.  Please drop other suggestions in the comments, as we are always open to new toddler airplane activities. 
Check Out Some Of The Books That Inspired Us!
We always travel with insurance, it has saved us numerous times.  World Nomads have specially designed travel insurance for families!  Take a look at their Family Travel Insurance here.
Like It> Pin It> Brilliant Toddler Plane Activities