Last Updated on December 23, 2020 by worldoftravelswithkids
When planning a family vacation, South America may not be the first area you think of.  However, there are plenty of reasons why traveling to South America with kids is a great idea  We have been taking family holidays in South America for many years now.  The continent is incredibly beautiful, it is extremely diverse, and every country has its own unique features to offer.
A family vacation in South America will expose every member of the family to intriguing new things – be they flora, landscapes, food, history, fauna, or culture.  Holidays here are South American adventure tours – where fun-filled days are packed with new and educational experiences for everyone.
Read on to discover more about this fascinating vacation destination, including frequently asked questions.
This post may contain affiliate links, from which we would earn a small commission, at no extra cost to you. More info in my disclaimer.
Why Take Our Advice For South America With Kids
We've been traveling in Latin America for over 15 years, and have travelled extensively in South America with kids!
In making our recommendations for world travel with kids, we are considering that you will be traveling with school-age children (e.g., probably 6 years upward) through to the early teens.  Not that we have experienced the teenage years, but we assume that in the teenage years, young people can do much of what their parents do and so it is not necessary to only look at family-friendly options!
If you are traveling with younger kids (eg, younger than 6) we consider Peru and Costa Rica to be the most suitable for those with younger children.
For countries that we have not yet visited with children, I reached out to a couple of other travel bloggers for their thoughts and advice.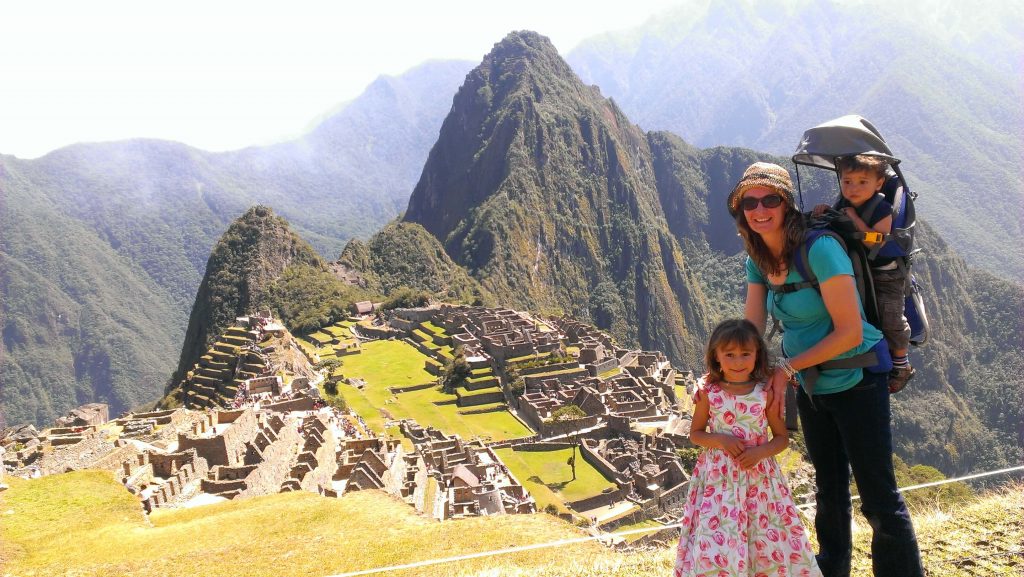 South America Family Holidays – Frequently Asked Questions
Why Is South America A Good Family Vacation Destination
To travel to South America as a family is to embark on an adventure like no other.  There are so many countries to choose from before you even begin.  Would you pick Peru, where you can climb to Machu Picchu and see the Sacred Valley and Cusco?  Or perhaps you would prefer the Lake District of Chile, exotic Costa Rica's stunning coastline, or lively, historic Colombia?   Whether you want to explore the Amazon, marvel at the majestic Iguazu Falls, experience the surreal landscape of the Atacama Desert, take a trip into Patagonia, or party in a Brazilian city, South America will provide plenty of fun, intrigue, and adventure for every member of your family.
What Are The Highlights Of A Family Vacation South America
What makes for the best family vacation South America has to offer really does depend on the family itself.  Meaning the individuals that make up that family.  For one person, sampling freshly prepared Peruvian street food might be a particular highlight.  While for others, their best memory may consist of a day spent on a picture-perfect beach.  Will it be jungle trekking in the Amazon for you, that moment you spotted an exotic bird in the trees above, or a visit to a Colombian coffee growing zone?
Is It Safe To Travel To South America With Kids
The issue of safety varies by country and region.  In some areas, acclimatization will be your biggest concern, while in others you should consider and minimize the risk of contracting tropical diseases before you travel.  Those trekking to Machu Picchu or visiting Cusco can take steps to assist with acclimatization.  While if the Peruvian jungle features on your itinerary, then it's wise to take precautions against contracting malaria or yellow fever.  Always check your country's latest foreign travel advice before traveling, too.
Which Are The Best South America Destinations For Young Children
For those traveling with little ones, we'd recommend Peru in South America or Costa Rica in Central America as the ideal first South American destination.
South America Family Vacations – Key Options
The Amazon
Visiting the Amazon is a must for South American family adventure vacations.  Typically you will need from 3 days to a week to make the most of the Amazon – surely the mightiest of jungles. Most Amazon trips can be added to other holidays mentioned here (especially Machu Picchu!) and typically last from 3 to 7 days.  The more time you can spend, the more you will get out of the trip.
For all Amazon jungle holidays with children, you should consider the Malaria considerations – take a look at our Traveling And The Risk Of Malaria In Kids.
We can personally recommend the Tambopata region which is easily accessed from Cusco.  The journey to Iquitos is also a fascinating one and will require a fair amount of river travel along the way.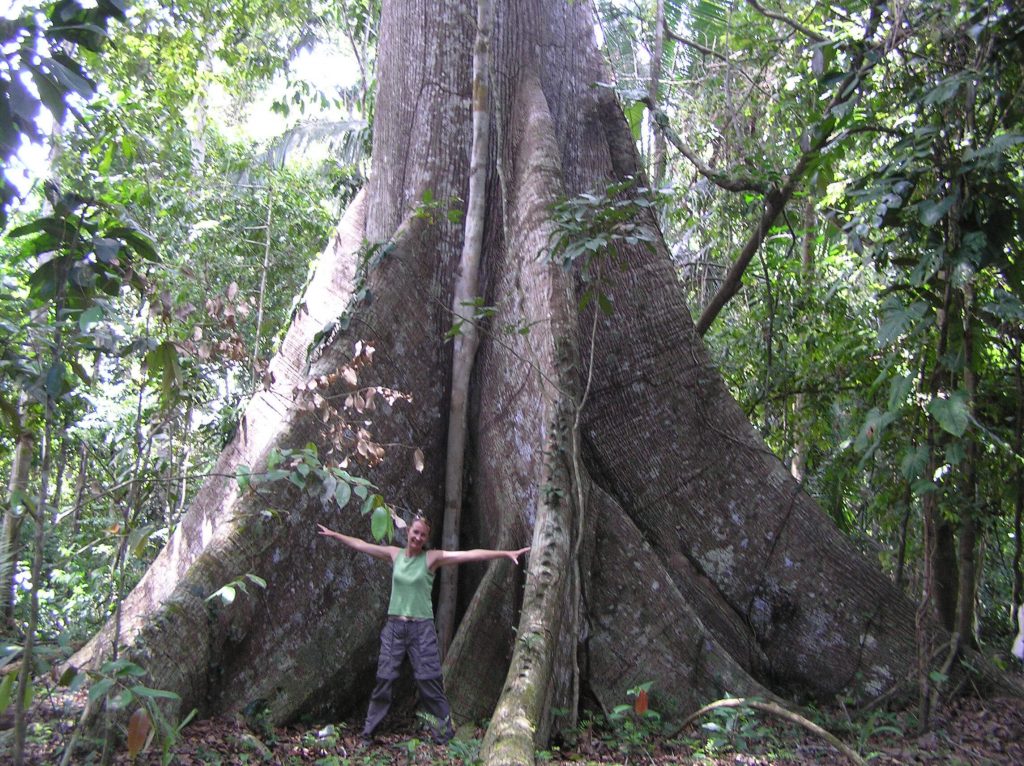 Tambopata & the Madre De Dios Region
What we like about the Tambopata region of the Amazon is that it can easily be combined with a trip to Cusco, with nearly all flights making a stopover in Cusco before flying onto Puerto Maldonado.  There are also a number of lodges that have programs specially designed for children, amongst which we can recommend the Posada Amazonas.  Alternatively, reach out to me on socials or email as Posada Amazonas has three different lodges and I can recommend which suits your kids best, depending on their age.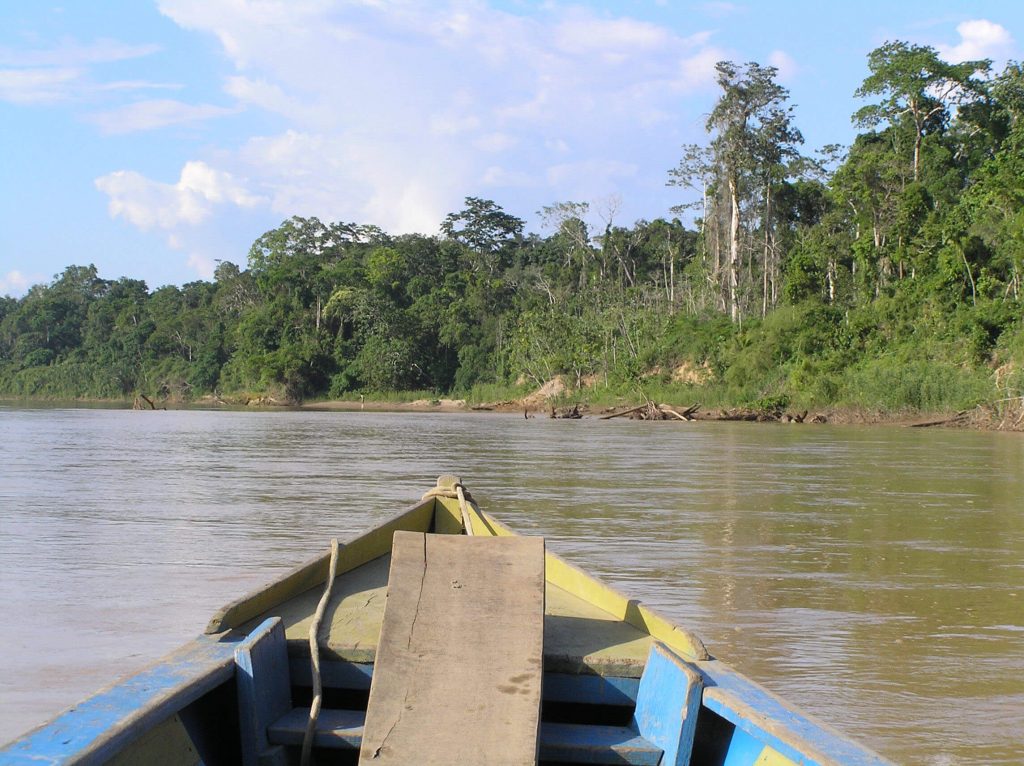 Iquitos
Iquitos is most certainly a romantic-sounding place, landlocked, in the heart of the Amazon.  Many jungle tours (especially those in the more pristine jungle) require a decent amount of river travel to arrive at the lodge.  We also recommend at least spending a night in Iquitos if you can.  It's got a unique frontier feel and the river port is not only vibrant but eye-opening!
For families, we have been recommended the Tahuayo Lodge and their Tahuayo River Amazon Research Centre.   To give the kids a bit of a buzz, they also have the longest zip line in the Amazon.  This is a great family vacation South America adventure destination.
Peru
We are very fond of Peru.  We think it makes the most excellent family vacation in South America destination.  Cusco in particular is a very child-friendly city and was our home for a number of years.  As well as the famous sights of Machu Picchu and the Sacred Valley, we recommend the south coast and Arequipa.
Peru is extremely well organized for tourism and this makes it an excellent destination for a family vacation South America.  With just two weeks, you can truly see some iconic sites, including Machu Picchu and the Sacred Valley.  Although we are biased (because we lived there for many years) Cusco also makes a great child-friendly base.  Check here for our guide, Cusco With Kids.
If you have enough time, we would also thoroughly recommend Arequipa and the South Coast of Peru as a little known but thoroughly unique family vacation destination.  Check here for our post,  A Guide To Peru's South Coast With Kids.
The main health consideration or concern with the Cusco and Machu Picchu region is acclimatization.  We have had a lot of experience with this.  Read here for our  Tips For Acclimatizing To Altitude With Kids.

Argentina
South America family holidays are best begun in Buenos Aires.  There's a lot to keep everyone busy for a few days.
Argentina is a huge country with so much to see and do!  For a first-time family visit, we'd focus on Buenos Aires which has enough to captivate for more than a few days.  A visit to colorful Caminito in La Boca with its brightly colored buildings and enjoying the tango is a must.  You can even take tango classes!  Also, for any aspiring Maradonas, a visit to the Boca Juniors stadium is essential.  Alternatively, you could head to the River Plate stadium.
For those more inspired by Eva Peron and famous historical figures, a visit to the Casa Rosada and Recoleta cemetery are 'musts'.   High on our bucket list is also taking a Gaucho (Argentinian) cowboy tour to learn more about this unique Argentinian subculture.
Here is a great list of parks in Buenos Aires for those with smaller children.
If you had more time for South America family holidays in Argentina we'd also explore Salta and Mendoza.  We are totally inspired to visit Argentine Patagonia after hearing from fellow travel blogger Melissa of The Family Voyage.

Argentine Patagonia
Patagonia is one of those bucket list destinations.  However, most families assume it's not an accessible vacation for them to take with young children.  The great news is that Argentine Patagonia is very manageable – if expensive – with kids.
We visited when our kids were 3.5 and 6.  I would not recommend taking kids younger than that.  Patagonia is enormous, so there's a lot of travel involved plus long days of hiking trails and other excursions – see a sample itinerary for Patagonia with kids.  Bus travel in the region is very affordable and high-quality, but some rides are as long as 24 hours.  For those long distances, we opted for flights despite the relatively high cost.  We saved by only renting a car for one of our three stops in Patagonia.
Our favorite experience in Patagonia, and maybe the world, was trekking in El Chalten.  It's a unique little village nestled in the mountains of southern Argentina, and it's truly a hiker's paradise. There's no cell service and many businesses only take cash.  It's a great place to disconnect from the outside world.  The coach bus to El Chalten from the larger city of El Calafate drops you right in the village, where you can walk to all of the accommodations, restaurants, gear shops, and trailheads.
Most of the trails are pretty rugged, but there are many options that offer a good stopping point part of the way up and were reasonable for our active 6-year-old to tackle while his younger sister rode in a backpack carrier.  Some kids may not be willing or able to handle that intensity of hiking until closer to 8+.  Be sure to know your kids' limits before embarking on the trip.
For kids who aren't up for miles and miles of daily hiking, they'll definitely enjoy an up-close visit to the penguins of Peninsula Valdes.  This area is near Puerto Madryn, on the Atlantic coast in northern Patagonia.  It has a completely different feel than the rest of the region!  If you are adventurous, we truly believe it makes for one of the best family vacations South America has to offer.
Chile With Kids
Of all the Latin American countries we have visited, Chile would have to be one of the most kid-friendly destinations to explore.  Chileans love children and little ones are treasured.  You will find the staff at hotels, restaurants, and attractions keen to help with anything you need.  Chile is a safe country in Latin America and has diverse regions with attractions suitable for kids of different ages.
If you are visiting with kids for the first time, you could find plenty of things to do in Santiago to fill up a week or more.  Santiago has lots of attractions designed for kids, such as Fantasilandia amusement park for adrenaline rides and a Kids' Zone for younger children, and Mirador Interactive Museum, which has science displays and exhibits to keep young minds occupied.  If your kids are artistic, be sure to visit Artequin so they can participate in creative hands-on arts and crafts activities.  Another activity the kids will love is riding the funicular in Santiago Metropolitan Park.  There is also an adventure park with a climbing wall, suspension bridges, and a zip line.  Then there's the Santiago Planetarium, which also has an excellent astronomical park.  If your kids are older perhaps they will enjoy going horse riding in the Andes.
Santiago is also a fantastic place to go with kids in winter.  There are many ski resorts you can visit as a day trip.  The largest ski resort in South America (Valle Nevado) and the continent's oldest (Portillo) are good spots for a family skiing or snowboarding vacation.
Keep an eye out for free or significantly reduced admission rates to events and performances.  The downside of traveling with kids in Chile is that public toilets are not always clean.  It pays to carry toilet paper, soap, and hand sanitizer.  With a little preparation, Chile can be one of the best family vacations in South America.
Christina Travel2next.com 
Colombia
Bogota is the ideal place to start a Colombian adventure.  Cable cars and colonial architecture are among its charms.  Other musts include the Medellin coffee-growing zone, Cartagena, and the beaches of Taganga or Playa Blanca.
Sure, Colombia was once the home of narcos, the FARC, and all kinds of kidnappings.  However, it is also the home of some of the most warm-hearted and lively people in the Americas.  Also, not to mention, beautiful landscapes and rich history.  Colombia is definitely a place to add to your South America with kids bucket list.
Mumma traveler made several trips to Colombia during the 2000s where she was privileged to explore various parts of this stunning country.  That is why she is adding it to this list of family adventure holidays.  Without a doubt, Colombia is a place that will inspire the adventurous travel family's wanderlust.
Bogota, with its truly amazing Gold Museum, cable car, and colonial architecture is a good place to start your exploration.  Assuming that you only have 2 or 3 weeks, after Bogota we'd explore the coffee-growing zone around Medellin.  We loved visiting Salento and Manizales and used Medellin as a gateway.  While in Medellin don't miss the Botero Artworks or the Pablo Escobar museum.
In the north of Colombia, Cartagena is a must for a few days for its old-world charm.  From there you can either head to the beaches of Playa Blanca or across to Taganga.
Ecuador And The Galapagos Islands
This can be one of those bucket list, once in a lifetime holidays, so we'd recommend this for when the children reach double figures or beyond.  Quito is a compact and charming city, and there are some hiking and climbing areas within easy reach.
Ecuador offers one of the crown jewels of wildlife experiences, in our experience.  A trip to the Galapagos is truly a trip of a lifetime and will make a wonderful family vacation South America.  We've researched such a trip thoroughly and decided to wait until our kids are about 10-12 years old.  Our reasons are eminently practical: we want them to be safe and responsible on board a boat and have great swimming skills.  Finally, we want the kids to fully appreciate what they are seeing.  Galapagos cruises (at least those that are responsible, ethical, and environmentally conscientious) don't come cheaply!  However, more recently we've read that if you don't want to take kids on a cruise you can base yourself on one of the islands and make day trips.  This sounds like a much better option and is explained comprehensively in Galapagos Islands With Kids.
In addition, Quito is a charming capital city.  It is also a great base to explore indigenous markets nearby or even some hikes or volcano climbing.
Ecuador and the Galapagos are definitely a great destination for a family adventure holidays.  However, we would opt for our kids being slightly older.
Brazil
When people think of Brazil, they imagine a party destination with lots of carnival and samba.  However, Brazil is a fascinating family vacation destination.
For one, the wildlife is diverse, and children can have the time of their lives spotting wild animals in their natural habitat.  At Praia do Forno, one of the prettiest Brazilian beaches, you can go on a fun boat trip to spot whales and sea turtles in the region.  The bird species that dive for food are also incredible.
For two, the flora is impressively majestic and unique.  Most major cities have botanical gardens with towering trees and interesting, colorful plant species your kids have probably never seen before.  The Rio de Janeiro and the Curitiba Botanical Gardens are two lovely green areas where children can learn and see so much!  While the Curitiba Garden is more about plants, the Rio de Janeiro Garden is a great place to spot marmosets, turtles, toucans, and small parrots.  My niece and nephew, 5 and 3, we ecstatic from seeing those animals.
Last but not least. Brazil has an incredible "collection" of kid-friendly museums most tourists are not aware of.  South American, African, European, and Brazilian art and culture are showcased in many institutions around the country.
From Brazil's history to soccer and more, children can learn a lot on this vacation.
Bruna from I Heart Brazil
Interested In Central America With Kids
Central America includes beautiful, peaceful, child-friendly Costa Rica, a compact country full of gorgeous beaches, jungle, and wildlife.  There's Mexico, which we once visited with a 4-month-old; the underwater cenotes are not to be missed.
We know Nicaragua well, and highlights include the colonial cities of Leon and Granada, the unspoiled coast of San Juan del Sur, and the volcanic island of Ometepe.  For full details of Central America with Kids, please check out our companion post, A Guide To The Best Family Vacation Central America –With Kids.
Conclusion – South America With Kids
So, it might not be your first thought for a successful family vacation, but for those families that take on South America with kids, they will be amply rewarded with amazing insight into a range of Latin cultures,  history, and some really amazing food.   South America really has it all and is an amazing adventure family travel destination.
Like It> Pin It> A Guide To The Best Family Vacation South America – With Kids