Last Updated on January 18, 2021 by worldoftravelswithkids
Nicaragua is one of the world's best-kept secrets.  This gorgeous Central American country boasts some breathtaking beaches along the length of its coastline.  The best beaches in Nicaragua range from the Pacific Beaches of Nicaragua, with their crashing waves and distinctive volcanic black sand, to the Caribbean side of Nicaragua, where you will find the remote island paradise you have always dreamed of.
To be honest, one of the things that keeps Nicaragua a bit off the beaten track is its turbulent history.  Even though the civil war ended in 1990, poverty has dogged the country.  In the past couple of years, the conversion from democracy to dictatorship has caused widespread unrest.
A word of warning:  Always check the political situation in Nicaragua before traveling!
If you are looking for something different, somewhere less touristed, and offering an authentic Central American experience, Nicaragua really does tick those boxes.
This post may contain affiliate links, from which we would earn a small commission, at no extra cost to you. More info in my disclaimer.

Best Beaches In Nicaragua: From The Pacific To The Caribbean
Where Are Nicaragua Beaches Located
The best beaches of Nicaragua are dotted along the country's stunning coastline.  Some of the best beaches in Nicaragua are on the Pacific side, while other Nicaragua beaches are on the Caribbean coast of this beautiful country.  The best Nicaragua beaches for you will depend on your requirements.
The beaches around San Juan del Sur are situated on the Pacific Coast.  Whether you want to see local wildlife, want a safe family-friendly swimming beach, or somewhere suitable for an advanced surfer, there is a Nicaragua beach for everyone in this region.
The Caribbean coast, meanwhile, offers the laid-back Creole vibe of tropical island living.  If sampling fresh, delicious seafood is a priority, then head to the northern beaches, while serious surfers are likely to cluster around Popoyo.
What Are You Looking For – Surfing, Swimming Or Simply A Beach Break By The Ocean
Are you looking for an active break, packed with exploration or water sports, or a relaxing break by the ocean?
Generally speaking, Nicaragua is a world-class surfing destination too.  The best time of the year to surf depends on where you go.  Some beaches have reliable breaks all year round, while others can be better in winter.  It also depends on whether or not you mind being rained on, as this is far more likely to happen during the wet season.
If your idea of a great vacation is a heart-pumping adventure, Nicaragua can offer that.  We suggest you read Adrenaline Filled Activities In Nicaragua For Active Families for ideas.
There are some high-end luxury resorts in Nicaragua.  The final section of this article details some of these in-depth, and all three boast some of the finest beaches in Nicaragua.  It's worth checking these out, as they can be very affordable in comparison with those found in the Caribbean or other Central and South American countries.
Beaches Nicaragua Around San Jan del Sur
San Juan del Sur is one of the best beach towns in Nicaragua.  Located on the Pacific Coast to the south of Nicaragua, this sun-kissed town is popular with expats and anyone who enjoys the beach lifestyle.  The settlement is actually a proper town, too; unlike other places in the area that are really too small to be described as such.
San Juan del Sur is the busiest tourist resort on the Nicaraguan Pacific Coast.  As such, it's not a place you want to miss when visiting the country.  The town center is packed with independent boutiques, hotels, coffee shops, and bars.  There is also a local market, banks, convenience stores, internet cafés, tour operators, Spanish schools, and much more.
Those who love food are spoiled for choice here, as San Juan del Sur has an impressive array of international restaurants and cafes.  You can also sample real Nicaraguan food at various beach eateries.
Having visited San Juan del Sur numerous times, it's a place that makes us fall in love with it afresh on every visit.  The sweet little wooden houses make it a picturesque spot, and the coast is generally thronged with Nicaraguans who love to take a dip in the warm seas at San Juan del Sur beach.
For night owls, there are plenty of venues with live music, discos, and club or open mic nights.  If you prefer a quiet life, retreat to the unspoiled beaches in the surrounding area.  Activities on offer here include boat trips, deep-sea fishing, diving, and of course surfing.  San Juan del Sur is a relaxed, eclectic beach resort offering beautiful scenery, wonderful beaches, and a superb climate.
Playa Maderas
Playa Maderas beach in Nicaragua is like a picture postcard, and for this reason, it could be described as the best beach in Nicaragua.  It is certainly one of the country's most photographed spots. Located to the north of San Juan del Sur, the warm sands provide the perfect place on which to kick back and relax.  Children, in particular, will enjoy searching for starfish and other sea creatures in the tidal pools, or grab a snorkel and see what you can spot underwater.  If you feel like a stroll, it takes only a quarter of an hour to reach nearby Playa Majagual on foot.
Playa Majagual
We can confirm from first-hand experience that Playa Majagual is a great place to learn surfing.  With white sands, azure waters, and gentle surf, this quiet beach is ideal for beginners.  Of all the beaches of Nicaragua, Playa Majagual is a great place to be introduced to the fine art of catching a wave.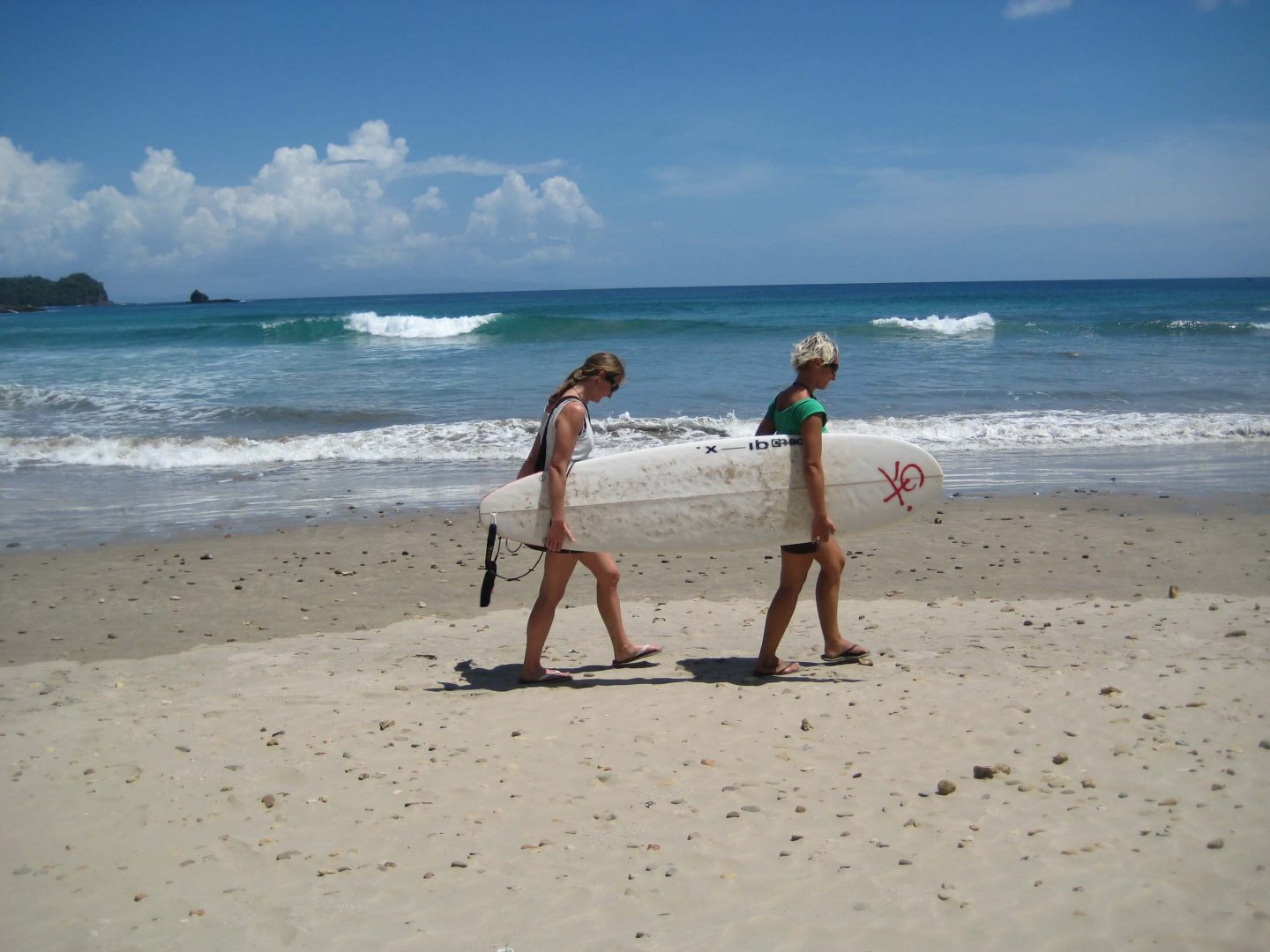 Playa el Coco
Playa el Coco is the best of these Nicaragua beach towns for families, making it ideal for those traveling with children.  It takes around 20 minutes to reach if coming from San Juan del Sur by bus.  This beach never feels crowded, and the local people are incredibly warm and welcoming.
There are soft, chocolate brown sands lapped by calm waters here.  The area is known for its interesting rock formations and wildlife, as well as great swimming conditions.  You may be lucky and spot monkeys or turtles during your visit.  Activities available in the local area include horse riding, soccer, and beach volleyball.
Playa La Flor
Playa La Flor is just 20 kilometers south of San Juan del Sur.  With a large wildlife reserve, it is one of the best beaches in Nicaragua to encounter local fauna.  This white sand beach is home to a sea turtle sanctuary, and visitors may spot various species including green, leatherback, and hawksbill turtles.  Migratory birds, monkeys, possums, and iguanas can also be seen at Playa La Flor.
Nicaragua Beaches: Ometepe Island
Ometepe Island is located on Lake Nicaragua.  While some advise that swimming in the lake is best avoided, the two lovely beaches here are still well worth a visit.  We highly recommend the swimming hole at Ojo de Agua, too.
Santo Domingo beach
This beach lies on the small island's northeastern side.  The lakeside stretch is several kilometers long, and the clear skies make it a popular spot for stargazing.

Punta Jesus Maria
Punta Jesus Maria is on the western side of Ometepe Island.  It is a little-visited spot, and best known for its spectacular sunsets.
Ojo de Agua
Strictly speaking, Ojo de Agua does not fit into the category of Nicaragua best beaches.  However, it is our most recommended place to visit on Ometepe Island.  There is a swimming hole here fed by a natural volcanic spring, giving visitors the chance to unwind in the purest clear water.  Nature is at its finest here, and there are lots of pretty butterflies and birds flitting around the surrounding foliage.  You may also spot iguanas or squirrels.  Various facilities are available, including horse riding and banana tours as well as food and drinks.
Popoyo Nicaragua: The Best Surf Spots
Playa Popoyo
Popoya Nicaragua comprises a broad crescent of golden sand lapped by turquoise waters.  The sea is calm enough for swimming on the southern side, while to the north there are bigger breaks that attract a lot of surfers.
A rocky pool forms at one section of the beach during high tide.  This creates a shallow swimming area where children love to play and spot miniature crabs and other sea life.
Popoyo beach lies to the south of Popoyo town.  El Gigante Beach is the best place in Nicaragua to learn surfing.  As such there are plenty of surf schools in the area, suited to both beginners and more experienced wave riders.

Playa Santana
Playa Santana – also known as Playa Jiquelite – is positioned just a short car ride south of Playa Popoyo.  Warm water and constant swells make this a highly popular surfing beach.
Playa Rosada
Just a ten-minute walk from Playa Popoyo is Playa Rosada.  It is popular with experienced surfers due to its large, reliable swells.  The attractive pink sands here gave this Nicaraguan beach its name.
Popoyo Outer Reef
This spot offers a powerful surf, and some regard this as the best surfing beach in Central America.  The barrelling waves here mean this one is for advanced surfers rather than beginners.
Nicaragua Beaches:  Near Managua
Montelimar
Montelimar is probably the most crowded beach you're likely to see in any Central American country, let alone Nicaragua.  The white sands at this popular surfing spot are backed by lush, tropical vegetation.
The Barcelo Montelimar Resort is famous.  An all-inclusive resort, it attracts visitors from all over  Nicaragua as well as the United States.  We once experienced a 'babymoon' along with our three other children at this affordable resort.  The swimming pools here compensate for the fact that the sea is rather rough in this area.

Barcelo Montelimar Resort
The Barcelo Montelimar is an exclusive, all-inclusive luxury resort, right on one of Nicaragua's finest beaches.  The sunsets are spectacular and abundant lush foliage provides a relaxing, natural setting.  There is a range of rooms at the Barcelo Montelimar, plus some stunning oceanfront bungalows.  Dining options include a buffet restaurant and three themed à la carte restaurants.  For a refreshing drink by day or sundowner in the evening, guests can choose between seven bars.  Other resort facilities include various sports and entertainments as well as a nightclub.
Check here for the latest rates to stay at the Barcelo Montelimar All-Inclusive Resort.
Ponchomil
The Ponchomil beach area is close to Montelimar, and this is also a very popular place.  Nicaraguans love to party, and they also love their horses, which meant that during one Easter visit we experienced the unique spectacle of horses galloping all over the black sand beach.
Pochomil is particularly popular with people from Managua, some 60 kilometers away, as it is a  more affordable place to visit.  Nicaraguans visit this beach to enjoy sunbathing, swimming and, of course, horse riding along the shore.  Pochomil's neighbor La Boquita has also been highly developed in recent times, as part of Nicaragua's attempts to attract more tourists.
Beaches In The North
Corinto
Corinto town is our favorite place on the planet to eat ceviche – the Restaurant El Peruano being the top spot.
Paso Caballos Beach
Paso Caballos is the best beach in Corinth, comprising a broad, flat sweep of sand.  Local restaurants abound here, offering the most delicious fresh seafood specialties.
Poneloya Town
Poneloya is just 20 kilometers from Leó, a colonial city in Nicaragua.  This area is popular with well-heeled Nicaraguans and famed for its simple yet delicious fresh fish dishes.
Las Peñitas Beach
Las Peñitas offers five kilometers of fine white sands and tumbling waves fringed by lush, tropical jungle. I t was once a well-kept secret but is now more firmly positioned on the tourist radar.  Las Peñitas is breathtakingly beautiful and lined with lots of cafes and restaurants.  A great place to sample the seafood.  You can also ride a horse or learn to surf here.
Jiquilillo
Jiquilillo is located in the far north of Nicaragua, close to Volcano Cosigüina.  This place is somewhat off the beaten tourist track but offers all you need for a relaxing beach break.  Deep blue waters lap a black sand beach that is lined with coconut palms.  Local fishing boats can be seen bobbing about on the water.  For a more active excursion, you can hike to the top of the volcano, from which you can see as far as the neighboring countries of Honduras and El Salvador.
Caribbean Side
Corn Island
Corn Island lies around 70 kilometers off the coast and is thus one of the most Caribbean of Nicaragua beaches.  The quickest way to reach it is via a direct flight from Managua.  However, you can also arrive by bus, boat or ferry.  The island is a beautiful, tranquil haven where travelers can experience the relaxed Creole culture and fresh ocean breezes – as well as the freshest lobster between July and March.  Some say this is Nicaragua's best beach, and it certainly offers a laid-back Caribbean vibe.
Pearl Cays Nicaragua
Other Nicaragua beaches with a Caribbean lifestyle can be found on Pearl Cays.  Whether you want to dive, swim, snorkel, sunbathe, hike, or feast on Caribbean style food, you can do it all here. Visitors can trek through lush jungle, or relax on bone-white sands fringed by calm, azure water.  There are a dozen different cays, and all offer travelers a real getaway experience.
Private & Luxury Beaches At The Best Beach Resorts In Nicaragua
Visitors can also experience world-class accommodation, food, service, and facilities at a range of luxury resorts in Nicaragua.  These include an eco-lodge, wellness resort, and a beach resort in Nicaragua with five bays to choose from.
Rancho Santana
Rancho Santana is located on the sparkling Emerald Coast of Nicaragua.  The Ranch is a Nicaraguan beach resort with five different beaches, over 2,500 acres of rolling countryside, a range of restaurants, and an array of sporting and wellness activities.  The setting is natural and unspoiled while offering those staying at this ranch resort all the modern conveniences and comforts of home.
The ranch occupies an isthmus position on Nicaragua's Southwest Pacific coast.  As such it is fringed on both sides by the ocean and enjoys almost constant, refreshing offshore breezes.  These winds also help to create perfect surfing conditions and a lovely, warm climate.
Rancho Santana aims to offer genuine Nicaraguan hospitality and is also committed to sustainability.  The resort is also dedicated to providing each and every guest with unique experiences to suit their wishes.  Whether they prefer complete privacy or cherish the chance to mingle with other, like-minded guests Rancho Santana can accommodate both.
Playa Santana is at the center of the complex, and other areas can be easily reached from here.  Many of the amenities and services are an easy walk from this locale.  Right on the shore of Playa Santana is the Clubhouse, plus The Inn and Residences.  Guests can enjoy horse riding, surfing, or sipping poolside cocktails as the sun goes down at Playa Santana.
Playa Escondida comprises a long stretch of white sand with sparkling green waters.  This quiet spot is the venue for SUP adventures and yoga platforms, as well as swimming in tidal pools and spotting sea turtles.
Playa Los Perros is the most family-friendly beach at the ranch and ideal for swimming and novice surfers.  There is a well-stocked surf shop offering rental and tuition.  After taking to the water you can grab tacos, ceviche, tostadas at La Taqueria, washed down with a fresh juice or cocktail.
Playa Rosada is a pink sand beach and home to La Boquita and the Pool House.  Experienced surfers will love the left point break, while this beach is also great for shell collecting and strolling.
Finally, Playa Duna takes some effort to get to.  The reward may be sandboarding, unique rock formations – or complete privacy.
Whether you choose a beachfront villa, garden casita, ocean view home, or a room at the Inn and Residences, Rancho Santana offers a range of incomparable Nicaraguan beach experiences.
Check here for currents prices to stay at the Inn At Racho Santana. 
Morgan's Rock
A luxurious hacienda and eco-lodge, Morgan's Rock occupy a Nicaraguan jungle site of some 4,000 acres.  A highlight is the long stretch of sandy beach, home to nesting sea turtles all year round. This is 1.5 km away from the accommodation.
Located in San Juan del Sur Bay, Morgan's Rock is one of the best beach resorts in Nicaragua.  It successfully combines contemporary, deluxe accommodation with a sustainable ethos and outlook. Rustic style, thatched bungalows feature wood furnishings and floors, fans, bathroom with shower, and private terraces.  The complex also has an outdoor pool and children's playground, an outdoor pool as well as a private beach area.  Dining is provided by the on-site restaurant serving a range of international cuisine.  Children's meals are also supplied.
Resort facilities include the provision of pool and beach towels, a tour desk, currency exchange, shuttle service, library including kids' books and DVDs, internet, gift shop, gardens, plunge pool, and use of puzzles and board games.  Activities include snorkeling, diving, water sports, fishing, hiking, bike hire, and horse riding.  There is also a spa and wellness center.
Check here for current prices to stay at Hacienda and Eco-Lodge Morgan's Rock.
Aqua Wellness Resort
Aqua Wellness Resort can be found at Redonda Bay in Playa Gigante.  This is a favorite with honeymooning couples – or indeed anyone seeking a relaxing, secluded retreat at a Nicaragua luxury resort.
The resort overlooks a private cove and stylish, stilted jungle tree houses offer guests magnificent views over the ocean.  These are placed sufficiently far apart to ensure a feeling of seclusion.  The design cleverly has a minimal environmental impact, and the local monkeys are often spied swinging through the trees at sunrise and sunset each day.
This is a resort and spa offering all the top-end facilities you could possibly desire.  Plunge pools are included with suites.  The resort is surrounded by lush, tropical forest and various activities can be arranged, including yoga, surfing, meditation, fishing, and more.
Bromelia restaurant at Aqua serves a breakfast of fresh bread, yogurt and fruit, homemade granola, eggs, Gallo pinto (rice with beans), tortillas, and salty cheese – all washed down with smoothies and high-quality Nicaraguan coffee.  Later in the day meat or locally caught fish is served with seasonal ingredients like plantain, beans, fried banana, and coconut oil, or guests can choose from a range of international dishes.  Herbs come from the herb garden and bread is baked on-site.
Check here for current rates to stay at Aqua Wellness Resort.
If your family Nicaragua beach vacation includes a stop in Granada, make sure you check out our Family Friendly Hotels in Granada, Nicaragua and 11 Great Things To Do In Granada Nicaragua With Kids posts.

 More Information About Visiting Nicaragua
Best Season To Visit
The dry season – or summer – in Nicaragua runs from November to April.  This is generally regarded as the best time to travel.  As the country has a tropical climate, there is not a huge amount of temperature variation between seasons.
Those who want to enjoy outdoor pastimes can do so more freely and easily during the dry season – not least because the mosquitoes are fewer than during the wet.  One advantage of the wet season, however, is that some find the heat more tolerable.  That all depends on how each individual can cope with hot and dry weather conditions.  The wet season also tends to a be a cheaper and quieter time to visit – with better surf.
Is Nicaragua Dangerous
Nicaragua tends to be less touristed than other Central American destinations.  One reason for this is the country's somewhat chequered history.  The Nicaraguan Civil War came to an end three decades ago, in 1990, but poverty has continued to affect large parts of the country.  In the last few years, a political shift from democracy to dictatorship has again been the cause of much civil unrest.
That said, it's always best to check the current situation in Nicaragua before you travel.  As with any trip, always follow the advice of your home country's foreign office.
Additional Information On Nicaragua
As we have lots of experience exploring Nicaragua, we have lots of tips and information to offer.  We recommend reading our Nicaragua Destination Guide.  For the kiddos, Fun Facts About Nicaragua For Kids is a great resource.
Below are some of our favorite travel guides about Nicaragua.  Click each one for current prices on Amazon.
The Verdict – The Best Beaches In Nicaragua
We love Nicaragua – and know that you will, too.  Whether you want simply want to sunbathe, snorkel and swim between sampling fresh local seafood, trek through the jungle, climb a volcano, or surf some of the world's finest waves, a trip to the beaches of Nicaragua offers great value for money – as well as a warm Central American welcome.
Like It> Pin It> The Best Beaches In Nicaragua: From The Pacific To The Caribbean